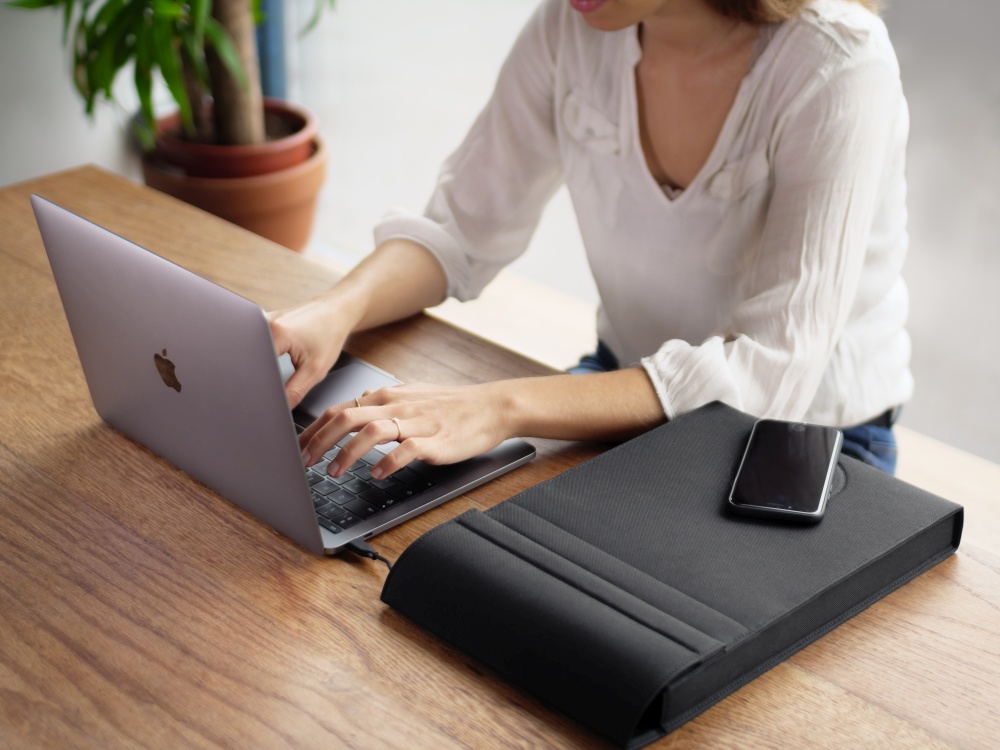 While traveling or staying out late, one of the annoying problems we all encounter is how to get our phones and laptops charged. We not only have to carry their chargers but also keep looking for charging sockets. To solve this problem, ARROE has come up with an innovative laptop sleeve, LAER. Let's find out more about this product.
Features of LAER Laptop Sleeve
LAER is a Bluetooth-enabled laptop sleeve and so, it can charge your laptops, tablets, and smartphones simultaneously. LAER can give you the freedom to travel without worrying about whether your phone or laptop will run out of battery just when you need it the most. With LAER, you can get your work done on the go without carrying different chargers for different devices.
With LAER laptop sleeve, you can charge at least 3 devices at a time. More than 3 devices can also be charged simultaneously, but it will take longer to charge and the LAER battery will also drain faster than usual.
This unique laptop sleeve comes with a quick charge USB 3.0, USB Type-C, and DC charging for PC/Mac/Surface. Even wireless Qi charging is possible, which means that you can charge the new iPhone 8, 8 Plus, and X using LAER.
Another important feature is the TrackR, which allows you to keep a track of your devices. It also comes with the LAER app, which allows you to check the battery level. Other features include switchable battery capacity and adapters for all countries.
The Advantages
You can charge any laptop with LAER, as it is the only portable battery having a fully customizable voltage setting. You just need to use the ARROE app and select the model of your laptop.
You can also swap batteries according to your need. If you do not want to carry around much weight and your power requirement is also not high, you can choose the lower capacity 5,000 mAh battery. Otherwise, you can go for the higher capacity 20000mAh battery, especially if you need more power.
The LAER sleeve is durable, yet lightweight and it can protect your devices from scratches. The outer body is made of nylon fiber, which makes this laptop sleeve durable. The padding is made of dense foam, while the inner fabric is made from soft materials to protect your devices from scratches.
The LAER battery can be charged with USB C power adapter or USB C laptop adapter. The battery should be inside LAER in order to be charged. The 5,000mAh battery usually takes 1 hour to charge, while the large, high capacity battery, 20000mAh takes about 4 hours to charge fully.
The LAER laptop sleeve is manufactured by ARROE, a London-based company. The company offers one-year international warranty for the product. They have already developed the prototype and are now raising funds for the product on Kickstarter. You can check out the video of the prototype below:
Image Credit: Thxpalm.blogspot.com
Comments
comments