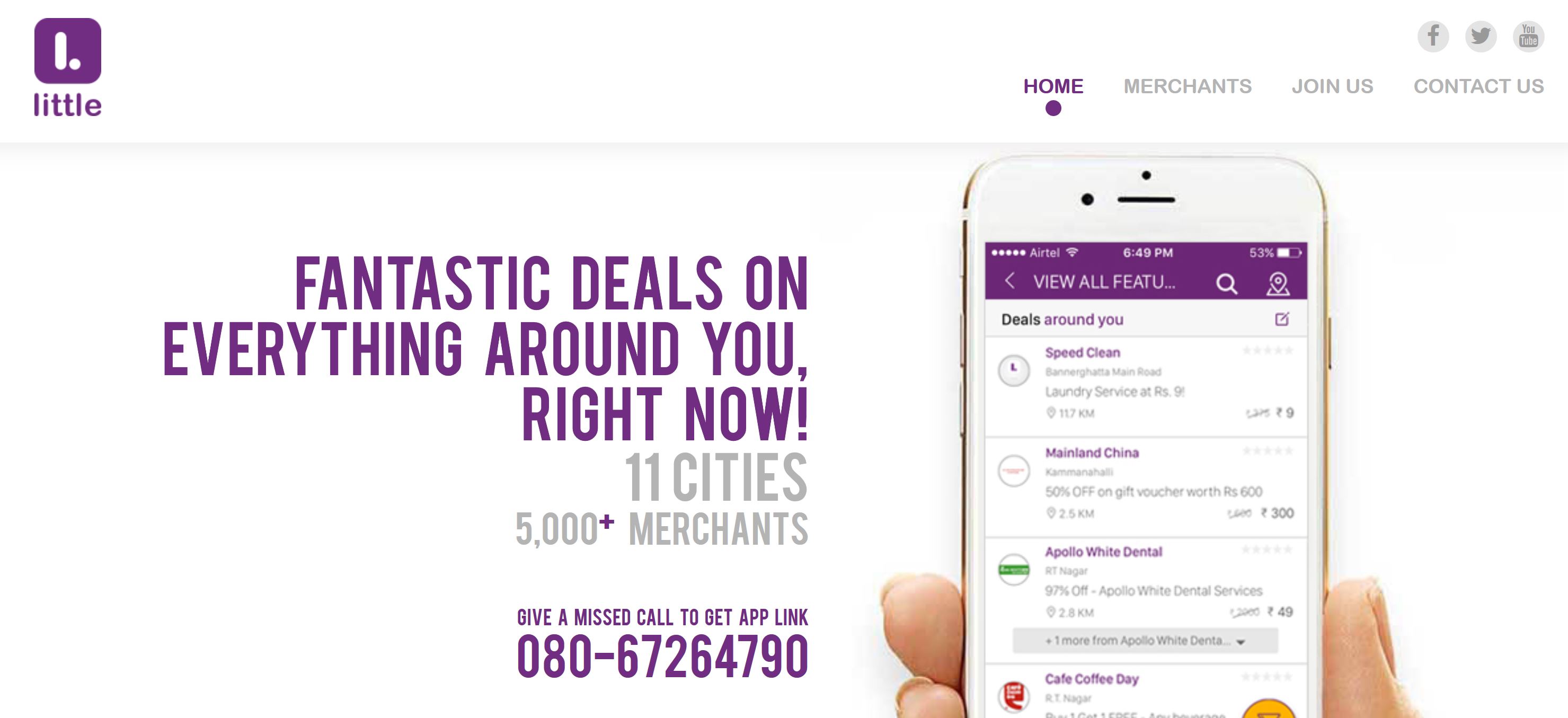 First acquisition coming within 3 months of launch
Trideal, is a curated deals marketplace based in Chandigarh
Co-founders of Trideal and its core team will join 'Little'
Little already has on board 8000+ merchants with 27,000+ live deals across Hotels, F&B, Movies and Health & Wellness
Bangalore, October 13, 2015: Little, the pioneering 'app only' marketplace in the Online to Offline space (O2O), today announced its first acquisition. The company has acquired Trideal, a curated deals marketplace in Chandigarh. Incubated in Chitkara University, Punjab's Largest University, Trideal offers popular deals across F&B, Wellness and Entertainment with over 1000+merchants. Operating in the tri-cities of Chandigarh, Mohali and Punjab, Trideal gets around 7000+ unique visitors thus helping generate business for their merchant partners. As part of the acquisition, the co-founders of Trideal and its core team will join the Little family. Little was launched in July 2015 by Manish Chopra and Satish Mani, who previously founded Zovi. The company has been funded to the tune of $50Mn by Paytm, SAIF Partners and Tiger Global Management among others. Little, an 'app only' marketplace targets to be India's largest deals marketplace.
Speaking on the acquisition, Manish Chopra, CEO and Co-founder of Little said, "Trideal has a large customer base and significant merchant database in Chandigarh offering excellent deals. The core of Trideal is similar to that of Little – hyperlocal and irresistible deals to customers and a significant business partner to the merchants. Sameer and his team come with a good understanding of the O2O space. Hence, this acquisition fuels our expansion plans in Punjab. We look forward to welcoming Sameer and the members of Trideal family aboard."
Sameer Sharma, CEO and Co-founder of Trideal said, "We are very excited to join the 'Little' family. With Little, our current customers will now get access to Little's large merchant and deals database. This will also provide a significant boost in business for our current merchants. It is a dream come true for us to now be a part of India's pioneering O2O company."
With the O2O deals space in India being highly unorganized and about 99 percent of the commerce happening in the offline market, the 'Little' app is both a hyperlocal deals discovery platform for customers and a significant sales channel for merchants. Little will build the largest and deepest merchant ecosystem in India. Little has already enrolled 8,000+ merchants offering 27,000+ fantastic deals across 11 cities. With the 'app only' route, Little is soon beginning to revolutionize the O2O space in India. By March 2016, Little will offer 50,000+ deals across services like restaurants, movies, hotels, salons, gyms, spas and is expected to hit a GMV run rate of $170 million. They recently announced the appointment of Amisha Sethi as Chief Marketing Officer (CMO).
Founded by Manish Chopra and Satish Mani, the entrepreneurs behind the leading online fashion brand Zovi, Little is an app only marketplace for deals in the burgeoning Online to Offline space (O2O). Little is building the largest O2O supply side infrastructure and will offer 50,000+ live deals across 11 cities by March 2016. Little already offers deals from over 8000+ merchants. The company is backed by marquee investors like SAIF Partners, Tiger Global and Paytm among others. Little is available on Android, iOS and Windows and can be downloaded here: Android, iOS, Windows