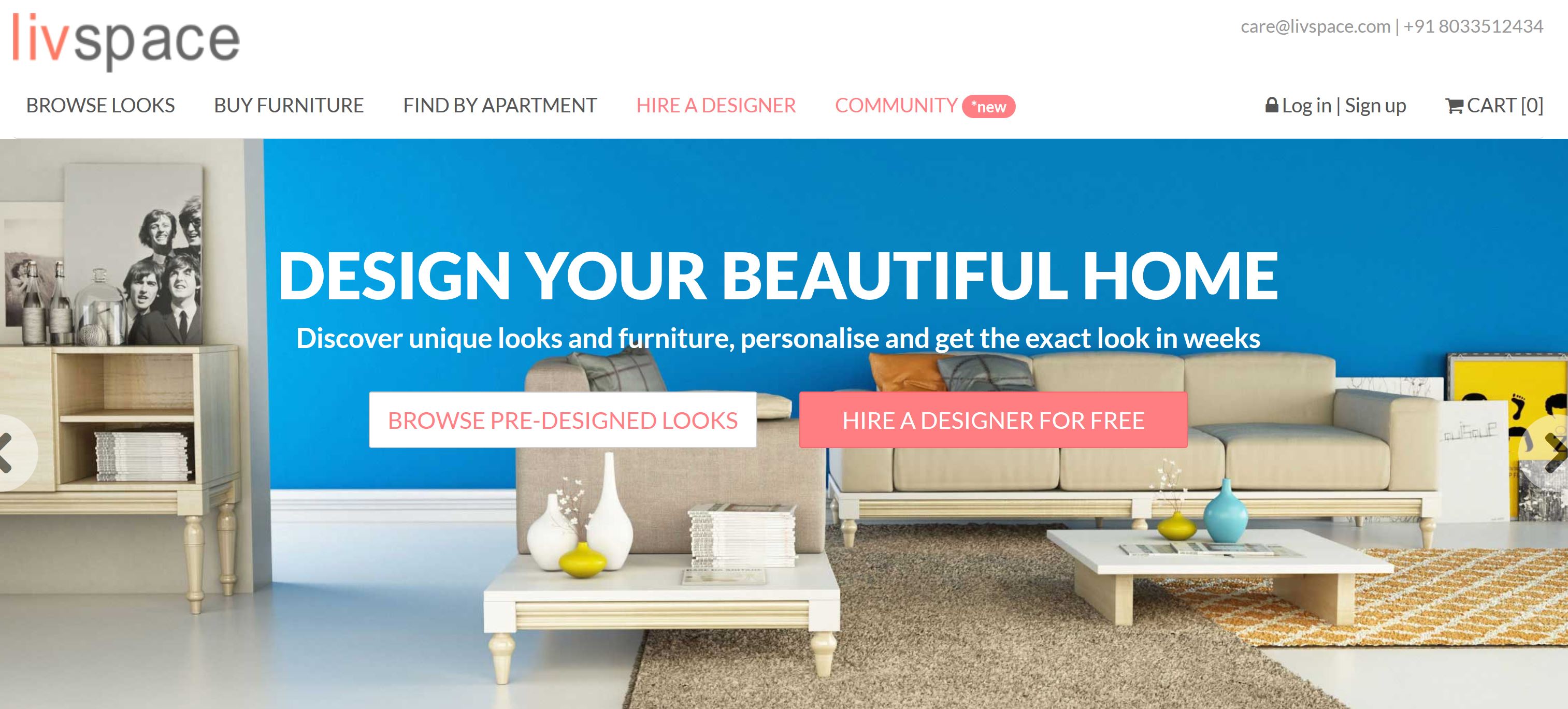 Livspace's second acquisition in two months
Dwll.in is India's leading curated online network of interior designers
Livspace will use the acquisition to create India's only and biggest catalogue of designer looks for homeowners and the largest curated community marketplace of home designers
Second acquisition after acquiring design community marketplace DezignUp in March 2015
Livspace is currently projecting an annual revenue run rate in excess of USD 10M in months to come
Bangalore, May 19, 2015: Livspace, India's first and only end-to-end home design service provider and curated marketplace for homeowners and designers, has announced the acquisition of Dwll.in. Founded in 2013 by Parikshat Hemrajani and Pankaj Poddar, Dwll.in, is India's top curated online network of interior designers. With this acquisition, Livspace aims to create only and biggest catalogue of designer looks for homeowners and the largest curated community marketplace of home designers. As part of the acquisition, the co-founders of Dwll.in and the core team will join the Livspace family. Just over a month ago, Livspace acquired DezignUp, a dynamic design community and marketplace for consumers and design professionals. With the acquisition of Mumbai based Dwll.in, Livspace will start building the go-to-market strategy for the western region, in addition to expanding across other metros and Tier 1 cities. Livspace is currently projecting a revenue run rate of more than USD 10M in months to come.
Speaking about the acquisition, Anuj Srivastava, CEO and Co-founder of Livspace said, 'At Livspace, we aspire to be the 'personal home designer for homeowners'. The Dwll.in team brings deep insights into the workings of the home design industry in India. We look forward to working with these designers to create the biggest library of designer looks in the country and offer the same to tens of thousands of homeowners across the country. Pankaj and Parikshat are solid entrepreneurs who are early movers in the space and do not shy away from tackling complicated problems. Where possible, we will continue to use acquisitions as a natural extension of our strategy.'
Parikshat Hemrajani and Pankaj Poddar, Co-Founders of Dwll.in said, 'The Dwll.in team is very excited and looking forward to being a part of Livspace. We share the larger vision in tackling the unique opportunity, not only in India but worldwide, when it comes to creating tens of thousands of designer looks and designing people's homes. The synergies of the technology, design strength, and execution capabilities of Livspace along with the designer network and consumer-centric focus of Dwll.in's platform will go a long way in revolutionizing the home design space. We believe in the mantra, 'If you want to walk fast, walk alone but if you want to walk further, walk together'. And we're definitely looking to walk, not just further but very far.'
In just 4 months, Livspace already has a social community of over 320 thousand homeowners with some of the highest user engagement in the country. With the unique 'find your apartment' feature, another first in the industry by Livspace, it is possible for homeowners to view 'designer looks' for their apartment before they make any home design purchase. Livspace uses a proprietary algorithm data science, and design method to create 'looks or spaces' that are designed for specific apartments. With more apartments being added to the collection, homeowners have the opportunity to visualise their very apartment, personalise the color, style, etc. and be confident before making a purchase online.
Commenting on Livspace's second acquisition in as many months, Rahul Chowdhri, Partner, Helion Ventures said, 'We're very excited about Livspace and Dwll.in teams joining hands and welcome them to the family. Livspace has a huge vision of creating a disruptive experience in the home design industry and is India's only end-to-end home design experience with a very innovative combination of technology and design. We're very happy with the traction in Livspace's business, their goal of producing designer quality looks for homes all over India, and look forward to creating a truly admirable, technology driven company out of India.'
Aakash Goel, Vice President, Bessemer Venture Partners said, 'We're thrilled with their vision of making designer looks for homes all over India and strongly endorse the acquisition. We're very happy with the Livspace team and the energy Anuj, Ramakant, and Shagufta are bringing to the home design space. They're platform-first thinkers, have brought a much needed disruptive thinking to this industry, and are using a unique combination of technology and design talent to bring innovation to the home design industry. I expect the synergy from this acquisition to drive further growth and innovation at Livspace. '
Livspace is India's first and only end-to-end home design and décor service provider and curated marketplace for homeowners and designers. With Livspace, customers can discover thousands of designer looks for all types of rooms, personalise the design – by color, material, style – to their liking, and get the exact look for their homes in a matter of weeks. They are a design and technology first team and employ a combination of data science, algorithms, and industrial design to create unique experiences for homeowners and scale the job of interior designers. Well funded, their investors include top venture firms including Helion, Bessemer, and Jungle.
Anuj Srivastava is the CEO and Co-founder of Livspace (www.livspace.com). Before Livspace, Anuj was the Worldwide Head of Product Marketing for Google's eCommerce products, Google Local/Maps, and AdSense. Ramakant Sharma is the Director, Head of Technology, and the Co-founder of Livspace. Shagufta Anurag, founder of Space Matrix, is the Chief Design Evangelist and the co-founder of Livspace.