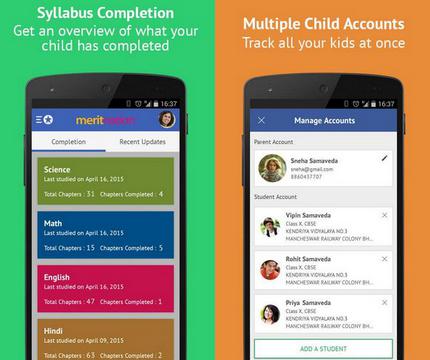 19 May 2015 – New Delhi: Meritnation.com, India's largest online learning platform has launched the "Report Card" app which gives a continuously updated real time digital report on a student's progress. Over 92,00,000 parents of students on Meritnation's platform can use the Android app to stay updated on the progress their children are making in their studies.
What is the problem that this app solves for parents?
Infrequent Updates: Typically in Schools, progress reports are shared after exams or during PTMs. This infrequent reporting structure means, that gaps in a student's learnings are identified post facto. In today's fast-paced learning environment it becomes difficult to go back & fill these gaps.
In supplementary modes of learning like Tutions, the problem is even bigger with very little communication between the Tuition teacher & Parents.
Typically the process of helping a child begins after s/he has received Bad Grades.
What does Report Card by Meritnation bring to the table?
Syllabus Completion: Helps you track your child's performance on the goals you have set for him/her.
Recent Updates: See all the Study Material completed, tests taken & other activities that a student does on Meritnation.
Key benefits
Continuous Monitoring: Report Card gives every Parent a one click access to a complete report of their child's academic activities on Meritnation. Now you can check whether your child was playing video games on the computer or actually studying.
Early Diagnosis: If you child is getting stuck in a subject or a topic you can identify that upfront with Report Card. With early diagnosis you can intervene & help your child overcome his/her difficulties.
Motivation: Report Card acts as a huge motivator because students now know that their parents can see all the hard work being put by them into studies.
Information accessible anytime, anywhere
The Meritnation "Report Card" app presents this required information in a simple, easy to follow digital format instantly accessible on mobile devices.
Pavan Chauhan CEO Meritnation said "Monitoring a child's progress and providing motivation by rewarding accomplishments, can be a crucial factor to improving a child's study performance. 'Report Card' by Meritnation allows parents to partner with kids in their educational progress using the power of cutting edge technology on Meritnation.com."
Meritnation.com is India's largest online learning company in K-12 with 92+ lakh students from CBSE, ICSE & other leading boards across India & the Gulf. We are at the forefront of Mobile education with a range of apps available on both iOS & Android. We make studies easy for students by leveraging the power of technology to deliver truly personalised & engaging content. Our Self-study program is powered by 14000+ Animated videos, Unlimited Tests, Homework Help forums, Interactive Exercises & more. Our Live Classes platform connects the best teachers in India with Students all over the world. Meritnation is also revolutionising the Test-prep market for entrance exams like JEE and AIPMT with a range of technology powered courses.
Users can Download the Meritnation – "Report Card" App here