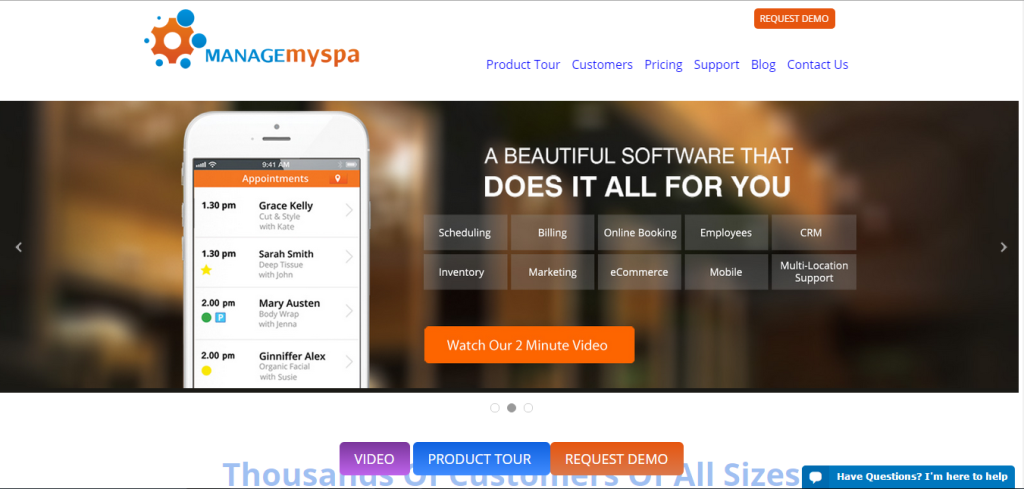 ManageMySpa is an all-in-one, cloud-based software for salons, spas, and medi-spas with rich capabilities across appointment scheduling, online booking, billing, built-in marketing, inventory management, CRM and loyalty features and more. Headquartered in Seattle (Washington), the company globally manages its operations across six other cities including Hyderabad, Dubai, KualaLumpur, Manila, Jakarta and Sydney. The software helps in managing all aspects of salon, spa or med-spa operations. 
About ManageMySpa and how did the idea originate
Incepted in 2010, ManageMySpa was brought into existence by a group of three engineers,Sudheer Koneru, Dheeraj Koneru and Anand Arvind along with Saritha Katikaneni. Co-Founders of ManageMySpa, Sudheer Koneru and Dheeraj Koneru both come from enterprise technology backgrounds.
Sudheer started his career at Microsoft, based out of Seattle. During his 8 years stint at Microsoft as a Director, he managed a large part of what is now the Windows Operating System. He then started a software company in the US and grew this business to $100 million over a period of 9 years. The business today is called SumTotal Systems with offices across the globe.
It was after SumTotal,  Sudheer with Dheeeraj co-founded Latitudes Health Club and Tangerine Spas- a high-end chain of spas and clubs.  They received first-hand experience of the difficulty in running a chain of spa, salon and fitness centers. They realized that the industry lacked software that was reliable, easy to use, and able to support the whole eco-system of operational tasks in a spa and salon. Further, there simply was no affordable software available then which could support the needs of a multi-location chain. This experience gave Sudheer an intimate understanding of the challenges in this industry.  Sudheer and Dheeraj went back to their roots in enterprise software and founded ManageMySpa. By combining their experience of understanding technology as well as the wellness and beauty industry, they conceptualized and executed the idea of ManageMySpa. The software helps businesses in managing, growing and increasing their revenue through its wide range of services.
It's been a busy and rewarding 5 years since ManageMySpa started in 2010. 

It is an Enterprise SaaS solution, which means that its solution aims to replace all operational software that a salon or spa would require. For example, traditional SaaS software would include booking, CRM and billing capabilities. ManageMySpa goes beyond that, and includes a full suite of capabilities for inventory management, employee management, mobile solutions, analytics, ability to sell gift cards and retail online, and more. By taking this enterprise approach, it is able to cater to the chains and high-end salons and spas that invest in all of the solutions. The company also offers a 'lite version' of its entire solution, which does exactly what the traditional SaaS solutions do – offer the basic capabilities in a very easy to use, impactful way to the business.
Technology in Spa & Salon industry
The Spa & Salon market is very distributed. Many spas and salons in India still don't utilize software to carry out their business operations. In case few do, they use outdated desktop solutions. And many of the larger chains have built their own software solutions in-house. However, there has been a wide shift in demand for a cloud-based solution over in-house solution software, which lacks a host of benefits.
For the small, single center brands, cloud software means that no IT expertise is required, no investments in hardware are needed, and most importantly their software is easy to use and they have training and support available to them. 
Whereas, for the large chains, a cloud hosted software offers a number of benefits, like being able to provide:
A Unified Customer Experience – For example, a customer is able to purchase a membership at one location and visit another location to redeem the benefits. Or, they can visit any location and still have their preferences, visit history and so on accessible at fingertips.
Corporate Level Control & Transparency – Organization level reports and analytics provide complete transparency into the performance of each center – this is without any manual effort from staff or delays in getting consolidated reports. So, the CFO can easily get the end of day sales reports, track performance over the week, or month. He is in position to compare performance between regions or locations or months or years and so on. Managers at corporate are able to set and track performance against revenue goals on a daily or weekly basis. Reports are more comprehensive and cover everything from financial performance, marketing effectiveness, customer behaviors, customer feedback, employee performance and more.
Integrations – Large enterprises will often use other systems, like an ERP. It becomes easier to integrate with one or many third-party systems.
Trends and opportunities in Spa & Salon Industry
The wellness and beauty industry is growing rapidly in India. We see new single location brands opening up around us as well as famous chains set for rapid expansion. We're also seeing more interest of chains towards adopting a franchisee model. And then there is news every now and then about investments by investors to aid industry players with faster expansion. All these inclinations convey the potential of underlying big opportunity with the industry.
Challenges! Growth! Future!
"5 years ago, our biggest challenge was convincing businesses that their internet would be reliable enough to use a SaaS solution. Today, we've overcome that hurdle, and really one can really on their phone's 3G connections as backup. Now, what we're facing is very different from what it was 5 years ago. Technology is evolving very fast which in turn is broadening 'how much technology can bring to the table in a business'. Every day we think about how can we stay ahead of the curve in what our solution delivers and how we can anticipate our customer's needs before even they do" Saritha explains.
Last year the company saw a 300% growth in its business. Today, its biggest challenge is to keep scaling the business while still providing VIP customer service to every brand that it gets on board.  
ManageMySpa has a team size of 120. It has 5,000 clients globally and 2,000 clients in India these include large chains like Kaya Skin Clinic, Enrich Salons, O2 Salons, as well as high-end and luxury brands like Bblunt, Jean Claude Biguine, and L'Occitaine. The client base is spread across tier 1-city mostly, but present in tier 2 cities as well.
The company reached another high point with a funding from Accel Partners, intended to broaden their reach and accelerate sales. With a staff of nearly 120 employees empowered to provide impeccable service, ManageMySpa is now moving at a fast pace to introduce its brand new initiative in the form of a mobile booking app, 'Take 5 Today'. It also plans to offer geo-location capabilities to nearby salons and spas, book them as per availability, payment abilities and pocket-friendly deals to let the patrons enjoy a hassle-free booking experience.
The investment will allow the company to accelerate sales and marketing globally. As a SaaS solution, the product is already designed to scale and serve a global marketplace, next challenge is to reach a wide global audience. The company will continue to grow in India as well as in the South East Asia and Middle East regions with goals to enter newer markets including Australia and the USA.
So, whether it is about the spa and salon businesses across the globe or their patrons, ManageMySpa is soon to be a one-stop-solution in the beauty and wellness industry globally!
About The Spokesperson
Prior to ManageMySpa, Saritha had worked on the business side in quite a few technology companies, leading various departments including training and documentation as well as marketing. She also served as Managing Director (India) for a technology provider for the sustainability space, which again required Saritha to head various departments including Software Development, Content, and Marketing. A science graduate from the University of South Alabama, luck was always on Saritha's side when it came to making her career decisions. She joined the workforce during the dot-com boom in the Silicon Valley. However, what came as a significant milestone of her life was her decision of moving from the US to India after getting married at 22. This was the time when technology companies were also coincidently moving to India. Considering herself fortunate enough in terms of her career, Saritha leveraged this opportunity to become the MD (India) of a company at 30. Being the Co-founder of ManageMySpa was yet another addition to her list of providential career landmarks.   She is now leaving no stone unturned to drive her company towards 'emerging as a dominant software player' globally. Saritha is not just a dedicated marketing professional but also a devoted mother to her children. When she is out of her corporate suit, she loves spending quality time with her kids and indulges in photography, reading or stepping into her hiking shoes for some rejuvenation.
Comments
comments