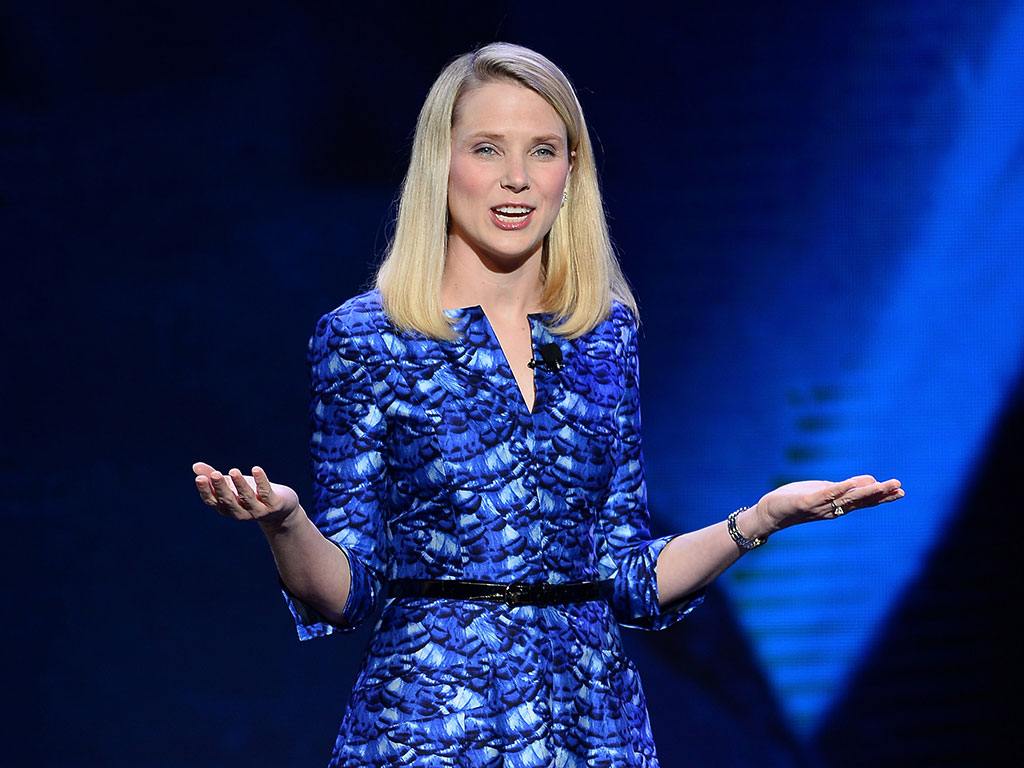 Marissa Mayer, now 39 years old, is a wife, a mother, an engineer, and the CEO of a 30-billion-dollar company. She is a woman in an industry dominated by men. In a world where corporations are expected to serve shareholders before anyone else, she is obsessed with putting the customer experience first.
Born in Wausau, Wisconsin, on May 30, 1975, Marissa Ann Mayer has described her early years as a small-town childhood, complete with ballet lessons, ice skating, Brownies and debate team competitions. It was a middle-class upbringing. The daughter of an engineer and an art teacher, Marissa demonstrated an early affinity for math and science. She went to public schools and worked a summer job as a grocery clerk, but her family had enough time and money to enroll her in countless activities.
Most press photos of Marissa today show her on a stage, speaking with an interviewer in front of a large crowd or a TV audience. She's usually wearing a designer dress — probably from her favorite designer, Oscar de la Renta — and looking strong, confident, and in charge of the moment.But Marissa wasn't always so larger-than-life. She describes the child and teenage version of herself as "painfully shy."
The summer before Marissa Mayer went to Stanford, she began asking herself a question that would guide her through college and for the rest of her life.
What does Zune think?
That summer, Mayer attended the National Youth Science Camp in West Virginia. It was nerd heaven.One day, a postdoctoral student from Yale named Zune Nguyen spoke to the campers as a guest lecturer. He stunned all the smart kids in the room with puzzles and brainteasers. For days, the campers couldn't stop talking about his talk.
Finally, one of Mayer's counselors had enough.
"You know, you have it all wrong," the counselor said to Marissa and the campers. "It's not what Zune knows, it's how Zune thinks."
The counselor said that what made Nguyen so amazing wasn't the facts that he knew, but rather how he approached the world and how he thought about problems. The counselor said the most remarkable thing about Nguyen was that you could put him in an entirely new environment or present him with an entirely new problem, and within a matter of minutes he would be asking the right questions and making the right observations.
From that moment on, the phrase: "It's not what Zune knows, but how Zune thinks," stuck with Marissa as a sort of personal guiding proverb.
In the fall, Marissa went to Stanford and began taking pre-med classes. She planned to become a doctor. But by the end of her freshman year, she was sick of it.
"I was just doing too many flashcards," she says. "They were easy for me, but it was just a lot of memorization."
She says she wanted to find a major "that really made me think" — that would train her to "think critically, and become a great problem-solver." She also wanted to "study how people think, how they reason, how they express themselves."
"I had this nagging voice in my head saying 'It's not what Zune knows, but how Zune thinks.'"
Mayer began to answer the voice in her head — and find a course of study that helped her learn how to think — when she took an introductory computer science class: CS105. The rest as they say is history.
Fresh out of grad school Marissa had 14 job offers.
Marissa's 14th job offer came from Google founders Larry Page and Sergey Brin, who quizzed her on artificial intelligence while sitting at a ping-pong table that the company used for conferences. In 1999, Google wasn't yet an Internet search giant. In fact, the company had only 19 employees. Upon accepting an offer to lead Google's user interface and Web server teams, Mayer became the company's 20th employee and its first female engineer.
Her tenure at Google involved work on some of the company's most recognizable and successful products, including Google Maps, Google Earth, Street View, Google News and Gmail. Known as a fashionista with an eye for design, Mayer is widely credited for the unique look and feel that has come to characterize the Google experience. For example, she was responsible for approving each "doodle" (the custom logos commemorating holidays and events) appearing on the Google home page.
Being in charge of how Google products should look, Marissa's job was, basically, to relate with Google's millions of users. How would she do that?
She came up with two clever methods of relating.
The first is that she would recreate the technological circumstances of her users in her own life. Marissa went without broadband for years in her home, refusing to install it until it was also installed in the majority of American homes. She carried an iPhone at Google, which makes Android phones, because so did most mobile Web users.
Marissa's second method was to lean on data. She would track, survey, and measure every user interaction with Google products, and then use that data to design and re-design.
Marissa spent more than a decade at Google accumulating accolades for her work ethic, eye for detail and vision. In a 2008 interview, however, she seemed to be looking ahead to her next act. "I helped build Google," Marissa said, "but I don't like to rest on [my] laurels. I think the most interesting thing is what happens next."
What happened next for Marissa captured tremendous interest both in Silicon Valley and around the world. In July 2012, she was appointed president and CEO of Yahoo, a company besieged by declining stock prices, layoffs and slowing ad revenue. Tasked with course-correcting the company, Marissa became the fifth CEO hired by Yahoo in five years, as well as one of only 20 women running a Fortune 500 company. She is also a member of the company's board of directors. As a female technology CEO, Mayer follows in the footsteps of former Hewlett-Packard CEO Carly Fiorina and former eBay CEO Meg Whitman. And many believe that she just may have what it takes to turn Yahoo around.
Over her nearly 14-year career in the tech world, Mayer has consistently shaken up expectations. If we've learned anything about this influential computer engineer-turned-corporate executive, it's that she plays the game of business by her own rules. A total workaholic (Marissa is said to work about 130 hours a week) Marissa is known to be a perfectionist at whatever she does.
Whatever happens at Yahoo, whether the company succeeds or not is something that only time will tell. The story of Marissa, the story of simple girl from a middle class family becoming CEO of a Fortune 500 company, is the one that will inspire millions of us for a long long time !
Comments
comments