Mastodon is a social media platform developed using open-source technology that is distributed among big chains but distinct servers, or "instances."
As a potential substitute for centralised social media sites such as Twitter and Facebook, the decentralized platform is widely suggested.
However, it is not how the situation turned out, and even some analysts believe that an issue may be the platform's complexity.
Meg Coffey, an Australia-based social media strategist explained to The Guardian how the relative simplicity of platforms like Twitter makes them more accessible, "Twitter, in its most basic form is simple.
You can open up an app or open up a website, type some words, and you're done. I mean, it was a basic SMS platform. Everybody went and signed up [on Mastodon] and realised how hard it was, and then got back on Twitter and were like, 'Oh, that's, that's hard. Maybe we won't go there'"
Coffey claims that Mastodon greatly benefited from the migration of Twitter users that happened after November 5. Mastodon users increased exponentially around the same time, and these surges coincided with disputes and conflicts and allegations made by Twitter CEO Elon Musk.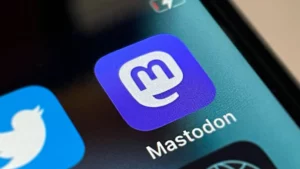 Moreover, there wasn't any lack of questionable conclusions. The social media site was instantly taken over by Musk, who not only fired thousands of employees, but also modified the verification rules, which led to confusion on the site, restored the profile of the former US president Donald Trump, and briefly restored the account of the controversial performer Kanye West before removing him once more.
According to Coffey, who spoke with The Guardian, several users may have found Mastodon to be excessively complex and challenging to "port" the community they had been engaging with on Twitter before departing it.
Several of these individuals may have returned to Twitter, while a large number may have stopped completely using social networking sites.
About Mastodon:
Eugen Rochko, a German computer programmer, founded Mastodon in 2016. It is a distributed, open source, ad-free platform, unlike Facebook, Twitter, Reddit, and Instagram which essentially consists of dozens of separate servers, or "instances," that are maintained all over the world.
On Mastodon, each of the numerous instances may interact with one another, allowing what users write in one instance available to users in another.
Here is an instance to probably clarify the new tech: Similar to picking between Gmail, Hotmail, Yahoo, etc. when creating an email account, users who initially register for a Mastodon account must specify the server or instance they would like to join, thus generating their account address.