For decades, women have widely been underrepresented in both the realm of entrepreneurship and the broader technology industry. According to an analysis from McKinsey & Company, advancing women's equality could help add tens of trillions of dollars towards global economic growth, not to mention the broader social changes that could be brought about through advancing the missions of the meaningful companies led by innovative and empowered women entrepreneurs.
Recently, we sat down with several of these entrepreneurs, including Christina Ross of Silver Frog Marketing (silverfrogmarketing.com), Liziana Carter of GROW AI (getgrowai.com), Dr. Mona Jhaveri, Founder of Music Beats Cancer (musicbeatscancer.org), and Marlo Richardson of  Stage 21 (facebook.com/stage21culvercity/) and Greenwood & Company. In talking with these women — each one a successful business owner and entrepreneur — we asked them about their backgrounds, what got them started in technology entrepreneurship, what some of the biggest challenges were that they faced, and how they overcame them. 
Keep reading to find out what each entrepreneur had to say.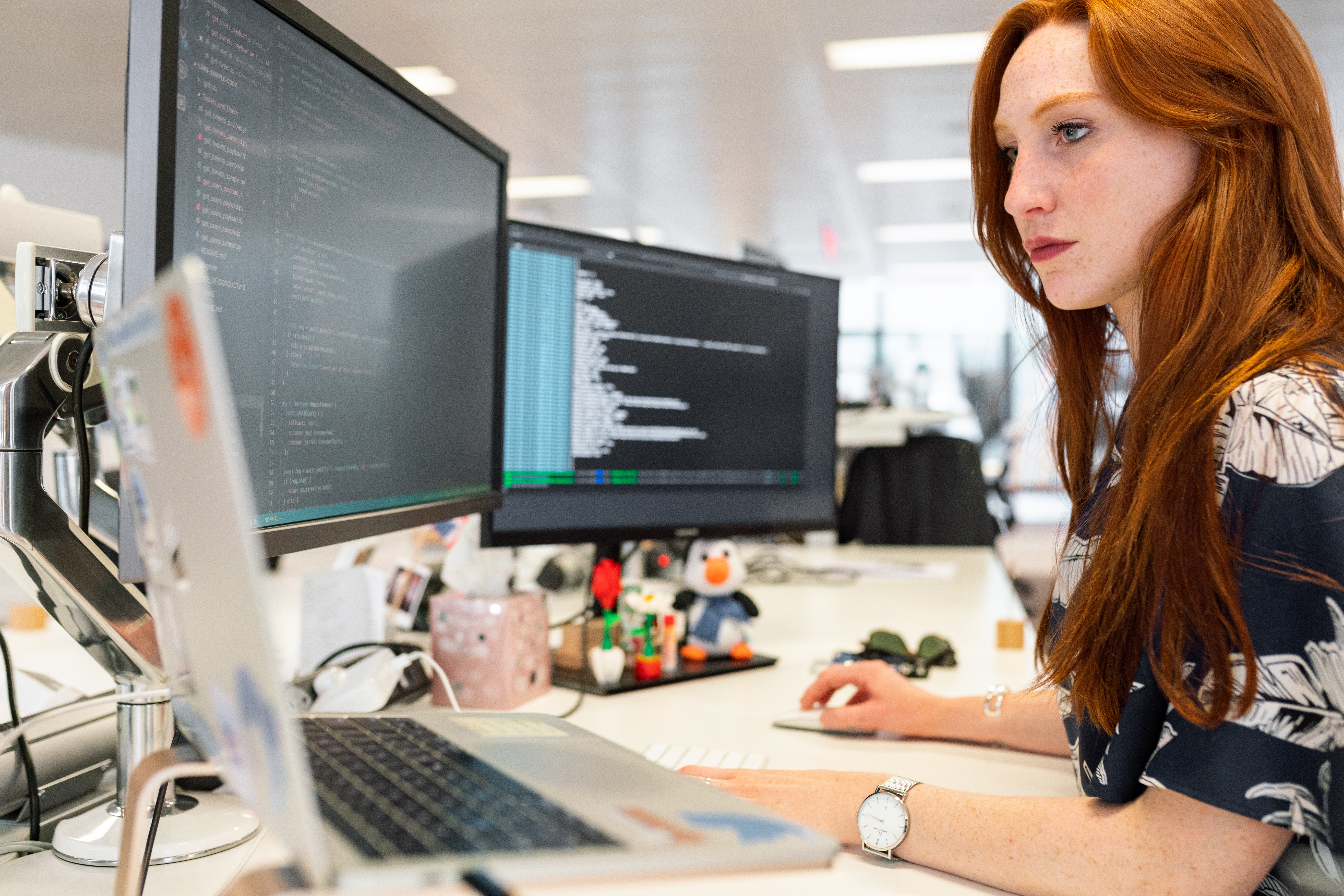 Can you tell our readers about your background?
Christina Ross: I started my career in the franchise industry, specifically the infant and juvenile industry. Through my 20s, I watched business owners make bad decisions, driving me to be a better business owner. Throughout my 30s, I found myself trying and failing at different business ventures. Looking back, it was always marketing that tripped me up, but the mistakes I made helped me learn more about marketing. I began offering marketing services to friends and family and started Silver Frog Marketing in 2015 helping small businesses with their websites and marketing. Almost 10 years later, I've grown Silver Frog into a full-service marketing agency offering TV, radio, and digital marketing business solutions.
Liziana Carter: My professional background has nothing to do with AI and automation. I studied Business Accounting for one of my degrees and Forestry Engineering for another in Romania, where I ran the family forestry business with my father for nine years. By the time I was 30, I'd hit a professional ceiling, so I emigrated to Australia to explore other opportunities. With the PR visa in my pocket, I started an online fitness business from scratch which I ran for two years. During that time, I built my first chatbot, created an e-commerce shop, and tried my hand at affiliate marketing, but it only paid off with experience. I decided to jump career boats and look for a more stable job that paid well which is how I entered the Microsoft space. Everybody told me it would be impossible to get in with no Microsoft experience or certifications, but I got in. One year and three promotions later, I'd hit a professional ceiling again, so I quit my job and opened a chatbot agency.
Mona Jhaveri: I started my career as a cancer researcher in the field of "drug resistance." My work involved understanding how mRNA's of specific cancer genes were regulated or dysregulated in cancer cells. I hold a Ph.D. in Biochemistry and worked at the National Cancer Institute as a postdoctoral fellow. From there, I worked at the Ludwig Institute for Cancer Research as a patent manager, assisting the institute with filing and prosecuting their patent applications. In 2005, I launched a biotech company called Foligo Therapeutics, Inc. to develop DNA therapeutics for cancer treatment. Our first market was ovarian cancer, one of the deadliest cancers for women. I launched the online crowdfunding platform Music Beats Cancer in 2014 to help biotech entrepreneurs raise charitable dollars to support the development of early-stage, innovative solutions for cancer.
Marlo Richardson: I started off in corporate America doing sales and management before spending 18 years in law enforcement where I rose to the rank of Lieutenant. Those experiences gave me a variety of skills needed to be successful in the business world and as an entrepreneur.
What inspired you to start your business?
CR: I find marketing fascinating! I love helping small business owners run and market their businesses. Over the past ten years, I've learned so much and now can help other small businesses reach larger audiences.
LC: I'd loved building chatbots while running my online fitness business. I could disconnect from the outside world and dive into creation for hours after hours. The problem was that when I opened my chatbot agency in December 2019, I started building chatbot campaigns for gyms and medspas, and right when my business was taking off, COVID hit. Those clients' businesses all shut down, causing me to go out of business for the 4th time in 6 years of trying to build my own thing online.
MJ: Music Beats Cancer was born out of my struggles with raising money from Foligo. I realized that increasing the requisite capital for early-stage ideas was extremely difficult, if not impossible. Inevitably, many biotech start-ups like mine were forced to shut down due to a funding bottleneck, which we call the Valley of Death—a metaphorical place where great ideas go to die because they lack the funding to move forward. I understood that this was not only a failure for biotech startups and the biotech industry; this was a failure for the public seeking new ways to fight disease. Music Beats Cancer is addressing this funding issue. We are a charitable crowdfunding platform for biotech entrepreneurs working on solutions for cancer. We reach the public by strategically partnering with independent artists who help us raise funds and awareness.
MR: I wanted to be in control of my own destiny. In both corporate America and law enforcement there is rank, structure, and internal politics. Coming to the realization that — no matter how much you know, how dedicated you are, or how well you're rated by your subordinates, peers, and supervisors — you won't be promoted to the next level until they decide to, it makes you want to do your own thing. That's exactly what I did
Where is your business based?
CR: We are located in Joliet, IL, about an hour outside of Chicago, but we service nationwide.
LC: GROW AI is headquartered in Gold Coast, Australia; however, all our clients are US-based, and the team is 100% remote across the US, South America, and Europe. 
MJ: Music Beats Cancer is headquartered in Washington, D.C., but our team is located all over the world. 
MR: I have one business, Stage 21 Sports and Entertainment Lounge, based in Culver City, CA. My other business, Greenwood & Company, is located in Chatsworth, CA where we have a licensed indoor cultivation facility and manufacture and distribute products such as Napalm, Just Mary, and Tremendo Cannabis products.
How did you start your business? What were the first steps you took?
CR: I started it in my home as an independent contractor, doing websites and email campaigns for a few local businesses, and grew that from 2015 to 2019. My husband and business partner joined me in 2019 with his knowledge of TV/Radio media, and our company has grown tremendously since. The most important first step was making sure I had a website, a Facebook page, and a Google presence before I went through the proper business registration steps like officially forming and registering the company and obtaining local business applications.  
LC: In May 2020, I was back to square one with my chatbot agency, but that helped me realize that I needed to step my game up and learn AI. I enrolled in School of Bots, taught myself Google's AI, and changed my niche. The market for online businesses boomed during COVID, so I saw a great opportunity targeting that market.
MJ: Music Beats Cancer started as a need to find funding for my biotech, Foligo Therapeutics. Specifically, I was seeking non-dilutive cash that could be used towards studies that would help prove the principle of our technology. In time, I realized that I could not both run a for-profit company and a nonprofit charity. The first step I took was actually stepping down from my CEO position, shutting down Foligo, and taking on the Founder/Director position with Music Beats Cancer.
MR: Both businesses started with a written plan and organizational structure. When I see things on paper, I find them easier to plan and execute. The second step was funding. Once you have your vision down, you can start to itemize each process and budget for where you'd like to be. 
What have been your biggest challenges and how did you overcome them?
CR: Our biggest challenges thus far are related to finding the right balance of clients and staff, putting the right processes in place, and keeping up with demand. However, those challenges allow us to build systems and processes to make things easier for both our clients and our staff.
LC: The biggest challenge was getting the first clients when I had no results to show. I had ideas that I thought would make my future clients extra cash, but they were only ideas. Because I was doing the entire build and had no expenses, I could leverage a money-back guarantee and sign my first high-ticket clients. My first chatbot campaign generated $107k in 25 days, which blew my mind (and the client's). That's how it all started. From there, I spent 12 months on a handful of clients, coming up with new use case ideas, which I then actioned. The best part was that my clients let me implement any campaign idea as long as it delivered results.
MJ: In the beginning, my biggest challenge was credibility. While I have scientific know-how, running a charity and fundraising was a new game entirely. Our model of crowdfunding biotechnologies for cancer was also an out-of-the-box approach for the war on cancer, and I was met with much resistance.
MR: My biggest challenge is always staffing. Unless you go into business to do all the work yourself, you have to make sure you hire the right people. I've overcome staffing challenges by hiring quality people, even if they lack the experience. I'd rather spend my time and energy developing the right person than hiring someone who believes they've got it figured out and have nothing to learn. I love people that are always looking to grow and offering them that opportunity.
How do you stay focused?
CR: To-Do Lists! I love following a good to-do checklist. Every morning, I take time to go through my to-do list and think through each task and how I can move it forward. This has helped me stay focused on the important things that need to be done and delegate what I can't get to.
LC: Naturally, I'd say. I've never needed motivational quotes or somebody to push me. I wake up every morning, and I can't wait to get things done. 
MJ: I believe focus begins with a deep belief in yourself and your overarching mission. That belief keeps you moving forward, even if you go down wrong paths, which you inevitably will (and must) do if you want to succeed. As a wife and mother of two, I have a lot of distractions in my everyday life. I work with the resources I have. Getting sidetracked and giving up is not an option under the influence of deep belief.
MR: I'm a detail-oriented person and have a lot of things going on from day-to-day. Finding focus is always a challenge for me, but I'm very visual, so I make sure any plans I make are updated to my calendar. I've found that if I don't write it down, it doesn't happen, so I also take a lot of notes. The screenshot feature on my cell phone gets a lot of use! 
How do you differentiate your business from the competition?
CR: Our people! Marketing is very broad and there are thousands of agencies across the US.  We've built our department with incredibly talented professionals that research and plan for each client. No two businesses are exactly alike, and we pride ourselves on being able to create holistic marketing plans for businesses of any size, in any industry.
LC: Results and speed of implementation. We're one of the very few agencies that can lead with results and numbers in our sector. 
MJ: We support the process of innovation through public crowdfunding, rather than the process of research and discovery through traditional institutional funding avenues. This enables donors to give directly and transparently to the cancer-fighting solutions they deem worthy, granting the public a say in which cancer solutions advance to the clinic. Typically, these decisions are made by investors and pharma, and are dependent on financial success rather than public need.
MR: I offer experiences. I work with a lot of people who support my business because they enjoy working with me and my staff. We are in the people business, so I love to make people feel good and that they're getting their money's worth from my businesses.
What's your best piece of advice for aspiring and new entrepreneurs?
CR: Don't give up; keep planning and moving your ideas forward. Don't be afraid to fail, and always learn from your mistakes so that you can improve on them in the future.  
LC: Execute, especially when you don't see the results you're looking for. Go harder until you get it right. It will most likely take years, and you likely won't have much to show for during that time, but consistency in your execution beats luck every time.
MJ: Be prepared for the ride; mentally, emotionally, and financially. You need to be willing to do what it takes and think about your long-term success—not in terms of day-to-day, but in terms of years and/or decades. Building great enterprises and creating meaningful change takes a relentless will and a lot of time.
MR: Focus on making customers happy and making their experience enjoyable, and they will come back and pay the price you ask.
What's your favorite business tool or resource? Why?
CR: Microsoft Office 365, because it lets me easily share documents with my team and clients.  In the Digital Marketing realm, I like using Bright Local because it allows our team access to so much digital presence data.
LC: Loom is my favorite tool. I use it for everything from communicating with my team and clients to pitching new prospects. Naval Ravikant's approach to business is my favorite resource, particularly escaping competition through authenticity and the concept of productizing yourself.
MJ: Interestingly, my favorite resource is reading social media posts or listening to interviews of people outside my industry sphere. I believe solutions to problems are out there, but they may not necessarily be in front of you. The idea of taking an approach used in one industry and adapting it to another is key to leading any cutting-edge organization.
MR: Social Media. Between Facebook, Instagram, and TikTok, you have an entirely new way to build a brand and bring awareness to your products. People pay attention and it's very easy to target the types of consumers you're seeking.
What do you have planned for the next six months?
CR: We just partnered with Thryv to help us blend marketing with business solutions that will help many smaller local businesses. We also plan to grow our TV/Radio department by continuing to add more clients.
LC: Find great minds and attitudes to hire and grow my team — a challenge in the AI and chatbot space — then continue scaling my agency and potentially dive into voice AI.
MJ: We're kicking off 2022 with a campaign by Singh Biotechnology. They are working on a drug candidate, called SBT-100, that has already seen promise in animal models for various cancers, including hard-to-treat cancers like pancreatic. We're also hosting a virtual tribute to David Bowie on January 20, who passed away from liver cancer in January 2016. The show will be headlined by NYC indie musician, guitarist, and composer Rafael Rosa and hosted on the Music Beats Cancer Facebook page. Additionally, we are starting a #MusicBeatsCancer challenge on February 4 in honor of World Cancer Day. The challenge requires our partnered artists to raise funds, where the ones who raise the most will get unique exposure opportunities. We are also launching a #MusicBeatsCancer challenge on February 14th to honor our loved ones who have battled and continue to battle cancer.
MR: I have recently invested in a Winery and Resort and a Wine Bar. I will also be developing new beverage brands in several different beverage industries; a wine brand called Braymar Wines, an infused coffee called Urbane Grind, and an infused sparkling beverage called HomeSchool. I'm very excited to share these products with consumers.
How can our readers connect with you?
CR: Feel free to connect with me on LinkedIn, through Silver Frog's website, or email: christina@silverfrogmarketing.com.
LC: People can find me on LinkedIn or go to GROW AI's website at getgrowai.com.
MJ: Please find us at MusicBeatsCancer.org, Twitter, Instagram, Facebook, and LinkedIn. 
MR: They can connect with me on Facebook, Instagram, TikTok, and Twitter.
Comments
comments