Meritnation, a company that started in 2007, today is India's largest Online Education Platform for Class 1-12 with over 85 lakh students. The company works in the online tutoring segment for students from CBSE & ICSE and leading state boards like Maharashtra, Tamil Nadu, Karnataka, Kerala etc.Meritnation also offers Test Prep packages for entrance exams like JEE, AIPMT, CPT.
In times of today, with parents wanting to make no compromises when it comes to their child's education, the tutoring segment has become a parallel system of education for school going childrenin India.Education is one of the hottest segments in the Indian market right now.India has more than 1.4 million schools and with tutoring in the schooling segment expected to grow from US$ 8 billion in 2011 to US$ 26 billion in 2020, there lies a large and fast growing market for coaching and tutoring services imparted through innovative means, mainly the Internet.
In a hot market like this, Meritnation has managed to create an offering with a strong depth and breadth and has communicated their brand very effectively to their audiences . The company is surely standing on the springboard ready for a giant leap. In this article we look at the story of growth and strategy of India's largest online educational enterprise.
It All Started By Providing Resources For Self Study
When the company started, the idea initially was to make information available online for students to use for self study. All the books and other information required for school studies were available in a non digitized format at that point and Meritnation wanted to get it all online for their students to use.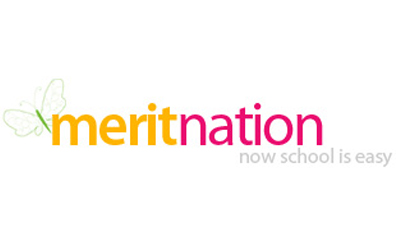 Once all the books were online, the next step was to get the students interested and engaged in what they were learning. Meritnation incorporated a number of features to achieve this engagement.Animated Videos (2-3 minute videos with complete explanation of the concepts were then incorporated on the site. Today the site hosts more than 14000 videos.), Interactive exercises (by introducing puzzle and games after each concept), Assessments that bridge the knowledge gap (System creates a personalized test for every student. Questions are created on the fly depending on a student's response to a previous question. This happens till the system finds a gap in understanding of a particular concept by the student. ) etc.
Then Came Social
The "social" concept today dictates almost every aspect of our life. And when it comes to education, the concept of "social learning" made complete sense. Meritnation therefore came up with a Facebook type social network where students could see what other students were reading, what tests they were taking and could take help from other students and experts in understanding of concepts.
Meritnation also allowed various school pages to be created where all your uploaded tests, home-works, updates from teachers were made available on your school page. Today the company has successfully managed to create one of the largest micro community of schools online and has more than 4 lakh school pages created on the site.
The Power of Mobile
Understanding the impact mobile technology was creating across India, 2 years ago the company invested heavily on mobile.  With the intention of creating resources for learning on the go, Meritnation came up with mobile apps on iOS, Android as well as a mobile website. The company also offers specialized apps such as:- For IIT-JEEnius – Formulae & Notes and Math Tables by Meritnation.
The company is soon planing to come up with a Whatsapp like app targeted for each school.

Creating trust
When it comes to education, creating trust among parents is a very important factor in success of a company. Meritnation believes that positioning themselves as an enterprise serious about their mission and working in conjunction with the parents were the two factors which helped the company create trust.
Meritnation, backed by Info Edge, invested heavily in creating a strong product and communicating their brand very effectively to their audiences. The company invested heavily in UI – UX making sure that every touch point which interfaced with their users was of a high quality. The company also invested heavily in TV campaigns in the years 2010,2011 and 2012. These two factors helped the company create a perception about being a high quality brand in their space. The promise of quality helped create trust in the minds of users.
The company also has a very strong team of counselors. These counselors personally call up each parent who has shown interest in Meritnation to explain their services and to make sure that parents feel completely comfortable about tutoring their children through Meritnation.
Meritnation recently also came up with a mobile app that helped parents track the activities of their kids while using Meritnation product. Keeping the parents informed and involved has helped the company to become a trusted partner in the education segment.
Solving a Problem for Every Market Segment
Every entrepreneurial venture that has started in the recent past has been successful because it has  successfully solved a core problem for multiple user groups.A large part of Meritnation's success can also be attributed to the fact that the company has taken into account multiple user groups and has created a solution for each one of them. The company has also managed to keep the costs low as compared to other similar options available in the market at this point. Price is a huge factor while selling in India and keeping the costs low has helped Meritnation remain at the forefront.
A lot of users log on to Meritnation for their free content and Mertination does offer a lot of content that is valuable, that caters to the basic requirements of these users and is freely available on the website.
To cater to the crowd who preferred teaching to self learning, Meritnation came up with live classrooms. Students could now login into these virtual classrooms where qualified teachers (Meritnation works with a lot of young IITians who teach these students ) teach students using highly interactive and engaging content.The company is currently focusing on hiring a number of teachers to cater to the growing popularity of these live classrooms.
There are a number of students specially in Tier 2 and tier 3 cities who do not have access to internet. For these students Meritnation has set up offline classes. Students can visit these classes at a specific time each day, can log on to their computers assigned to them and can be a part of virtual trainings conducted by Meritnation.
The company has also recently ventured into international markets starting with Singapore and Dubai. Presence of a large amount of Indian population in these countries has enabled the company to establish its presence quickly in these two countries. Meritnation has specialized programs for these NRI audiences. The company also has apps specifically targeted for these students.
Meritnation is soon planning on entering the US market as well.