The year 2022 was very poor for Meta Inc. as the value of shares fell 65 percent which led the company to lay off its employees about 11,000 to cut costs. 
Previously, the company recorded higher earnings than its expectations with the stock price jumping to more than 20% in a single day.
That's just the opposite of how every company is struggling to come back into the stock market like Meta.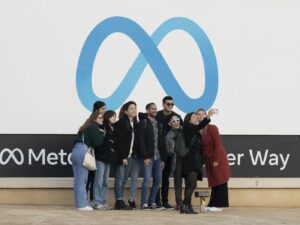 However, there are still some internal challenges that the company is facing which are revealed through an internal memo from a company's executive member. The challenges include the increasing popularity of video making app TikTok, limited business advertisement of Apple Inc, etc. 
Staff was advised to control their enthusiasm in the statement that Meta Chief Marketing Officer Alex Schultz put on Meta's internal employee messaging board, Workplace, in early February. The street's response and our share value shouldn't be our top consideration, he wrote.
"We have to keep our eyes on the horizon." Although we are still early in this recovery, although not everything will work out, I firmly believe in this company.
The new security function that Apple presented in 2021 restricted the amount of information Meta could gather about many mobile users making it more challenging for the firm to target advertising, which is a crucial component of its prototype, as noted by Schultz in his declaration that Meta is still "at the whim of Apple."
In February of last year, Meta projected that the shift will cost the firm $10 billion in lost annual revenue, or nearly the same amount that the business spends on its metaverse goals. Since Apple adjusted, Facebook has been utilizing artificial intelligence to make up for those losses and enhance targeted advertising independently of Apple.
As reported by the Wall Street Journal, one strategy has been "bargaining with users" to convince people to consent to monitor in return for not receiving as many advertisements.
These initiatives are still in their initial stages, but Schultz's memo shows how much control Apple seems to have over Facebook and Instagram as the owner of the iPhone App Store.
The CEO also downgraded hopes for Reels, Meta's TikTok knockoff, noting that although its "monetization efficiency" (i.e., how much profit the firm is generating through ads on Reels) has increased, it "is still very low."
Reels are, on the whole, "still smaller than TikTok," according to Schultz. As stated by Mark Zuckerberg, CEO of Meta, users in non-Chinese countries spend roughly half as much time using Reels as they do with TikTok.
The number of Reels plays on Facebook and Instagram per day has risen by more than 50 percent in the past six months, according to Zuckerberg, who also mentioned this in a post following the firm's earnings report this month.
But compared to Facebook and Instagram feeds, Reels however does not generate nearly as much revenue from advertising.
Schultz was equally direct when discussing the general acceptance of Meta's apps.
"We are seeing better numbers on young adults and teens in the US, but we're not satisfied," Schultz wrote. "Sentiment trends are better for our brands, but that doesn't mean they are good in the US and similar countries.
The memo is consistent with Zuckerberg's recent barrage of messaging: Members of staff must put in additional effort to guarantee that Meta is once again "winning." As per reports, the firm is considering more redundancies.
In his direction of better productivity, Zuckerberg is especially interested in decreasing the number of levels of middle management.
The message also serves as a reminder of how fragile Meta's trajectory still is, after 2 decades of almost unstoppable development that unexpectedly came to a halt last year. To declare Meta's latest share market advances a recovery would be premature.
The executives of Meta have no intention of letting the firm rest on its laurels despite the immense financial chaos the technology field as a whole is undergoing. It is very apparent from Schultz's statement that much more work needs to be done before Meta can restore its former glory.
Comments
comments