Facebook and Instagram's parent organization, Meta, on Friday introduced a premium membership programme which will enable individuals on both sites to pay for verification.
CEO Mark Zuckerberg made the announcement on his "Meta Channel," which is one of the latest features the company has rolled out for creators to "directly reach their audience and form deeper connections with their communities," the company said.
Only personal accounts are qualified for Meta Verified, which has a subscription fee of $14.99 for iOS or Android phones and $11.99 for websites.
"Meta Verified is rolling out in the U.S. today," Zuckerberg said on his Meta Channel. "You can get a badge, proactive impersonation protection, and direct access to customer support."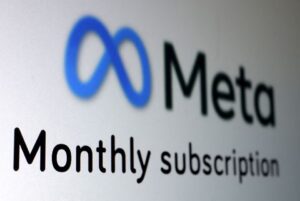 After Twitter Blue's successful relaunch last December following an earlier effort at debut, owned by Elon Musk, Zuckerberg has decided to introduce a subscription model for the social media platform.
Users from the United States, Australia, and New Zealand can presently access the service, thanks to the firm. But, individuals can sign up for a waiting list to be informed when it becomes accessible in their area.
Users who already have verified badges can enrol for the Meta Verified membership as well, but the firm indicated that it does not have intentions to alter the verification standards for individuals that have been previously verified.
The launching of the program corresponds with Meta's attempts to cut expenses and enhance financial results in the aftermath of two waves of job cuts, the most current of which did take place this past week and culminated in the firm dismissing approximately 10,000 employees. Nearly 11,000 Meta staff lost their jobs in November.
Earlier, Musk mocked Mark and it did not appear that Elon Musk appreciated strong competition. This was made abundantly clear when he stopped providing Twitter's API freely to programmers and turned it into a subscription model.
After taking the power of the platform, he reportedly also disabled Twitter rival Koo's account from India. Furthermore, Mastodon's accessibility to the micro-blogging site was limited. Musk is indeed not pleased with the rumours circulating that Meta is going to develop a Twitter alternative.
A firm spokesperson for Meta Platforms Inc (META.O) revealed earlier this month that the company is exploring the potential for building a text-based decentralised social media platform that would directly compete with Twitter Inc., the Elon Musk-owned firm.
"We're exploring a standalone decentralized social network for sharing text updates. We believe there's an opportunity for a separate space where creators and public figures can share timely updates about their interests," a Meta spokesperson told Reuters in an emailed statement.