On Thursday, Minerva FC became the first team from north India to win the coveted Hero iLeague Title. Football fan or not, Minerva Punjab FC winning their maiden iLeague championship is a big deal for sports and especially Sports Tech in India.
If you are a tech investor, entrepreneur or a maker, its time to pay close attention as opportunities are knocking for building multi million dollar businesses around the rise and disruption of sports. And the answer revolves around seeing why a team like Minerva FC, who were at no.7 in the league last year competed against clubs with deeper pockets and wider access to foreign players to win the title for the first time in their history.
While competing clubs like Mohun Bagan and East Bengal splurged cash on signing foreign players, they have paid for putting a premium on established names and not measuring pre game quality. Fans are quickly dismissing and reasoning the loss of these top clubs due to injuries in the season. While some of this is true, it can also be assumed that Minerva faced the same probability of injuries, or maybe not?
It all started 7 months back when Minerva FC signed a deal with a startup called Protege Sports to measure on field data and analytics for them. It made sense as the licenses for premium athlete tracking technology from companies like Australia based Catapult Sports ranges in hundreds of thousands of dollars. From that day on, Minerva FC measured every move of every player they signed, during games and during practice. With basic analytics, they could derive player comparison data, use data to identify strengths, and most importantly, identify data patterns that may lead to injuries.
Minerva FC used data and analytics to outdo every other team in the iLeague.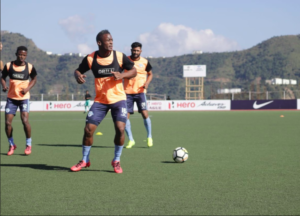 The global youth sports analytics and wearables market is projected to reach $6Bn by 2020. Use of tech, even in amateur leagues is no more just a factor of cool, but with case studies like Minerva, it is changing the way team games are being played at all levels. And companies like Protege Sports are disrupting things to make it a level playing field for all.
We found a few other companies like SPT Sports and Boltt building some really good sports tech products in this domain as well. All you need to do is look a little closer to identify needs of clubs like Minerva and opportunities are in abundance. And when we say look closer, we literally mean look closer – check out this image we found on the social feed of the goal scorer in the final game – William Opoku Asiedu
He is about to head back to his team after the final whistle, and there is a wearable device inside that tracks his every movement for the day!
Incidentally, Protege Sports was also the pitchoff winner of Techstorry Hustle 2018. Selected by the team at Mumbai Angels from amongst 300 startups.
We are betting big on the sports tech market to be ripe for building the next unicorn. Let us know your thoughts in the comments section.