Are you ready to elevate your audio experience to new heights? With the increasing demand for high-definition Smart TVs, it's essential to complement your visual immersion with top-quality audio output. Let's face it, the default audio from most Smart TVs just doesn't cut it. That's where a new audio setup comes into play. In the past, people would opt for high-end home theater systems, but limited space made it impractical for many. Enter the game-changer: soundbars.
Soundbars offer the perfect solution, delivering impressive audio performance while offering portability and seamless connectivity. And when it comes to soundbars, one brand that stands out is Mivi. If you're not familiar with Mivi, they are an emerging audio brand based in India, known for their range of outstanding audio products, from Bluetooth speakers to headphones, and now, soundbars.
So, if you're looking to enhance your entertainment setup or simply improve your audio experience, we've got you covered with the Mivi Fort S60 soundbar – a budget-friendly gem. Without further ado, let's dive into the specifications, pricing, and our final review to determine if this soundbar is the right choice for you.
Mivi Fort S60 Soundbar – Unleashing Impressive Audio Performance and Design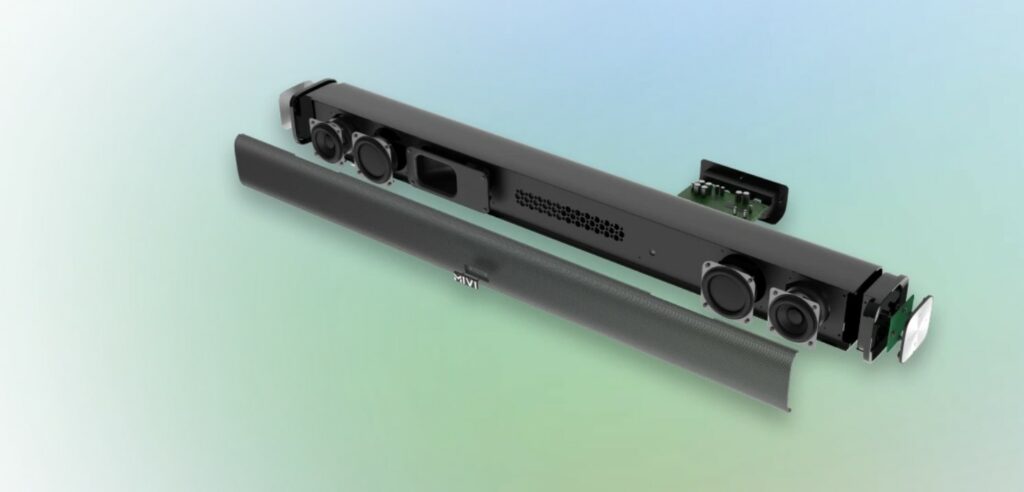 Let's start by examining the design of this sleek soundbar. It features a slim profile with a sturdy metallic cover on the front, ensuring durability and a modern aesthetic. The front panel also boasts LED indicators cleverly integrated with the Mivi logo. On the right side, conveniently placed power and volume buttons provide easy control. Plus, for added convenience, a remote is included, so you can adjust the volume without leaving your comfortable spot on the sofa. Whether you prefer wall mounting or placing it on a surface, the Mivi Fort S60 offers both options.
On paper, the Mivi Fort S60 soundbar boasts powerful 60W speakers positioned at the front. But let's dig deeper. This soundbar is equipped with a pair of subwoofers, delivering robust bass performance, along with high-quality speakers that excel in reproducing both highs and lows. During our extensive testing, we discovered that pushing the volume to the maximum might result in minimal distortion, but it's barely noticeable and doesn't compromise the exceptional audio quality this soundbar delivers.
Beyond Hardware: The Perfect Combination of Software and Hardware
The Mivi Fort S60 soundbar takes audio to the next level by combining advanced audio algorithms with top-notch hardware. It offers three distinct sound equalizer modes: Music Mode, News Mode, and Movie Mode. In Music Mode, the soundbar enhances the bass for a more immersive music experience. News Mode, on the other hand, prioritizes vocals, optimizing the highs and lows of voices for crystal-clear news delivery. And finally, Movie Mode combines the best of both worlds, providing an impressive balance between bass and overall sound performance, ideal for enjoying your favorite films.
Mivi Fort S60 Soundbar – Connectivity Features 
Now that we've covered the audio performance and design aspects, let's delve into an essential aspect of any soundbar: connectivity features. Picture this scenario: you're all set to enjoy a thrilling horror movie night with your friends at home. You power on your TV and soundbar, but they just won't connect! Frustrating. Well, Mivi understands the importance of seamless connectivity, and they've made sure to equip the Mivi Fort S60 soundbar with the latest and greatest connectivity options.
When it comes to Bluetooth connectivity, the soundbar boasts the advanced Bluetooth 5.0 technology. Users rave about its flawless performance, offering a lag-free and swift connection experience. But that's not all—Mivi has gone the extra mile by including support for an Aux cable and USB cable as well. So, whether you prefer wireless convenience or a more traditional wired setup, the Mivi Fort S60 soundbar has you covered.
Mivi Fort S60 Soundbar – What's the Pricing?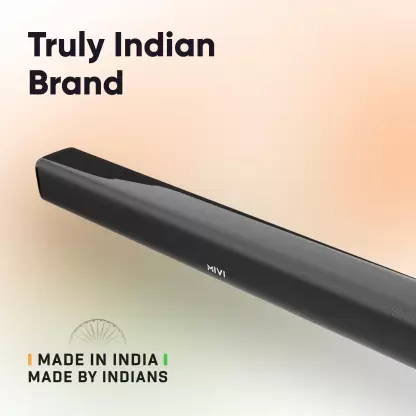 Now, let's talk pricing. Mivi has struck a perfect balance by offering an impressive array of features, both in terms of hardware and software, all at an attractive price point. The new Mivi S60 Fort Soundbar is available for just Rs. 3,499. And if that's not enticing enough, you'll be thrilled to know that discounts are available too! With these discounts, you can snag the Mivi S60 soundbar for as low as Rs. 2,999, exclusively on Flipkart.
Conclusion – Should you buy the new Mivi Fort S60 Soundbar
What truly sets the Mivi Fort S60 apart is its exceptional value for money. Priced at an affordable rate, this compact soundbar offers outstanding audio performance that rivals larger, more expensive options. You don't have to compromise on quality or sacrifice your budget to enjoy a premium audio experience.
So why wait? Take your audio experience to the next level with the Mivi Fort S60 soundbar. Elevate your TV viewing, amplify your music, and immerse yourself in a cinematic experience right in your living room. Don't let its small size fool you – this soundbar is a game-changer. Upgrade your audio setup today and discover the difference it makes. The Mivi Fort S60 soundbar is the smart choice for audio enthusiasts who crave big sound in a compact package.