On what appeared to be a normal day, a BBC reporter came unannounced to Twitter CEO Elon Musk's office. Surprisingly, the billionaire wasn't afraid of any questions that came his way and agreed to be interviewed live. In the course of this interview, Musk was questioned upon layoffs, blue check marks, hate comments and false information on the platform among other things. The CEO sounded quite honest and straight-forward with his answers and even put the reporter in an embarrassing position after he wasn't able to justify his question. During the interview, Musk revealed that he had a lot of respect for BBC and thought that the interview was a good chance to answer questions and take feedback.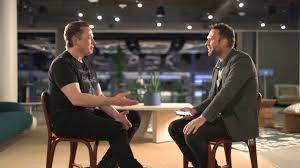 Key Highlights:
Elon also reiterated that the blue check marks of legacy accounts will vanish within the next week. He later took to Twitter informing everyone that it would be done on 20th April.
While discussing the companies finances, Musk said that they are now somewhat in a balance where they are almost equalizing profits and losses.
BBC's label on Twitter was changed from government funded media to publicly funded hours after Musk was questioned about it.
Musk acknowledged some glitches and outages that the site experienced and said that the issues were fixed as soon as possible. Furthermore, he said that the site is working perfectly as of now.
Twitter CEO revealed that he sometimes sleeps on a couch in his office library when situations are stressful.
How Musk faced the questions?
Regrets buying Twitter?
When Musk was asked about if he was happy with his takeover of the social media giant and if he had any regrets, he admitted that his time at Twitter has been extremely stressful. He further added that his acquisition of Twitter has given him a lot of pain and hasn't been anything close to a party. He claimed that his work so far has been full of ups and downs and called it a 'rollercoaster ride'. He also made it known that his time at Twitter was not boring at all.
Layoffs:
Twitter's staff is down to about 1500 from the initial 8000 employees after Musk took over. During the interview, Elon was asked about the layoffs that took place once he took over the company: a question that he would have anticipated. Elon claimed that the blue bird company could have gone down if he didn't take necessary steps at the right time. He also added that firing thousands of his employees wasn't easy for him and he did not personally inform all of them because he couldn't possibly talk to so many people. The CEO said that if he had not done this, the social media platform might have had to go out to business leaving all its employees to look for new jobs.
Self harming tweets?
Mr. Musk accepted that he has on many occasions created problems for himself with his tweets. He jokingly added that he should not tweet after 3AM at night.
Fake information, hate speech and bots:
Elon suggested that the number of bots, the circulation of fake information and hate speech was significantly reduced once he took over as Chief Executive. However, when the BBC journalist claimed otherwise, Musk caught him in his own trap. The journalist claimed that he had seen an increase in hate speech on his feed over after he took over. Musk then asked him for examples of what he had seen which the BBC interviewer was not able to provide; later he admitted that he had not checked his feed in the last 4 weeks. After a few minutes of heated exchange, the reporter had no choice other than to move on to the next question to get out of what is being seen as an embarrassing position.
Twitter's Future:
In the interview, Chief Executive of the social media platform, Elon Musk said that he believes Twitter is headed in the right direction. He further added that the company was doing 'reasonably well'.