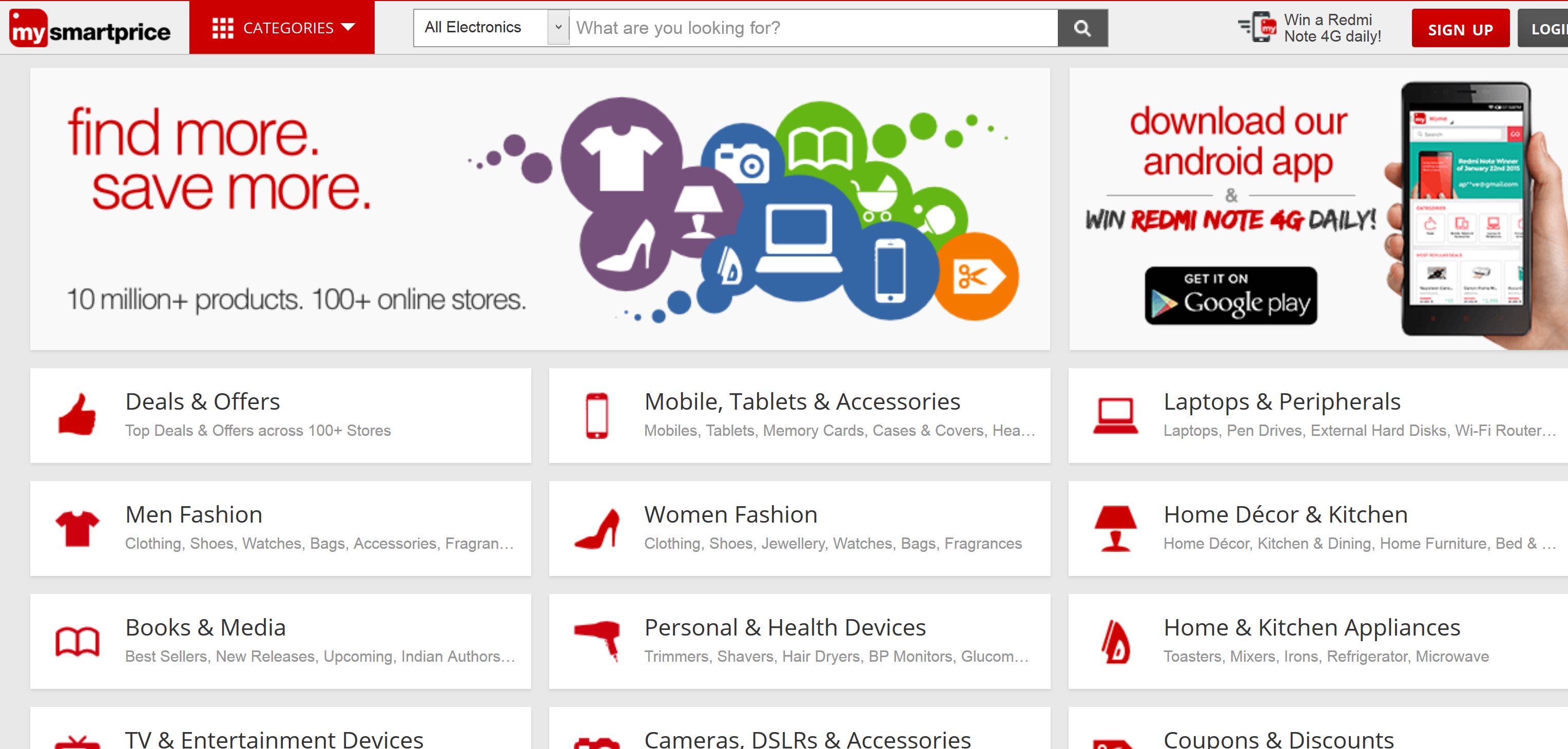 Targets $1Bn GMV and plans to expand its hyperlocal business to 50 cities and over 100,000 retail stores –
 Enabling users to buy Any Product from Any Store – Online or Offline
 Hyderabad, July 14th, 2015: MySmartPrice, India's leading comparison shopping and product discovery service, announced today that it has raised $10 million in Series B round of funding led by Accel Partners with participation from Helion Venture Partners. Started in 2010, MySmartPrice has been a pioneer in the business of enabling ecommerce in India and helps buyers throughout the purchase cycle; from researching on a product to deciding where they can buy the product at the best price. Since the last year, MySmartPrice has made a serious push into offline commerce. The funding will allow the company to expand its hyper local shopping services to over 50 cities across the country, enable over 100,000 local retail stores reach their customers online and super charge its growth to reach a GMV of USD 1 billion.
MySmartPrice caters to over 10M unique users monthly, and has been growing over 1000% year-on-year. The company now aims to become an omnichannel player by adding inventory and pricing from offline stores to its product offering. The company is also expanding its teams across product and engineering, analytics, operations and marketing.
 "The fresh round of funds will be used to build a truly omnichannel platform which will facilitate users to search, decide and buy Any Product from Any Store, whether online or offline. Our vision is also to enable millions of small retailers and entrepreneurs to improve their businesses by truly digitising them," said Sulakshan Kumar, Co-founder & CEO, MySmartPrice.
"MySmartPrice already facilitates millions of transactions for both online and offline stores. A significant investment will be put into helping solve the product research problem for consumers as well. This will address issues such as researching for consumer durables, store feedback, better product suggestions based on expert reviews, opinions, peer consumer feedback etc., "said Sitakanta Ray, Co-founder & COO, MySmartPrice.
Subrata Mitra, Partner, Accel Partners said, "MySmartPrice founders have built a great team, a great culture and a great product – we are happy to partner with a fantastic startup."
"Since its inception, MySmartPrice has had a healthy, organic growth that is both sustainable and aggressive at the same time," said Rahul Chowdhri, Partner, Helion Advisors. "MySmartPrice is one of the largest product discovery platforms in the country. We believe it will continue to lead the space in the future too and are excited with the growth path that the company is on."
Early this year, MySmartPrice ventured into offline listing for mobile phones in Hyderabad, Bangalore and Delhi, helping users get the best possible price for a product both online and offline in these cities. MySmartPrice's Offline partners are already doing business worth $2-3Mn every month.
The android app from the company provides the prices of products and specifications and has a dedicated section for offers and deals. In Hyderabad, Bangalore and Delhi, app users also get to see the price of mobile phones among offline retailers in vicinity. The service has recently begun in Chennai and is expected to launch in Mumbai next month.
MySmartPrice raised $0.37 Mn in May 2012 and $1 million in Series A funding in December 2013 from existing investors Helion Ventures and Accel Partners.
MySmartPrice is a leading product discovery and comparison-shopping platform in India enabling consumers to discover the best products across a wide array of categories that include Mobiles, Electronics, Computers, Fashion and Lifestyle, Cameras, Books, Appliances and Personal Care. MySmartPrice is a Hyderabad based company founded in 2010 by Sulakshan Kumar and Sitakanta Ray with the goal of creating the best online shopping research and discovery destination. MySmartPrice aims to bring all retail stores (online and offline) and products on to a single platform to offer a truly omni channel product search and decision solution to its users.
Founded in 1983, Accel Partners manages over $9.6 billion in capital and invests globally using dedicated teams in Palo Alto, London and Bangalore. Accel has helped entrepreneurs build over 300 category-defining companies including AdMob, Angry Birds, Atlassian, BookMyShow, Braintree, Cloudera, Dropbox, Facebook, Flipkart, FreshDesk, Groupon, Kayak, MuSigma, Myntra, Perfint, Spotify, TaxiForSure and Virident.
Helion is a multi-stage, technology focused venture fund with over $600 million under management. Helion invests in technology and technology-powered businesses such as eCommerce, online services, mobility, enterprise software and outsourcing. Founded in 2006, Helion has over fifty portfolio companies and has backed companies like MakeMyTrip, RedBus, TaxiForSure, YepMe, Ezetap and others. Helion has its offices in Bangalore, Gurgaon (NCR) and Silicon Valley.
Comments
comments