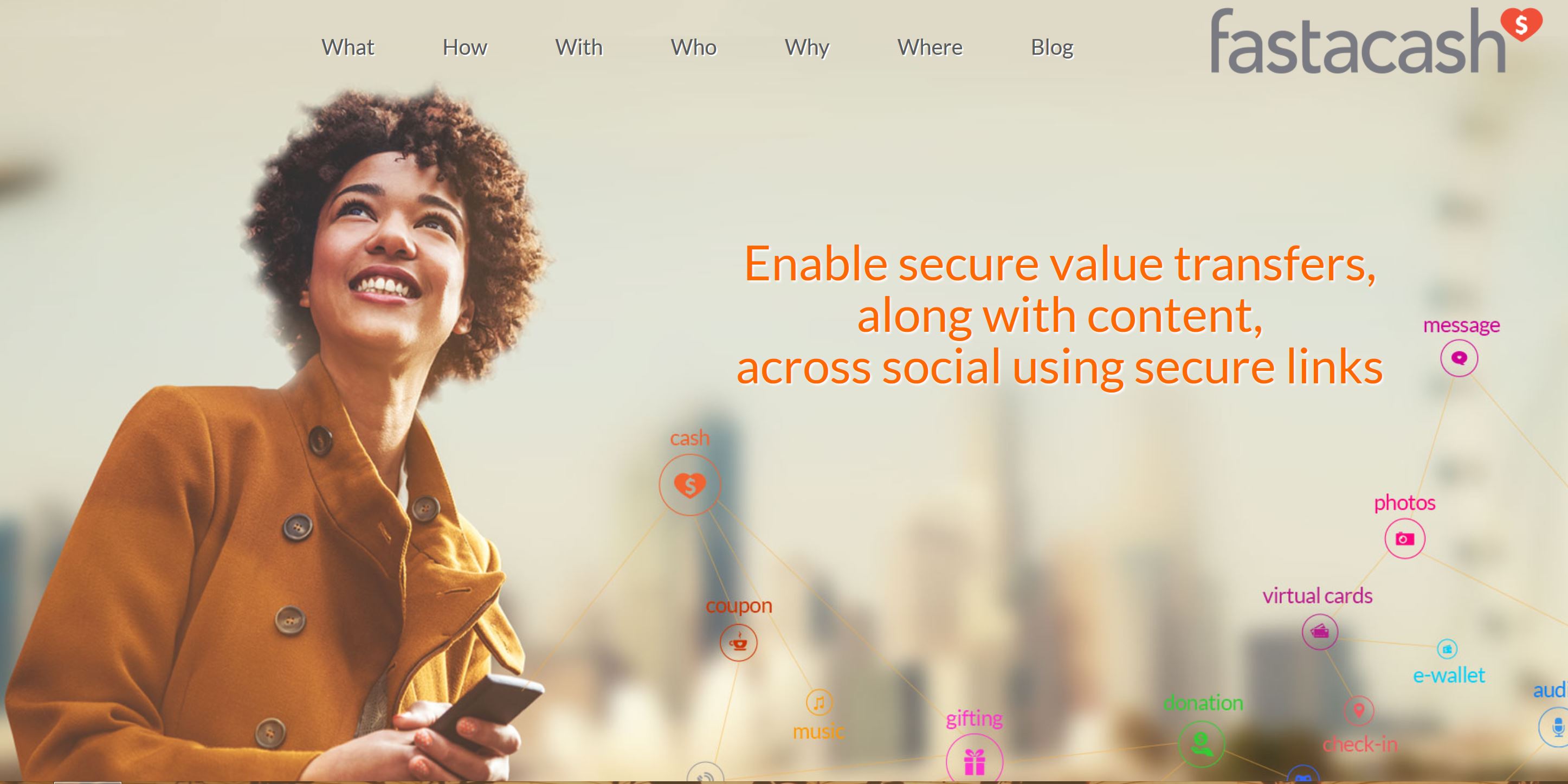 One of the largest Series B rounds – till date – by a Singapore-based fintech company
Investment from new investors Rising Dragon Singapore, Life.SREDA, UVM 2 Venture Investments LP, and existing investors
India, Southeast Asia, USA, UK and Europe priority global markets
SINGAPORE, 14 JULY 2015 – fastacash, a global platform enabling value transfers across social, has raised US$15 million in Series B funding from international investors, one of the largest Series B till date from a Singapore-headquartered fintech company. Rising Dragon Singapore has led the Series B round, which also included fintech venture capital firm – Life.SREDA, UVM 2 Venture Investments LP, and existing investors.
This takes total funding for fastacash to US$23.5 million. fastacash will continue to lead with innovation in social payments and expand its global reach, through partnerships, by tapping into the world's largest send markets, including USA, UK, Europe, and the Middle East, to serve the migrant populations who are active on social channels. It will also build its foothold in the world's largest inward remittance and domestic markets, such as India and other Southeast Asian markets.
Together with its partners, fastacash addresses the ever-increasing global population of mobile users that have limited access to financial services. fastacash works with banks, mobile operators, remittance companies, payment service providers, mobile wallets and other financial institutions to enable value transfers, be it peer-to-peer or person-to-merchant, by leveraging social network channels and messaging platforms.
Vince Tallent, Chairman and CEO, fastacash said, "Our company was created out of the desire to eliminate consumer pain points associated with payments and money transfers, be it international or domestic. Our technology has made what was a cumbersome, and often laborious process as easy as the swipe of a finger. We have an unwavering focus on simplifying the consumer payments experience. With Series B, we will scale fastacash's business by accelerating consumer usage, delivering product innovation and expanding our global reach."
fastacash was founded in 2012, and has services in India, Indonesia, Russia, Singapore and Vietnam. Through its partners, fastacash has acquired over one million end-users and continues to demonstrate strong growth. The World Bank estimates the 2015 international money transfer market at US$685 billion.  Domestic money transfers are estimated to be of similar scale. Global remittance flows are expected to accelerate 4.1 percent in 2016, compared to the 0.9% CAGR in FY2013-14, a market fastacash is well positioned to serve.
fastacash works with some of the world's largest financial institutions, building social payment capabilities within their services or mobile applications. In May 2015, Axis Bank, India's third largest private bank, launched Ping Pay. Socially linked by fastacash, Ping Pay is India's first bank-led multi social payment app, allowing users to send or ask for money and mobile recharge across Facebook, Whatsapp, Twitter, SMS or e-mail. Earlier this year, it partnered with Visa Europe, to bring social transfer capabilities to Visa Europe's partner banks. In November 2014, it partnered with DBS Bank, the largest bank in Singapore and Southeast Asia, to integrate its capabilities within the DBS PayLah! mobile application. Other collaborations include P2P money and recharge transfer services with DOKU, MOBI.Dengi, Oxigen Wallet and Techcombank.
Eric Schaer, CEO at Rising Dragon Singapore said, "The global proliferation of social networks, and the rise in mobile penetration presents tremendous opportunities, particularly across emerging markets. fastacash is leading the way with innovation that is making social payments a reality. We see tremendous potential in fastacash to transform the way consumers transfer money, airtime and other forms of value."
Vladislav Solodkiy, Managing Partner at Life.SREDA added, "We see social and messaging channels starting to enable money transfers. At the same time banks and financial institutions are also looking to evolve their payment services to meet the changing needs of consumers. By bringing payments together with social through partnerships, fastacash is uniquely positioned in the market. With its integrated innovation and open API, fastacash's technology can be rapidly deployed by banks, payment systems, telecom operators, remittance systems, social channels and retailers into their solutions. Consumers can conveniently share value with their contacts across different social networks and messaging apps. Through its agnostic partnership approach, fastacash is able to expand rapidly across geographies."
In 2012 fastacash raised US$1.5million seed funding led by Hong Kong's Funding the Future (FTF Ltd). In 2013, it raised US$3 million in Series A funding from Singapore-based Jungle Ventures, Spring SEEDS Capital, the investment arm of SPRING Singapore, and from Hong Kong-based Funding the Future (FTF Ltd). And in 2014, the company went on to raise an additional US$4 million in an extended Series A round, led by Jagdish Chanrai, a Principal of the Kewalram Chanrai Group, and Golden Oriole Investments.
"We want to change the way people make payments and will continue to do so by making the process simpler, more convenient and social," added Vince.
Incorporated in Singapore in 2012, fastacash provides a global platform which allows users to transfer value (money, airtime, other tokens of value, etc.) along with digital content (photos, videos, audio, messages) through social networks and messaging platforms, enabling secure and cost-effective transactions domestically and internationally. As a technology enabler, fastacash partners with companies and brands in the payments, remittance, consumer products, and social industries to bring its technology to end-users.
Comments
comments