The online fashion retail has grown tremendously in the past few years. In fact, it is estimated to reach $35 billion by 2020. The features range from the brands, materials, prices, discounts offered etc. In addition to the goods related, there also have been changes related to the services offered viz anytime buying, ease of ordering, massive catalogs, deep discounts, cash on delivery, user friendly apps. These, and many more, are all factors that have no doubt contributed to making e-commerce one of hottest growth sectors.
We call it online fashion retail, but the number of products that gets actually retailed (without any return) is very low. Irrespective the sizes we order, we keep returning our products. If we see, barely 1% of Fashion related shopping happens online, conversion rates are pegged anywhere in the 2-4% range and return rates related are pegged anywhere between 15-30%.
The challenges faced by the fashion related shopping is the lack of personalization and real life experience we get while feeling the fabric. In particular, the lack of ability to see how garments look & fit us as we do with a bunch of them in a typical trial room, before picking the right ones, is the key factor hindering high conversion rates as well as driving high return rates.
The Trial Room Designer
MyTryRoom is the brainchild of Geetika Saigal. Geetika, now 39, learnt early on to adapt to new locations, set-ups & people due to the nature of her Dad's government career, hence she was in a way trained to work in a start-up environment!
"Dream On.. Stay Mad.."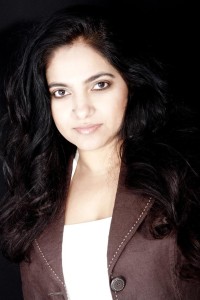 This has been the personal mantra for Geetika for all these years. Coming from a family of IIT'ians & scientists, she was expected to do the same. But as was her nature she chose instead to study business. Armed with a Hons. Degree in Economics, a College No. 1 rank holder position and an MBA to follow-up, she built a strong, sharp corporate career in leading IT & Telecom organisations, both in Indian and Global level.
After working in London for a few years as the Director – Business Development (Global Markets), she returned to India to as the Director Sales for India Region. In the 2 years that followed, of being constantly on the move between airports, her team & customers, she realized that though All is Well (as in 3 idiots), well is not good enough.
The need to create, to build, was something which was not inherited through blood, rather unique to her as an individual. Therein, came the guts to take the leap of faith into the unknown, give up a great career and start afresh.
"It's simple on the outside, and intelligent at its core"
The technology & intelligence deployed utilize the user's basic body measurements input to deliver a user experience close to real-life complete with garment visualisation on the body model to check out the look of it as well as a size recommendation engine which works at a brand level thus removing any doubt of which size in which brand is best suited for the user. These increase the confidence levels and hence conversion rates.
The key to remember in shopping for fashion is that it needs to be fun & intuitive! Hence the tool has features to Mix-n-Match items like a Dress with a Neckpiece or a Top with a Skirt and see how they go together. Much as in real life shopping sprees, one ends up buying more that one item, leading to larger cart size and sales.
Also important to remember is that a typical user clicks multiple items before buying one and sometimes on another day itself. Therefore, a very useful feature is that of the 'Save' button, wherein the user can save her outfits for later, when they can check them out again and decide.
Not to miss the Social angle in Shopping, the tool is fully enabled India's favourite tools Facebook, Whatsapp, Twitter and good old email. So you can Share and get feedback while shopping.
Increasing Return on Investments by decreasing Return on Goods
'By deploying a comprehensive set of technologies in just seconds, they help end-customers visualize garments on their body model, deliver size recommendation for each brand & create outfits to get the real-life Try-Before-You-Buy-Experience.' In addition, it's 'Social' connects would help customers get feedback on Outfits before Purchase as well as get eyeballs / impressions for the e-tailer in the right target segment.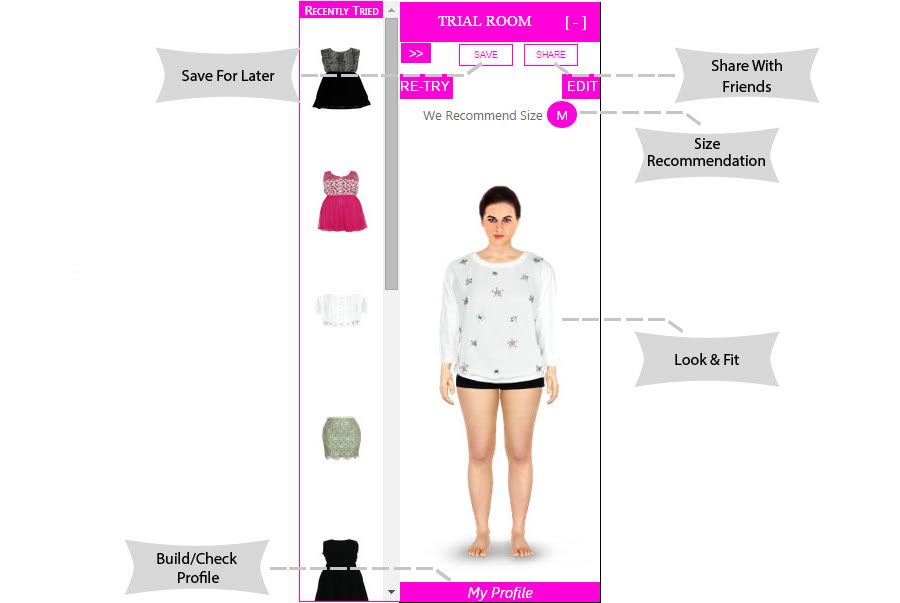 The platform is designed to empower retailers and brands with the continuous data analytics and collection of their customer fit profile data, acting as a data-hub for inputs into inventory management and personalized communications. It can be integrated easily into any online property and is compatible on both desktop & mobile environments. The variety of services offered by MyTryRoom includes
A Visual Try-Before-You-Buy Experience, helping convert inactive users into buyers – a picture is a 1000 words!
Size Recommendation, the data a customer needs to buy online with confidence.
Improves Customer Engagement, by increased page/view, try-ons, sessions time – an engaged customer is more likely to purchase & revisit soon that a passer-by
Improves Conversion Rates
Increases Sales, by simulating real-life trial experience, size recommendation, and increase in basket size by outfit creations
Reduce the return logistics cost due to 'Size & Fit' related issues
Drives Social activity, and in turn generates relevant impressions & traffic, by sharing outfits with friends to get their feedback before buying or simply for fun!
Customer profile data, that can be used to 'Know your Shoppers & Their Preferences – Before They Buy'
Staying Ahead of the Curve
Although it is a team of seven people, located in a office in Delhi, they cater to the virtual trial room experience all over India. They are bootstrapped in terms of funds. They have gained experience in the ecommerce space and have translated it's learnings to develop their new product MyTryRoom. The same has been designed on a SaaS model and the platform has been run in controlled pilot to assess the benefits to end-users as well as brands & e-tailers. This phase has been under stealth mode and their next focus is to partner with established brands & e-tailers so that they benefit from the use of the trial services.
Their current coverage would be for Indian businesses only, given the fact that they are growing at such a high pace & offer so much scope. Additionally, without even a single player at the moment who can offer the same services, they stand out in amongst other players in the online fashion business.
The Business Trial
Whilst Fashion is a hot subject for both genders, their current focus is on Women Shoppers, across all demographics. The Indian Woman is driving the fastest growing category in e-retail, so much so that Fashion is close to surpassing electronics and is the focus area for etailers due to the much higher margins it offers.
Private devices like smartphones and tablets are taking more women to e-commerce . And this trend is only going to increase in the coming years, leading to heightened levels of adoption as well as scope for personalization.
Fashion Buying is very different from Books, Electronics etc. It's highly personalised. This is now a well-recognized and accepted fact in the industry. There are few players now in the last year or so, who are trying to leverage the online fashion space through various ways & means by which you can personalize to a user's requirements.
In terms of business model, MyTryRoom would be B2B, their direct customers would be e-tailers; the online fashion portals and women's fashion brands with their online websites. MyTryRoom is by far, the most advanced, accurate & comprehensive tool to hit the market today.
Comments
comments