According to several news sources, NASCAR has rejected a sponsorship proposal between driver Brandon Brown and the cryptocurrency LGBCoin. Brandonbilt Motorsports, Brown's racing team, had announced last week that LGBCoin — a play on the anti-Biden slogan — will be its 2022 sponsor for the NASCAR Xfinity Series.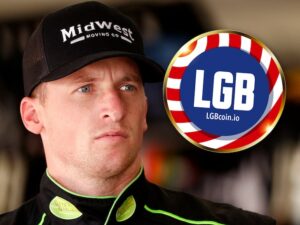 NASCAR has rejected a sponsorship proposal
"No kind of this degrading and obscene term would be authorized on any paint scheme or sponsorship," a NASCAR executive reportedly told Axios on Wednesday.
I'm excited to welcome @LGBcoin_io aboard my No. 68 Chevrolet Camaro as our 2022 NASCAR Xfinity Series full season primary partner!

Press release: https://t.co/yWfkonk8vO pic.twitter.com/s8PkfCtnVD

— Brandon Brown (@brandonbrown_68) December 30, 2021
The shout "Let's Go, Brandon," a euphemism for "F— Joe Biden," inspired LGBCoin, a nearly worthless cryptocurrency. Brown coined the slogan after winning the first race of his career in Talladega, Ala., last October. NBC Sports reporter Kelli Stavast made a cheeky reference to the background noise while being interviewed on live TV and as the audience screamed the anti-Biden slogan, suggesting they must be screaming "Let's Go Brandon."
Brown openly expressed concern that the chant was presenting him in a negative manner as it swiftly became a political meme, and he moved to remove himself from it. "I have no desire to lead a political war." "I race automobiles," he stated in a Newsweek op-ed piece. But, in the end, he stated that he would enjoy his time in the spotlight.
According to a Brandonbilt Motorsports spokeswoman, a NASCAR official had already approved the sale over the phone.
Brandonbilt Motorsports spokesperson Max Marcucci told Fox Business on Wednesday, "We are sad that NASCAR leadership has opted to retract permission of this sponsorship and believe they should have the confidence to own their decision to backtrack and not gaslight a team or a driver." "Unfortunately, NASCAR's handling of this problem now threatens to strain our relationships and puts us in an extremely unpleasant position once again."
NASCAR President Steve Phelps expressed his displeasure with the word in November. "We don't want to be associated with politics, whether on the left or right," Phelps added. "As a sport, we certainly have and have always had tremendous respect for the office of the president, regardless of who is sitting."
As he tries to diversify NASCAR's historically Southern, white conservative fan base, Phelps has made diversity a prominent priority. NASCAR has recently banned the Confederate flag and pledged to do better in the face of social injustice.
If you find this article informative then do not forget to share it with your friends!
Also read: UMA: Everything you need to know