In light of the heightened utilization of platforms such as Uber Eats and DoorDash during the pandemic, New York City has introduced a fresh minimum wage specifically for food delivery workers employed through these app-based services.
Currently, the average hourly wage for the city's 60,000 food delivery workers in Manhattan is around $7.09.
The new pay structure aims to ensure that these workers can eventually earn at least $19.96 per hour.
Starting from July 12, the minimum wage will be raised to $17.96 per hour, and by April 2025, it will reach nearly $20 per hour. The city also stated that the pay will be adjusted annually to account for inflation.
According to the city's announcement, delivery apps will have some flexibility in how they implement the new minimum rate.
As long as workers receive the minimum amount, apps can choose to pay them based on the number of trips, hours worked, or their own payment formula.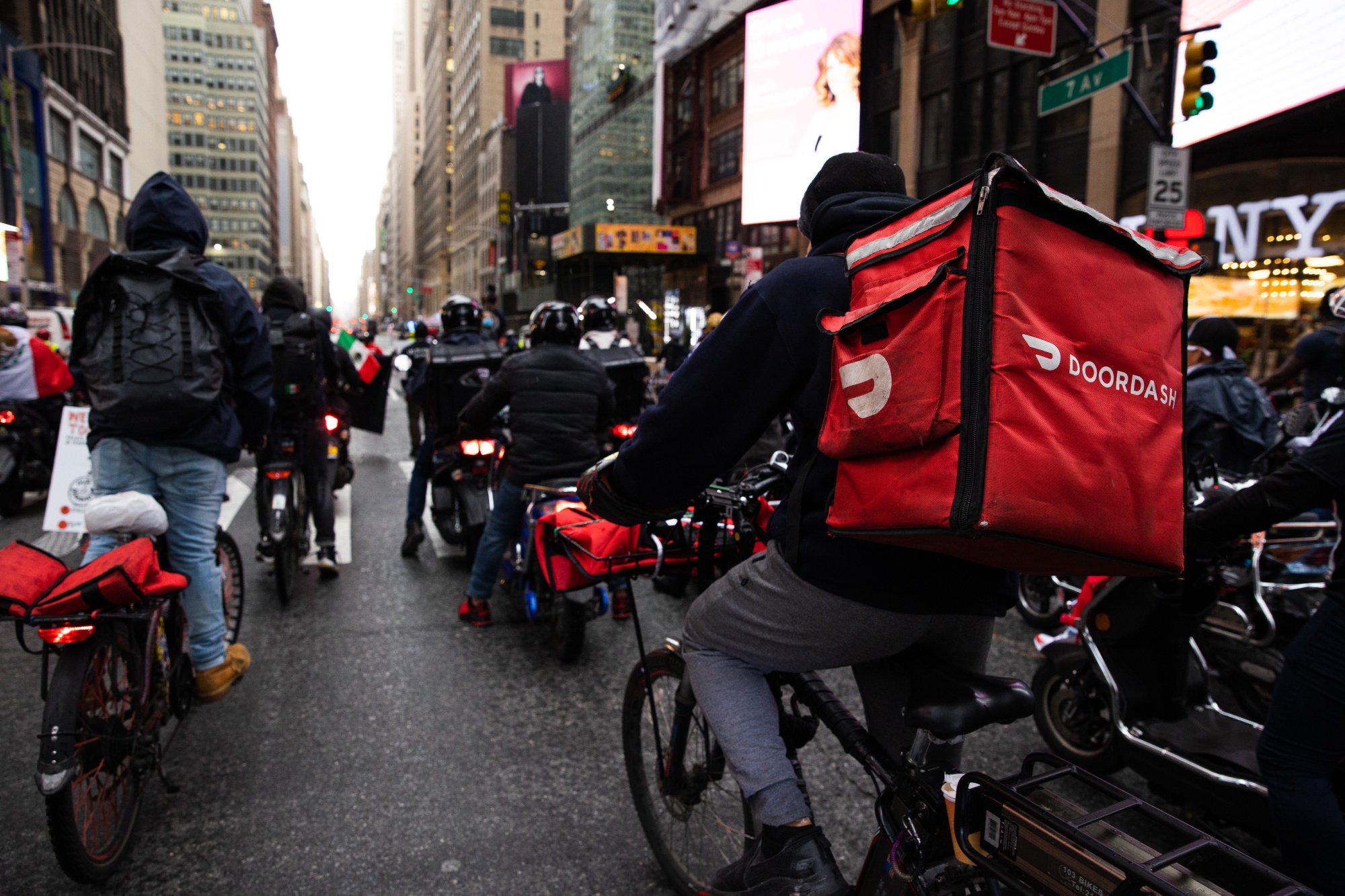 Mayor Eric Adams expressed his support for the new pay rate, stating that the delivery workers have consistently provided their services and now it's time for the city to support them.
He believes that the increased minimum wage, which is almost $13.00 higher per hour, will ensure that these workers and their families can earn a decent living, achieve greater economic stability, and contribute to the thriving restaurant industry in the city.
Once the changes take effect in 2023, apps that compensate workers for the time spent waiting for a trip as well as the duration of the trip will be required to pay a minimum rate of $0.30 per minute, according to the announcement.
Conversely, applications that only offer compensation once a driver agrees to take on a delivery assignment will be obligated to pay a minimum of $0.50 per minute. It is essential to mention that these rates do not encompass gratuities.
Minimum Wage Introduced for App Food Delivery Workers
Ligia Guallpa, the executive director of the Worker's Justice Project, expressed her support for the minimum pay rate, stating that it will significantly improve the lives of numerous families in the city and bring much-needed fairness to delivery workers.
However, DoorDash responded to the city's policy by stating that it is considering legal action, deeming the policy as "extreme" and surpassing the standards imposed on other industries.
Nevertheless, the company clarified that it is not opposed to a minimum wage for delivery workers.
Uber Eats, which also owns Postmates, criticized the city's approach, accusing it of being dishonest with delivery workers.
A spokesperson for Uber Eats, Josh Gold, claimed that the city's actions would lead to job cuts, discourage tipping, pressure couriers to work faster and accept more trips, and ultimately negatively impact the workers.
The pandemic resulted in a significant increase in delivery orders. In 2019, delivery accounted for approximately 7% of total restaurant sales in the United States, as reported by Euromonitor International.
Following a surge in 2020, the percentage settled at nearly 9% in 2021, surpassing pre-Covid levels.
New York City faced challenges in managing the growing demand for online food ordering and the large workforce involved in the delivery process.
The lack of infrastructure dedicated to food delivery created issues for delivery workers, pedestrians, and residents.
Lawmakers responded by encouraging the development of more bike lanes, implementing new regulations for bathroom access, and initiating efforts to address the risk of lithium-ion fires in electric bikes and scooters, as reported by CNN.
Delivery workers also encountered difficulties finding shelter during rainy weather and accessing restroom facilities. Joshua Wood, a member of the Workers Justice Project, stated that delivery workers are often perceived as unclean, unpleasant, and taking up too much space.
To address these concerns, Local Law 115 was passed in 2021, mandating the Department of Consumer and Worker Protection to study the pay and treatment of delivery workers.
The Adams administration is collaborating with Los Deliveristas Unidos to convert vacant newsstands into shelters for delivery workers, as well as to provide charging stations for electric bicycles and phones.