The New York Times, the top news organization in the United States, lost its verified badge on Twitter on Sunday, less than a week since Elon Musk announced Twitter's policy change for maintaining verification badges. The blue marks for historically verified accounts will no longer be shown on Twitter starting on April 1, according to a statement.
Without a subscription to Twitter Blue or the industry-focused Twitter Verified Organizations plans, the microblogging platform would erase the verified check-mark designation of profiles that Twitter had certified as noteworthy before Elon Musk's acquisition, Variety said.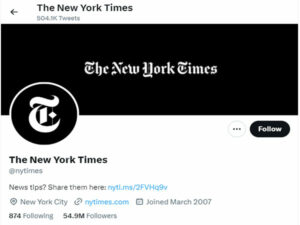 Only single people on Twitter who subscribe to Twitter Blue, which charges USD 8/month through the website and USD 11/month via in-app payment on iOS and Android, will have verified blue checkmarks. The firm said earlier on Thursday that Twitter Blue was now accessible everywhere.
Oh ok, we'll take it off then

— Elon Musk (@elonmusk) April 2, 2023
"On April 1st, we will begin winding down our legacy verified program and removing legacy verified checkmarks. To keep your blue checkmark on Twitter, individuals can sign up for Twitter Blue," Twitter posted from its official handle.
Twitter hasn't yet made clear how it intends to handle accounts belonging to users that have been tagged as "notable" on the platform. Twitter recently switched government accounts to a grey tick mark and added a gold check mark for brands and companies.
Also, their feed is the Twitter equivalent of diarrhea. It's unreadable.

They would have far more real followers if they only posted their top articles.

Same applies to all publications.

— Elon Musk (@elonmusk) April 2, 2023
As stated earlier, a membership to the social network's new Twitter Verified Organizations program in the United States will cost USD 1,000/month (plus tax) and USD 50/month (plus tax) one per additional affiliate subaccount. This is the only option to maintain a gold or grey checkmark badge.
Twitter originally offered verified accounts in 2009 to make it simpler for customers to tell which profiles "of public interest"—celebrities, politicians, businesses and brands, news organizations, etc.—were real and which were fake or parody profiles. Formerly, the business didn't have to pay for verification.
Within 2 weeks of the acquisition, Musk created Twitter Blue, which included the check-mark emblem among its premium benefits. According to the New York Post, the White House told its personnel on Friday via email that it would no longer be paying for Twitter Blue, and that they were obligated to pay independently in order to maintain the blue verification checkmarks on Twitter.
After Elon was appointed as the CEO of Twitter, an adjustment to the blue checkmarks was disclosed. The long-running verified program on Twitter will be terminated in accordance with the updated policy, and users that don't pay the USD 8 monthly subscription cost will lose their blue checkmarks.
Since Musk acquired control of Twitter, the micro-blogging platform has started putting and removing unique, grey checkmarks on famous profiles without providing an explanation.
"Thus, a blue check mark will now simply serve as a verification that the account is a paid user. Staff may purchase Twitter Blue on their personal social media email.