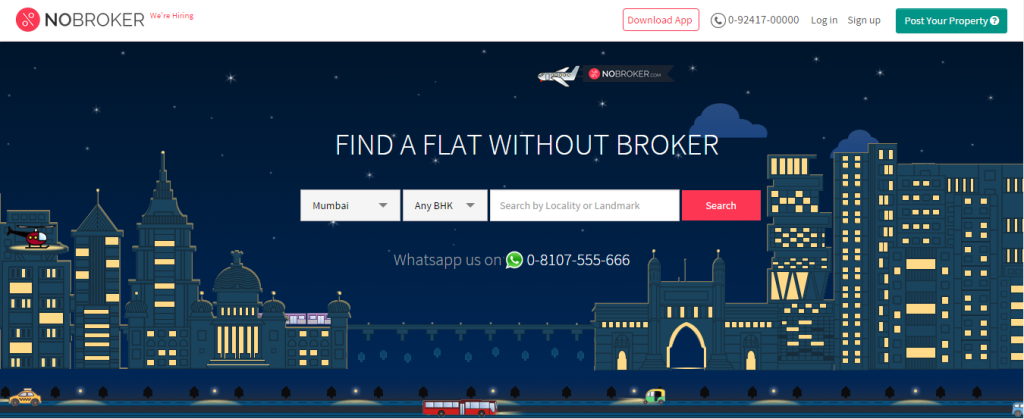 Consider the online real estate industry in the country and you will find that there are many big players. But both globally as well as in India, these players are either working along with brokers or are low-cost brokers themselves. In India, there was no C2C marketplace in rentals until NoBroker.com made its debut!  
About NoBroker.com!
NoBroker.com is the world's largest online P2P property search portal connecting flat owners and tenants directly, by eliminating the need of a broker, with the use of technology. Currently in our country, tenants are bound to pay brokerage year-on-year without seeing any advantage of the broker. The only reason brokers still exist is that there is a huge information asymmetry in the market. NoBroker removes this information asymmetry and provides a marketplace for free exchange of this information that used to cost 1-2 months of rent as brokerage.
NoBroker is a very sophisticated product that works on the backbone of a highly sophisticated technology. The algorithm is designed to keep the broker out of the system. When a new customer registers on the site, the algorithm works in the background and validates the user in around 2 minutes. NoBroker offers all the services that even a good broker cannot, driven through technology. With NoBroker the customer is empowered with 'know-how' of the full process by creating an ecosystem of genuine owners and tenants.
The idea of NoBroker was conceptualized in late 2013 and website was launched in March 2014. The latent demand for a C2C market place in rentals is evident from the fact that globally, $200 billion is paid as residential rental brokerage per annum.  In India, $4 billion is paid in brokerage annually across top 20 cities. This is one of the reasons that NoBroker witnessed massive growth and high rate of acceptance and adoption from customers. In a short span, it has become the world's largest 'Peer-to-Peer' ecosystem in real estate with 2 lakh user base.
NoBroker is leading the paradigm change in rentals from B2C to C2C. NoBroker claims to be the only non-brokerage marketplace in the country and considers unorganized set of offline brokers as their main competitor.
About the Founders!
NoBroker was founded by IIT – IIM Ahmedabad graduates, Amit Kumar Agarwal & Akhil Gupta, because they believed that paying hefty brokerage cannot be the only option to find a new home.
Amit Kumar Agarwal, the Co-Founder & CEO of NoBroker.com, looks after overall vision and direction for the company. Amit is a graduate from IIT Kanpur and IIM Ahmedabad. Out of 13 years of his total work experience, he spent 8 years in management consulting division of PricewaterhouseCoopers (PwC) in their Banking and Financial services vertical. In this period, he consulted top Indian and foreign banks for formulating their business strategy (entry & portfolio strategy) and enhanced their on-ground profitability (through large-scale pan-India implementation, impacting hundreds of branches). He led consulting teams, worked directly with CXOs , and won many accolades. This led him to head the strategy function in ANZ Bank reporting to India CEO. Here, he formulated India strategy and was instrumental in getting the bank, the very coveted two additional India branch licenses from RBI. Having won badminton championship in school, his passion is to play squash.
Akhil Gupta, the Co-Founder & CTO of NoBroker.com, is techie to the core and believes that a tech based platform like NoBroker can revolutionize house hunting experience for customers.  Prior to founding NoBroker, Akhil has spent almost a decade developing and managing software development team at Oracle & stratup. His passion of technology and pursuit for solutions helped in filing couple of patents. Other than software development, Akhil has experience in product design and rolling out products for global audience and has conducted trainings for sales team at Oracle. During his stay at IIT Bombay, Akhil was General Secretary of his hostel. As head of the hostel counsel he was responsible for the welfare of 450 students. Akhil did his final year project with Honeywell and UCSB and filed a research paper with a coveted research journal on his finding on pulp digester functioning.
NoBroker is not a look-west, copy-east startup. The idea behind the launch of NoBroker came from personal bad experiences, of the founders, with brokers. There was a huge information asymmetry in the market and the broker was taking advantage of this situation. Despite paying heavy brokerage, customers are left feeling cheated. "At NoBroker we believe that looking for a house should be a happy, convenient and cost-effective experience. And that's what NoBroker offers – hassle free house hunting. We have solved a complex problem in the most simple and straight forward way. Two years back, when we were starting, no one believed that non brokerage model can work" says Amit in his talk with Techstory. There were no decent size examples in US, UK or China as well. However in recent times, the trend of renting broker free homes has started to take prominence and there are some global players in broker free rentals like Yopa.com (Your Online Property Agent) in UK, Aiwugiwu in China & RenterSt in NYC.
When Amit and AKhil started this non-brokerage concept, it was very common for people to tell them that this cannot be done despite the fact that brokers don't add much value. During this journey, both have been humbled with the massive customer response that they have received. However initially, they had assumed that this concept is mainly for owners, who are residing in the same city. Both made an assumption that owners who live outside the city (where property resides) or outside the country, would not opt for service. But soon both were pleasantly surprised when they started getting calls and emails from Bahrain, Washington seeking their services for avoiding brokers.
This taught them a valuable lesson: "we should never underestimate customers and their will to search for value".
Breaking the norms!
The concept of NoBroker is disruptive for the entire industry. All existing online real estate players have been working with brokers. No one was willing to offer a solution which eliminated the broker. No one believed that the property rental space can work without brokers. Amit and Akhil decided to challenge this with the help of technology. NoBroker is the only one who neither works with brokers nor works as a low cost broker. NoBroker is a market place which connects owners and tenants.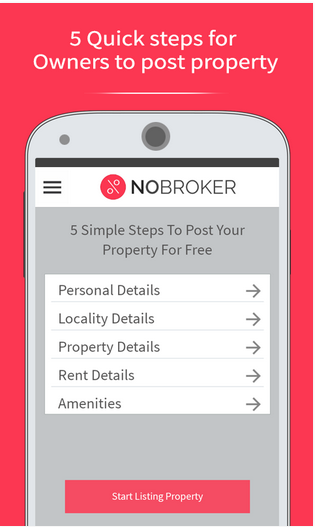 With the product, both have been able to do solve two of the most significant customer pain points in rental. First is spurious listing on online websites which leads to imperfect matchmaking and second is the high cost of transaction. Today, NoBroker is helping people save more than 12 crores in brokerage every month.
There is no player in the C2C rental market place to match their capabilities. Though online real estate sites have made the online search for homes possible, but due to the involvement of brokers, customers have not saved even a penny in this transaction. NoBroker is changing this on a massive scale by leading the transition of this segment to a C2C paradigm.
From 2 founders, today it is an 80+ team of employees across tech, marketing and sales. The company is bullish about its expansion. Seeing the initial success and acceptance in Mumbai and Bangalore, it recently began operations in Pune & Chennai. "We are getting an overwhelming customer response. We will have operations in 20 cities by the end of December this year. Given the globally common customer pain point and our lean non-offline resource model, NoBroker is globally scalable. In the next 3-4 years we want to be present in top 100 global cities".
The product has also evolved since its inception. It recently launched its mobile app and reinforced capabilities in developing cutting-edge technology. With the new version, tenants can search properties by locality/landmark or, for the first time in India, near their current physical location. For owners, the creation of property listing is easy and intuitive in 5 quick steps. NoBroker is the first one to crowd source the owner listing in this rental category, through the feature 'Click n Earn' where anyone can click and upload picture of any TO-LET board with the genuine owner details and earn handsome rewards from company side. Now, everybody can be a Broker-Buster! Going forward, company will keep on evaluating the entire value chain of home rentals and keep offering smart technology led solutions. The endeavour will always remain to enable the customer with the technology.
Challenges and Growth!
"The biggest challenge we faced when we started out was that initially no one believed that real estate can be solved without a broker. There was no one in the US who was doing it and even all large players in India used to work with the brokers rather than remove the inefficiency. However, we believed that there is a huge potential for creating a C2C market place for rentals and a validation of our belief is the massive growth and high rate of acceptance and adoption we received from our customers" Amit explains.  
NoBroker was angel funded by Saurabh Garg (co-founder of Four Fountains De-stress Spa) who also acts as a mentor. Then it raised Series-A funding of $ 3 million from SAIF Partners and Fulcrum Ventures early this year. The initial investment was spent on setting up operations. Now, their main investment focus is on expanding operations to new markets, and innovative marketing initiatives for new customer acquisition. We are also focusing on hiring the right kind of talent to strengthen their technology team.
In the coming months, NoBroker's focus will be on strengthening their current offering and increasing the footprint!

Comments
comments