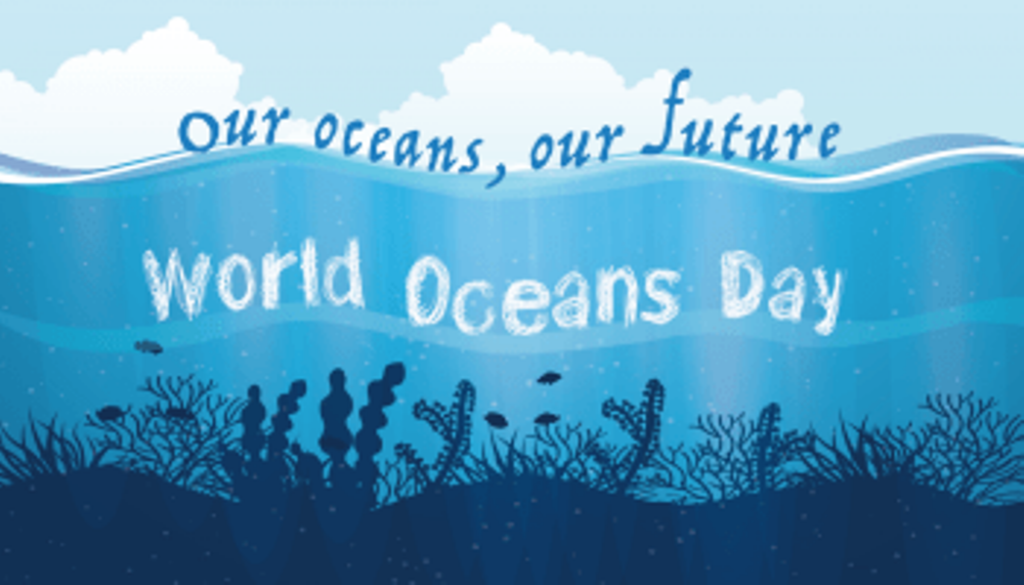 Humanity's never-ending quests for comfort and luxury, as well as growing human population, have taken such a toll on Mother Earth that today several species of animals and plants are on the verge of extinction. We have polluted the air, rivers, streams, soil, seas, and oceans to such an extent that harmful chemicals and pollutants are making their way into our food bowls.
Our oceans, often called the lungs of the world, are one of the worst victims of this man-made disaster. Contrary to the general perception, ocean pollution does not only affect marine life but can have an impact on the entire food chain. But what is more disturbing is that a large section of the society is not even aware of the consequences of ocean pollution, and how their seemingly harmless actions pollute these water bodies.
Keeping all these things in mind, the United Nations (UN) has declared June 8 as the World Ocean Day. It was first introduced in 1992 but was recognized by the UN in 2008. The day is celebrated to create an awareness about ocean pollution, and also to motivate people across the globe to do their bit for the preservation and sustainable management of oceans.
The Need of the Hour
To mitigate pollution and to ensure sustainable use of resources, what we need at the moment is a dynamic collaboration of people, governments, and corporations. In the last few years, we have witnessed many corporations realizing their social responsibility and initiating some innovative ways to address this problem, which is a really positive development. Dell is one such reputed company that has been undertaking a number of extraordinary initiatives and sustainable practices to reduce the impact of anthropogenic pressure on the oceans.
How Dell is Providing Solutions for the Plastic Menace
When we think about ocean pollution, the first thing that comes to our mind is oil spills. But the majority of the garbage that finds their way into the seas and oceans are plastics. According to a recent study, about 8 million tonnes plastic that we throw in our garbage bins ends up in the oceans, which besides ruining the beauty of our beaches gets ingested by marine animals and seabirds.
What is more alarming is that plastic undergoes photo-degradation, i.e., they get fragmented into microscopic pieces due to the exposure to the sun. But no matter how tiny the plastic particles are, they are not biodegradable, i.e., they do not get absorbed into the natural system. Such plastic fragments are eventually ingested by marine animals and thus enter the food chain.
To tackle the problem of plastic pollution, Dell started using post-consumer recycled plastic in their products in 2008. In last spring, it took yet another step to use plastics collected from beaches and coastal areas in manufacturing its signature product XPS 13 2-in-1 laptops.
In December 2017, Dell announced its NextWave initiative aimed at reducing ocean litter by creating a global supply chain for ocean-bound plastic packaging. Leading brands like General Motors, Herman Miller, Interface, as well the NGO Lonely Whale and UN Environment have also joined hands with Dell in this endeavor. NextWave is an honest attempt on the part of Dell and other participating companies to develop a sustainable model for reducing plastic waste.  
To educate people about the plastic pollution in oceans, Dell has partnered with Adrian Grenier and produced a virtual reality (VR) experience known as 'Cry Out: the Lonely Whale Experience' in 2016. The collaboration also seeks to create an awareness about the work of Adrian Grenier's Lonely Whale Foundation, a nonprofit committed to bring people closer to oceans and inspire them to take positive actions for preserving ocean health.
Dell and the Problem of E-waste
E-waste is a consequence of this digital age. Due to improper disposal methods and a lack of sufficient recycling facilities, most of our old electronics end up in landfills and release toxic chemicals like lead, mercury, and cadmium into the soil and water. Today, e-waste has become a major crisis for the humanity.
In the words of Rajeev Kapoor, India Vice President and CSR Champion, Dell, "Today people change their laptops and phones every couple of years, resulting in the global population generating 44.7 million metric tonnes of e-waste in 2016 alone, of which only 20 percent was recycled. Before you throw it in the bin, look to see if the manufacturer offers a recycling service."
Highlighting the initiatives taken by Dell in this regard, he added, "At Dell, we offer a free takeback service for consumers and businesses, which we then recycle the plastic to make new products. In fact, Dell is now running a pilot programme to reuse gold from e-waste in millions of new motherboards. We are amongst some of the organizations, that use ocean plastics and natural resources like bamboo to create sustainable packaging."
In fact, Dell has been using plastics recovered from e-waste through its recycling program since 2013, and now it is on its way to meet its target of using 100 million pounds of recycled materials in its products by 2020.
Initiatives for Ocean Day 2018
This year, the world is going to celebrate ocean day with a commitment to prevent plastic pollution and encourage solutions for a healthy ocean. Aligning with this theme, Dell has announced its "#PitchInShoreUp" campaign in the month of April.
The program will continue throughout June as a part of Ocean Day celebration. As part of the campaign, Dell team members across the globe are volunteering to clean up parks, rivers, beaches, and coastal areas. In India, Dell employees will be participating in an afforestation program by creating 'seed bombs'.
It is heartening to see how major global brands like Dell is taking initiatives to counter the problem of pollution in general and ocean pollution in particular. Pollution is a menace that can be resolved only by combined and concerted efforts of governments, civil society, corporates, and NGOs. We can make a difference only if we come together. Hope in the coming days, we will see more collaborative efforts from all sections of the society to keep our oceans healthy and free from wastes.
Image credit: Voterspost.com
Comments
comments