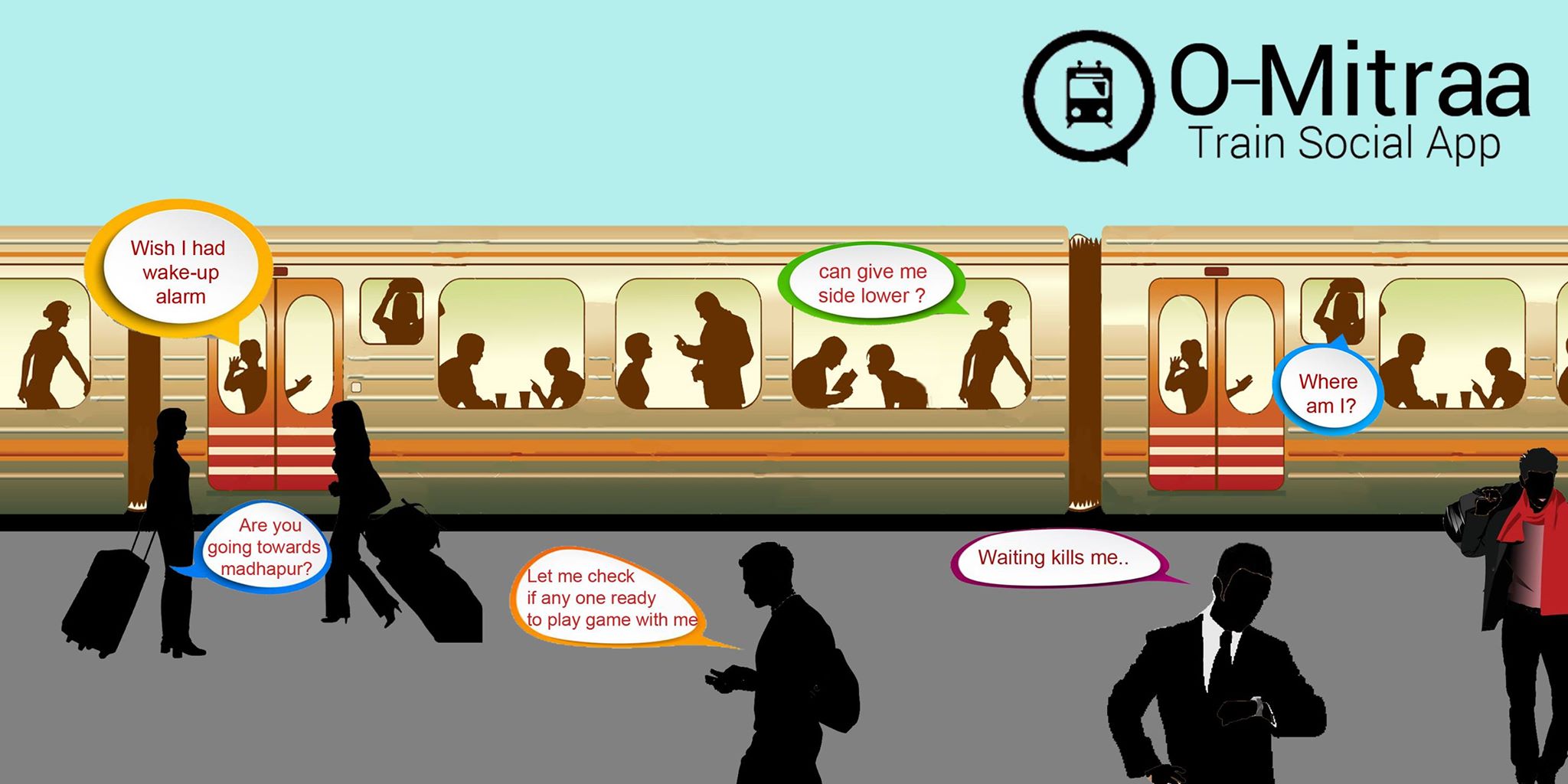 OMitra is a mobile platform which connects folks planning to board the  same train and creates a whatsApp kind of group with Noticeboard where you can put notices for seat change, taxi sharing, medical needs etc. Users can send messages to either an individual person or a coyatri (co-passenger). OMitra has developed innovative features for an individual train travelers like wakeup alarm, pickup reminder, automated train update every 15 minutes and many more.
Omitra – Find your smart companion in train journeys
Imagine a scenario when you are on a train journey and suddenly you require medicine, incase you have failed to bring the medicine (it happens!) then you might either have to ask every passenger in your coach regarding medicine (which is really an irritating job) or wait till the next station (patiently!). Now, think of a situation where your family members are scattered in the different boggy (happens all the time while booking trains) then you have to ask fellow passengers who can exchange the seats (again an irritating job, when you have to visually see people nod NO, claiming their berth rights). Train journeys are preferred over buses, since you get to sleep peacefully until your end stop. But what if, your stop is somewhere in the middle. You end up as an insomniac person at the end of journey. You generally will have to ask the fellow passengers for which station has come (especially if you're in upper berths). OMitra has solution of this by auto wakeup alarm. Using Omitra app you can ask the fellow members who are in same train about medicine or anything that required suddenly during journey. You can share medicines, share or exchange seats, also can share taxi and chit chat during the journey if you are getting bored.
Omitra App has many features, after downloading App, your PNR are read from IRCTC SMS, provide PNR updates, live updates about train, you can complain about various train services like catering directly from Omitra app.
The OMitra Features
Finding friends – Before boarding on train OMitra helps to find friends and travel with them.
Seat changing – easily change seat across the boggy with 1000+ passengers.
Taxi/auto sharing – share auto/taxi safely with fellow co-passengers and reduce travel cost.
Business networking – meet business folks in trains and expand your professional network.
And many more benefits like medical help, movies sharing, gaming partners.
As an Individual user gets innovative apps feature from Omitra
Automatic Wakeup Alarm – 30 KM before destination, adjusted according to train delay
Pickup Reminder – 30 KM before automatically send SMS to your relative who is planning to pick-up you at station, so no more calling again to find to find where are you.
Automatic Live updates – Train Update every 15 minutes, so anyone can easily track train, kids or old age person.
Automatic PNR Alerts – WL tickets notify whenever WL changes
Family tracking – with single button now family member can track their family member's journey
Automatically reads PNR nos from IRCTC SMSes, user doesn't need to type PNR no
Railway contacts – important railway contact to for security, query, and complaints.
For safety reasons,
Female information are never share with male users
Never disclose any users mobile no, or seats nos.
Every coyatri need to provide PNR no, so only legitimate users are there.
 The OMitras
Vikas Jagetiya, the founder of OMitra has over 10 years of Corporate experience at Qualcomm (World's biggest Mobile Chip Company) and HCL. He is basically from Bhilwara, Rajasthan, and did his schooling till 12th from Bhilwara. He did his B.Tech. in Computer Science (2002 batch) in MBM Jodhpur, Rajasthan and pursued his MTech CSE from NIT Warangal (2004 batch). He has worked extensivel in mobile technology of GPS/ Telephony, WiFI and holds 5 Granted Patents to his name. He had quit his job to solve Indian centric problems with mobile technology.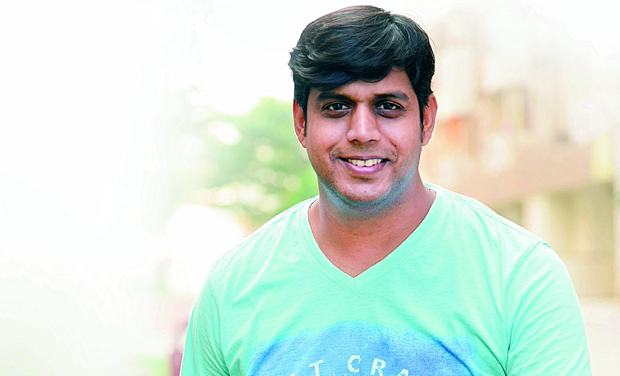 SriHari, Co-founder has over 14 years of Corporate Experience in Sales, Marketing, Revenue & Customer Support, He has a huge list of degrees following his name viz M.B.A, M.Tech ( IT), P.hD. When Vikas introduced Omitra, Hari liked the product as a user and wanted to contribute in it and became cofounder of Omitra.This in itself is a success for every startup, when a user wants to be a part of the team after being thoroughly impressed by the product. Hari's father was Head of TTE in Vijawada, so railways is always is fascinating to him. His father used to ask him join Railways job, and may be that's the reason for him joining a company working for railways passengers.
The Thirty Hour Journey
The idea of Omitra was actually initiated in a 30 hour long odd train journey undertaken by the founder Vikas, when he was travelling alone from Bhilwara (Rajasthan) to Hyderabad. During the journey, he observed multiple problems in train, which are very specific only for Indian rail journey, like seats are not allotted according to the given preference, seats are scattered in different coaches, empty seats information hidden to the passengers who try to come in open tickets, lot of vendors keep fooling in each coach passengers, PF information and live train update can be shared among coyatri's, and a whole list of problems were found. There are like around 1500 people travelling in a train journey, that might vary anywhere between 2 and 40 hours but we hardly interact with 3 or 4 members of our compartments (thanks to the technological advancements). On further observations he realized that such problems can be solved if all folks concerns about train journey are connected to each other.
To understand the problem better and validate a solution, he travelled multiple times between Nagpur and Hyderabad, spoke to 100+ folks at railway station, took online surveys and realized that there were a whole range of problems that can be solved amicably between co-passengers. For example, in really long journeys when our battery is dried up, family members can contact our co-yatris, we can also find out if another passenger is having a specific charger or place of charger is available, sharing movies during trip, playing games together etc, and other awesome experiences can be shared between co-passengers.
The Train RISSTA – Railways Security Application
Apart from Omitra, they've also developed one security app for Hyderabad local train travelers, where if a person presses just HELP button then within, next station police will come and help him in his coach. This application doesn't use GPS/internet. They have worked with South Central Railways and RPF for this application.
The Secure Journey
For those who're concerned about security, the app promises to share information only to the co-yatris of the train. It also ensures that a female passenger's information is never shared to a male passenger. Above all, sharing of information is not mandatory, it is only optional. Since it's launch, the app has over 23k customers, with around 90 loyalists who trusted the app to even share their personal information, this is another success in their journey. In the technology dominated world, with so many apps trying to provide information about the rail services to the general public, Omitra's move to connect the passengers of the train will definitely prove to be useful for a lot of commoners.
You can download the app at playstore from https://play.google.com/store/apps/details?id=com.train.omitraapp.
Comments
comments