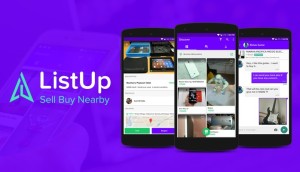 June 08, 2016: Listup, Mumbai-based P2P marketplace has raised $500K  in its seed round of funding led by Kae Capital, along with participation of Kunal Shah, the CEO of Freecharge and Sandeep Tandon (Tandon Group). Sasha Mirchandani of Kae Capital will be joining the board with this round.
Listup founded by Sumit Gupta, Pulkit Gupta and Saurabh Jain in January 2016, aims to disrupt age-old classifieds in India. ListUp is focused on P2P exchange of second hand goods, which aims to bridge buyers & sellers using location-based discovery of products and social approach to classifieds.
ListUp, enables people to discover interesting goods being sold in their neighbourhood, thereby minimising the time between contacting the seller via direct chat and meeting them in person, centered around geographical proximity . Unlike existing classifieds platforms, where there is no real seller identity, all ListUp users are socially verified, thereby adding to the trust factor in the transaction.
Sumit Gupta, Co-founder & CEO, stated, "This problem particularly excites me a lot, it's is a huge opportunity in India and there's lot more innovation that can be done in the used goods space using technology. With the increasing smartphone adoption and our unique approach to age-old classifieds, we're making buying & selling of used goods easier, safer and much faster."
App downloads are currently on the higher side of 10K to 50K range in last 3-4 months. The startup claims to have a 100% MoM verified user growth and with an average active user spending around 15 mins per day on the app and active sellers spending 30 mins daily. The startup is also witnessing 300% MoM growth in terms of product listings. Currently, it's free for both buyers and sellers but will soon have a monetisation model in place.
Shubhankar Bhattacharya, VP at Kae Capital, stated, "Sumit, Pulkit & Saurabh represent an exceptional trio of scrappy entrepreneurs. What they have created at ListUp is an easy-to-use and fun way to buy and sell used-goods. In many ways, they are redefining the shopping experience for the large and rapidly growing market for used products, and we are happy to partner with them on this exciting journey."
ListUp looks to deploy the fresh funding for product enhancements such as utilising data to give personal recommendations, offline and online marketing and also creating network density in their target markets.
The second hand buying and selling sector was estimated to be worth 1,15,000 crore in 2015. Quikr and OLX are among the most popular classifieds platforms in India because of the sheer volume of products.
Image Source: Linkedin.com
Also Read:  FreeCharge Partners redBus To Provide On-The-Go Bus Tickets
Alipay And Paytm Go To Local Stores To Hard Sell E-Wallets
Comments
comments