The most expensive watch ever acquired at an internet auction is a one-of-a-kind Patek Philippe watch.
The Patek Philippe Sky Moon Tourbillon was bought by an unidentified buyer on Tuesday at a web-based Christie's auction in Hong Kong for approximately $5.8 million (or 45.45 million Hong Kong dollars).
Patek Philippe, which is a 183-year-old family, owns a watch manufacturing company based in Geneva, Switzerland. It is one of the most prestigious brands among different luxurious watchmakers.
Christie's verified the deal, but the seller withheld information on the buyer and their region.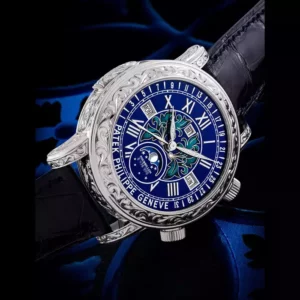 It is well known that the recently sold watch, reference number 6002G-001, is among the most intricate wristwatch ever made. The watch has a handcrafted blue enamel face, an 18-karat white gold frame, and a crocodile skin strap.
Twelve complexities, including a tourbillon, perpetual calendar, retrograde date, moon phases, Leap Year indication, sidereal time, sky chart, and the phases and orbit of the moon, are included in this uncommon watch from Patek's Grand Complications range.
The handcrafted 18-karat white gold body, which took artisans more than 100 hours to finish, contains a watch face with a blue cloisonné and champlevé enamel dial. The watch was first sold to a client in 2015 at the Geneva Patek Philippe Salon.
The record-breaking purchase of this Patek was great news for the shaky watch market at the moment.
"This is a super rare and complicated watch, but this sale demonstrates that there is real demand for expensive high-quality investment-grade watches," says Paul Altieri, founder and CEO of pre-owned watch dealer Bob's Watches.
"The 'Sky' is the limit to what serious collectors will pay for special these uber rare timepieces. This watch checks almost every box, but aside from that some may see high grade watches as a safe place to park money given all the recent banking turmoil."
Following an epidemic and a spike related to cryptocurrencies, the second-hand watch market recently witnessed prices decline from all-time peaks at the beginning of 2022. Nevertheless, the pre-owned watch sector is expected to greatly expand throughout 2026, with a 10 percent CAGR (compound annual growth rate).
"There continues to be an extremely vibrant market for watches across the world, evidenced through the avid global bidding this sale witnessed, which further cements Hong Kong's status as an international epicenter for watch collecting," said Alexandre Bigler, Christie's Asia Pacific VP and head of watches, in a statement.
Millennials made up 40 percent of the buyers at Christie's "Top of the Time" auction, which produced $8.4 million in sales altogether. Potential buyers came from 48 different nations. Watches from Rolex, Audemars Piguet, A. Lange & Sohn, and Breguet were offered at the auction site.
"This sale lays a very strong foundation for our spring auctions in May at the Hong Kong Convention and Exhibition Centre, where we look forward to presenting more exceptional timepieces for our esteemed clients and watch enthusiasts," Bigler said.
Lastly, the primary watch houses presenting their future models at the Watches and Wonders trade exhibition in Geneva the following week are likely to strengthen the luxury watch sector. Industry leader Rolex has recently teased a few features of the models it will be presenting.
"It's always an exciting time of year leading up to the new model launches by the top brands like Rolex, Patek, AP and more. It's even more important for us in the pre-owned space as were anxious to see which models will be discontinued – prices almost always jump about 10% on these models," Paul Altieri says of the period immediately around the Watches and Wonders event.