Pavel Durov, the son of two academics, grew up in Italy and taught himself programming at a young age. His brother Nikolai is a well-known mathematician. He is most widely known as the man behind VKontakte and later the Telegram messenger.
How It All Began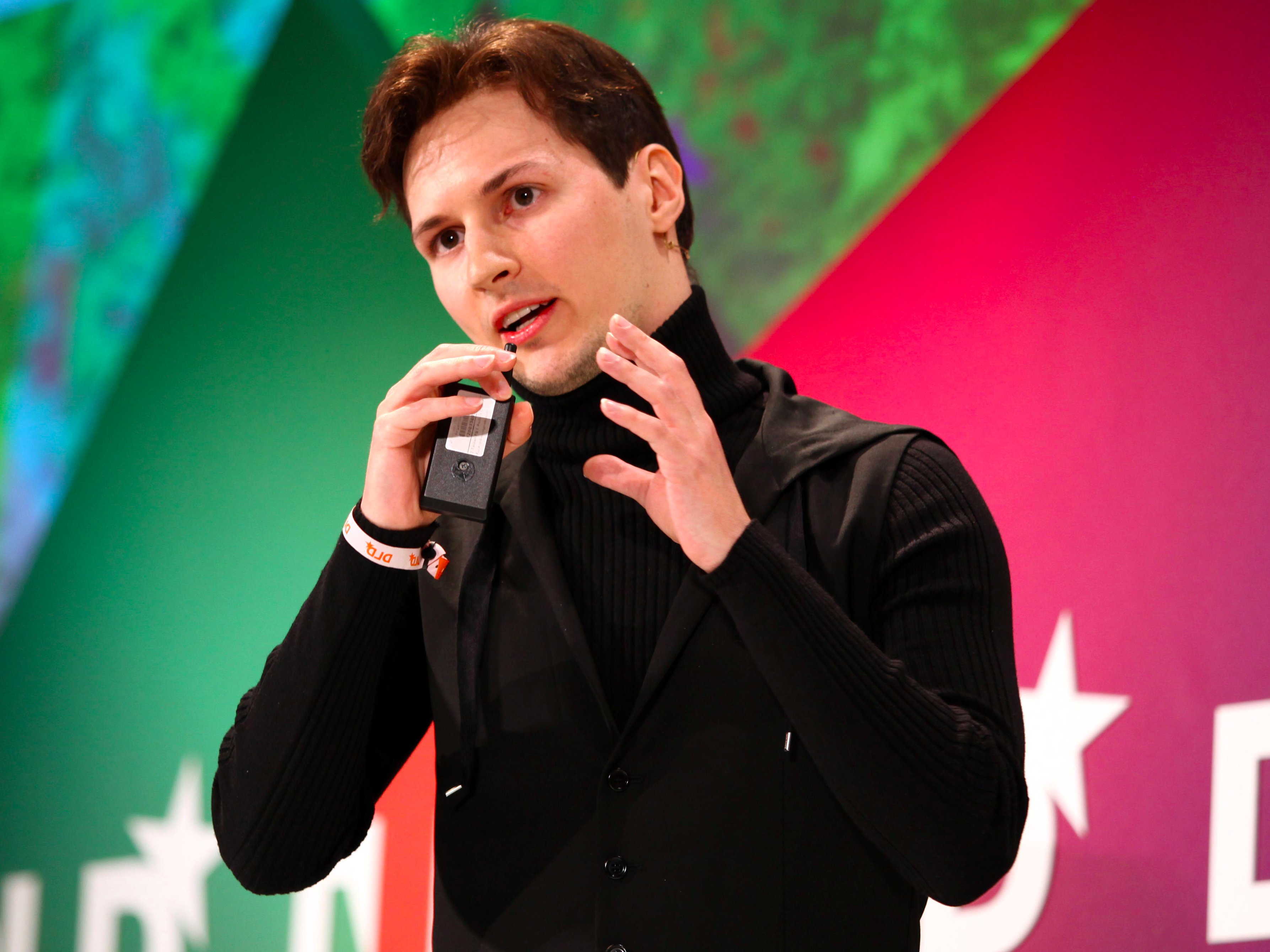 While still a student at St. Petersberg state university, Pavel Durov was inspired by the idea of Facebook and wanted to make a similar platform for the Russians. That led to the launch of VKontakte (affectionately called VK) in the year 2006. A month later, the site was registered and by July 2007, it was being used by a million people in Russia. By 2008, it was the biggest social networking site in Russia beating Odnoklassniki, the then popular networking site of the country.
The way VKontakte functions is much like Facebook, with its News-feed, Profile Walls, Private Messaging, Like buttons and Communities. There are some additional features to this platform, where users could search for media and other things through the VK search engine. And just like Facebook, VK has a connectivity with other social networking websites. Whenever something is posted on VK, it gets simultaneously posted on Facebook and Twitter. In 2006, Pavel dropped out of Saint Petersburg State University to pursue VK full-time.
During the time when Pavel Durov and his brother Nikolai Durov built upon the VKontakte website, the company grew to a value of $3 billion.
Bumps and Bruises
In 2011 Pavel Durov was involved in a standoff with a police team outside his home in St. Petersburg after he refused the government demand to the remove of opposition politicians' VK pages after a controversial parliamentary elections.
In 2011, he apparently folded cash into paper airplanes and tossed them out the window of his Moscow office. As people fought like "dogs" for the money on the streets, some eyewitnesses claim Pavel Durov was "laughing and filming".
Pavel Durov is an obsessive fan of the Matrix movies. With his dark hair, sharp jaw, and taste for black clothes, he looks a bit like Keanu Reeves's character, Neo.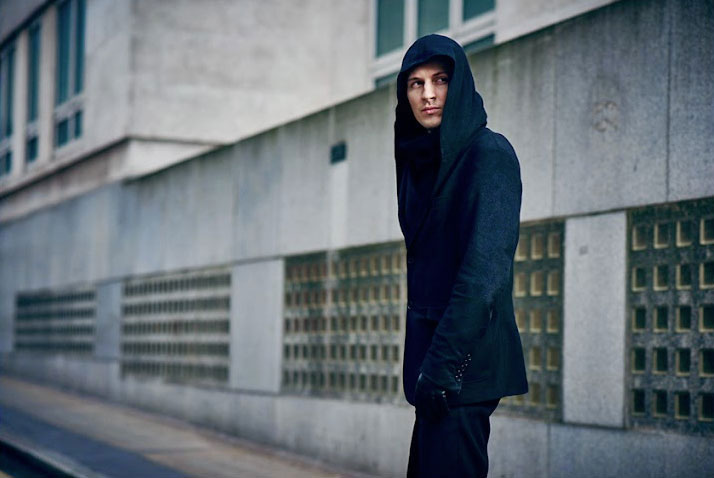 In 2013, he was embroiled in another scandal when Russian police accused him of running over a traffic cop. Pavel Durov denied the report, saying he didn't even own a car, and that the Russian police used the hit-and-run claim to raid VK's offices.
In December 2013, Durov was pressure into selling his 12% of VK stock to Ivan Tavrin, the owner of the major Russian internet company Mail.ru, who subsequently sold it to Mail.ru, giving it 52% majority ownership of VK.
Dismissal from VK
On April 1, 2014, Pavel Durov submitted his resignation to the board; at first, due to the fact that the company confirmed he had resigned, it was believed to be related to the Ukrainian crisis which started in February. However, Durov himself claimed it was an April Fool's Joke on April 3, 2014.
On April 16, 2014, Pavel Durov publicly refused to hand over data of Ukrainian protesters to Russia's security agencies and block Alexei Navalny's page on VK. Instead he posted the relevant orders on his own VK page claiming that the requests were unlawful.
He has been known to publish political manifestos, in which he describes how to revitalize Russia's economy. He's also an avid fan of Che Guevara, and claims to be a practicing Pastafarian.
It was quite a stand to take against the Kremlin, but he stuck to his own principles. He posted the statements with a picture of a smiling dog in a hoodie. He had used the hooded sweatshirt dog earlier to, in "response" to previous FSB data requests.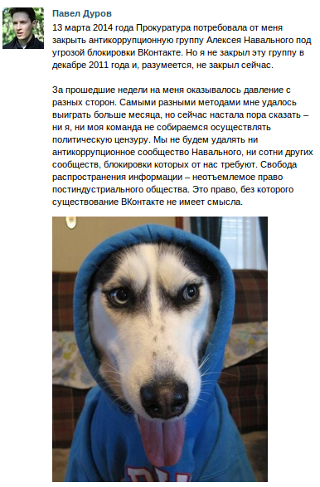 On April 21, 2014, Pavel Durov was dismissed as CEO of VK. The company claimed it was acting on his letter of resignation a month earlier that he failed to recall. He publicly hinted that his ouster was the result of both his refusal to hand over personal details of users to federal law enforcement and his refusal to hand over the personal details of people who were members of a VKontakte group dedicated to the Euromaidan protest movement. Durov then left Russia and stated that he had "no plans to go back" and that "the country is incompatible with Internet business at the moment".
Life after VK
Upon leaving Russia, he obtained Saint Kitts and Nevis citizenship through donating $250,000 to the country's Sugar Industry Diversification Foundation, and secured US$300 million in cash within Swiss banks. This allowed him to focus on creating his next company, Telegram, which was originally based in Berlin and focused on an encrypted messaging service.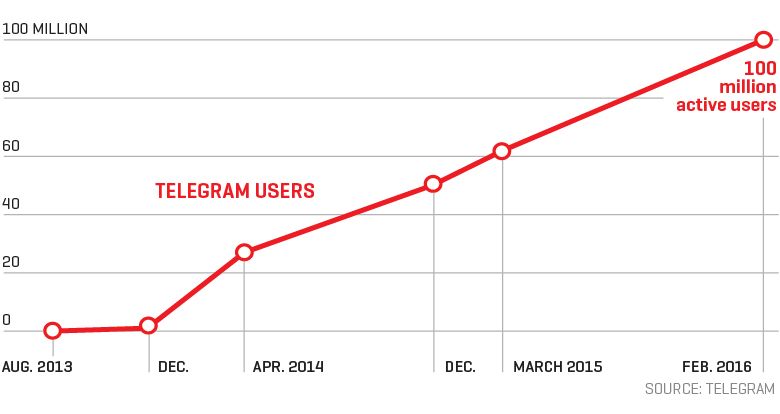 Pavel Durov continues to move around the world, but he's become a kind of hero for privacy activists in Russia.
Related Read: How Messengers Have Transformed Into Your Personal Assistant Chatbot !