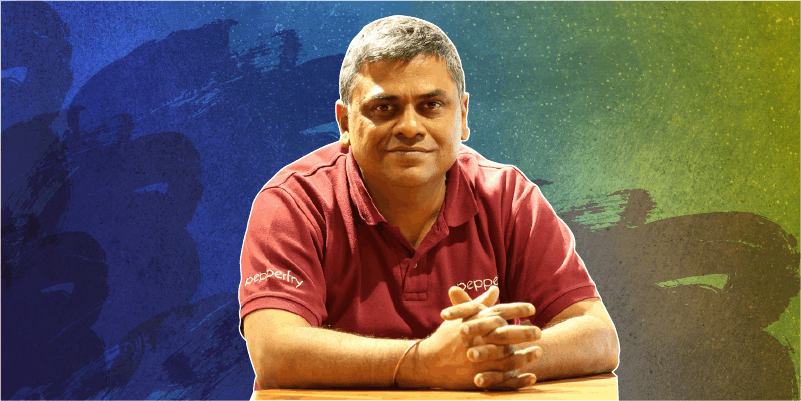 Pepperfry was started in 2011 by Ambareesh Murthy, at the cusp of the Indian startup funding boom. Murthy was a graduate from IIM Calcutta and actually was way too deep into a well-established career before he left it all behind and started Pepperfry.
His rich resume included (but was not limited to) him being the Country Manager at eBay India, Marketing Manager at Britannia Industries, Brand Leader at Levis Strauss, and VP of Marketing and Customer Service at ICICI bank.

In 2012, Murthy got together with a colleague of his from eBay – Ashish Shah and together they initiated Pepperfry. In its early days, Pepperfry was not a one-stop shop for only furniture. It was a website which included fashion, jewelry, and lifestyle products too.
However, on April 1st, 2013, they moved out of these departments, which accounted for about 30% of their business revenue and started fully focusing on furniture, which was their main revenue generator.

"I am a homebody and my best memories are of time spent with a book on the couch at home. I, therefore, decided to be in a business that I intrinsically love and Pepperfry happened," says the founder Ambareesh Murthy.

Funding:

In order to get the gears going for the company and receive direction, Murthy and Ashish Shah approached Niren Shah. Niren Shah was associated with Northwest Venture Partners India and was previously the head of eBay India's worldwide strategy.

Niren Shah expressed his confidence in the duo and called them "men with a plan" and he came through for the company.

Pepperfry ran its first funding round in the December of 2011 and raised 5 million USD through its primary investor, Northwest Venture Partners. Since then, it has run 5 more rounds – one each year from 2013 to 2018, with huge investors like Goldman Sachs, State Street Global Advisors, and Bertelsmann joining NVP on the list.

So far, in its total of 6 funding rounds, PepperFry has raised $197.5 million.

Growth:

Since the beginning, Pepperfry has emphasized the creation of their own supply chain management system and private label catalog of furniture, which they have designed in-house. Since the beginning, they have run their own logistics system to ensure a seamless delivery channel. This is how they were able to woo their investors, according to the founders.

Throughout its journey, even as new competitors came in, Pepperfry stuck to its guns and powered through. They have always kept a niche between themselves and the rest of the market by not compromising on quality or customer service.
"Customers should get great products at great value. Somebody way more accomplished than me once said that no customer will ever blame you for selling them something at a low price. The goal of a business should be to build core processes and a business model that enables value, variety, and quality, rather than dipping into the balance sheet to give discounts," says Murthy.

In 2014, the company opened up its first retail presence – the Pepperfry Studio. They wanted to evolve not at the rate at which the Indian market was evolving, but to keep up with the developments of the US, UK, and Europe.
The company strongly believes that retail and online services do not need to compete with each other. In the end, the consumer needs a mix of both, and pairing up with traditional furniture spaces would help Peepperfry achieve that.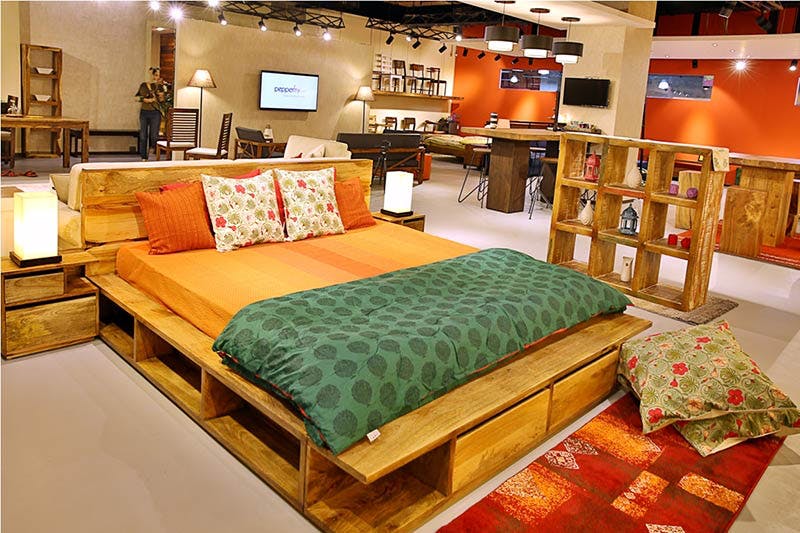 Pepperfry has now partnered up with 5 furniture manufacturers and a list of 10,500 sellers to run their business, and this is what has made it the market leader. The company now claims to have over 2500 orders designated to it per day and has 60% of the market share for online furniture in India. They are also known to have an average order value of Rs. 18,000.

However, it was not all smooth. When the company decided to make the transition from multiple products to the only furniture model, they received a significant dent in their business, especially in the initial phases. During this time, the founders claim that the top 16 people of the Pepperfry team decided to give up 60% of their salary for a year, in order to compensate for the loss in business.
"We didn't do this to make the company survive but to thrive and thrive it did. Pepperfry is what it is today because of that show of solidarity. When you win a war, it is not the winning that matters, it is how you were in the trenches together", said Ambareesh Murthy.

In 2018, the company expanded itself outside of the 12 metro cities it was present in. Through its Big Bix Supply Chain, it wanted to reach customers across all tiers which would put 500 potentially deliverable cities. This was to be done through a hybrid of primarily owned and a franchise-based system.

The company has recently launched a service for furniture renting, where consumers can own a piece of furniture for a stipulated time and then return it. This again draws back to giving the consumers a choice – of whether they want to buy or to rent.

Today, the company claims to reach a fully profitable model by 2019.

The Future:

The founders think that Pepperfry has miles to go in terms of growth. And they qualify this claim by saying that the growth will be fuelled by three things – access, mobility, and consumption growth.

So far, Pepperfry has hit all the right boxes and made all the right decisions. As their new model of profit comes up in 2019, there will be revenue metrics that will hopefully fuel the company further.