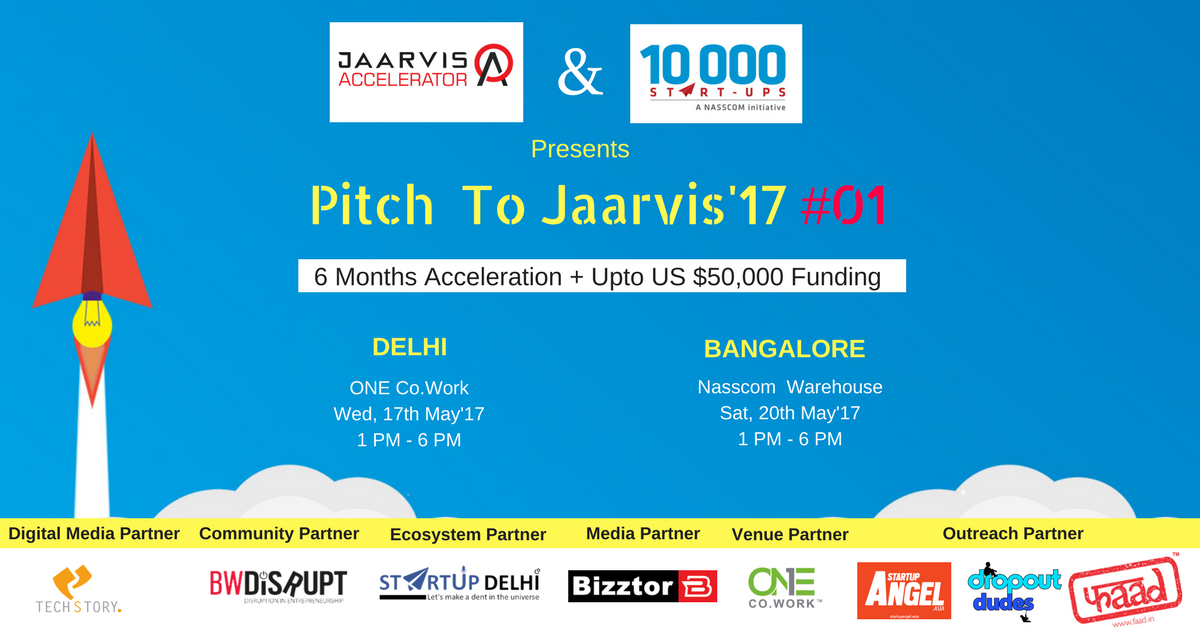 Jaarvis Accelerator is a Singapore headquartered accelerator, which enables start-ups to turn disruptive ideas into reality through a vibrant ecosystem that empowers entrepreneurs with technology, access to global networking, domain specialised mentors along with facilitating fund raise from investors.
JA's belief is to create more opportunities for entrepreneurs to showcase their ideas and curate the deserving start-ups for its acceleration program in India. The JA Program provides concrete plans for development, marketing & customer acquisition strategies and exposure to potential investors.
This event comprises of 2 pitch sessions, one to be held in Delhi on May 17th, 2017 and the other in Bangalore on May 20th, 2017.
The selected start-ups shall be given a chance to become a part of the upcoming cohort and upon final shortlisting they will be enrolled under JA's 6 months' acceleration program with funding support of up to US $50,000 per start-up along with further co-investment opportunity from partners, "angel investors" and "seed funds."
It is a closed-door event with:
1-to-1 Pitches with selected investors.
Geographically Agnostic.
Eligibility Criteria: #IoT#Fintech#AI #MachineLearning#Robotics #DataAnalytics domain with #B2B #B2B2C focus.
Register for Delhi Pitch here!
Register for Bangalore Pitch here!
Delhi:
Venue: ONE Co. Work, G- 36, G-Block, Outer Circle, Block G, Connaught Place, Delhi, 110001
Date: May 17, 2017 (Wednesday)
Time: 1 P.M.– 6 P.M.
Bangalore:
Venue: Nasscom 10K Warehouse, Corporate Tower, Central Atrium, Lower Ground Floor, DD3 No. 150, Diamond District, HAL Airport Road, Bangalore, 56008
Date: May 20, 2017 (Saturday)
Time:1 P.M.– 6 P.M.
Important Note:
Only for Indian Start-ups.
Applicants can apply for only one city at a time.
Mandatory fields must be filled in the application form.
Incomplete forms will be rejected.
Comments
comments