Father's Day is just around the corner so if you want to get a little present your dad and get a phone for yourself, Amazon has got just the deal for you. The e-commerce giant is slipping in a free gift card with the fabulous Google Pixel 7.
The Samsung Galaxy S23 and the Apple iPhone 14 both are priced at $799. Whereas, the Pixel 7, starts at $599. And even at the full price, it's worth every penny.
Following the last offer that ended in mid-April, Google is now discounting the Pixel 7 Pro by $200.
It's a compact phone with a 6.3 inches OLED screen and an above-average refresh rate of 90Hz for smooth functioning.
The phone has the Tensor G2 chip under the hood and is incredibly catchy. It's built with Google's machine learning and speech recognition and makes everything from Assistant voice typing to pictures instantly better.
Apart from a fingerprint scanner, the phone also has Face Unlock, which is great for easily unlocking the phone. There is a 4,355mAh battery inside and most people won't require to charge it twice a day.
Amazon is giving away a free gift card worth $100 with the Pixel 7 right now,  bringing the price down to $499.
If you want both a phone and a nice gift for your dad or any dad-like figure in your life, this deal is the best for you. The Pixel 7 brings a lot of value at a comparatively low cost and if you have $499 to spend on a phone, you are not going to find a better option than this.
It's one of the best camera phones around, has efficient speed and Google offers the most wholesome Android software experience.
The earlier deals were spring-themed and took $150 off the flagship. The Google Store is now marking Father's Day with a $200 (Amazon, Best Buy) discount for all Pixel 7 Pro storage options.
"Save $200 on Pixel 7 Pro. Starts June 4, 2023 at 12:00 am PT and ends June 18, 2023 at 11:59pm PT"
As such, the flagship starts at $699 for 128 GB, while you can avail the 512 GB model for just $899. The phone is now almost eight months old, with the rumours of Pixel 8 on the horizon. It will get Android version updates until October 2025 subsequently led by two more years of security patches.
While there's no discount on the smaller Pixel 7 (besides trade-ins), but the Pixel 6a is down to $299 (Amazon, Best Buy). The Pixel 7a is still $499.
The Pixel Watch starts at $299.99 (Amazon) after $50 off and you can get the LTE model for $329.99 ($70 discount, Amazon), while $40 off brings the Pixel Buds Pro to $159.99 (Amazon, Best Buy).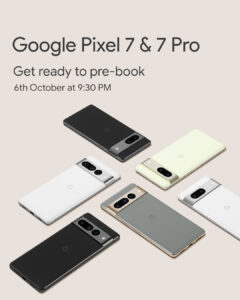 With some of the recent crop of flagship Android phones sporting add-on imaging chipsets, Pixel 7 manufacturers have been able to give a similar level of imaging quality that easily compete the Pixel's AI photography geniuses.
The Google Pixel 7 Pro gets the best treatment with a sharper curved edge display, more cameras and bigger battery. The Pixel 7 Pro looks more classy when compared to the matte-finished Pixel 7 although both smartphones share the same core hardware.
Inside you will discover Google's Tensor G2 processor which in India is available with 12GB of RAM. There's a different ultra-wide-angle camera which now also doubles up as the macro camera because it has a special autofocus. The Pixel 7 Pro also packs in telephoto capability offering up to 5X optical zoom and 30X digital zoom.
Software performance is upbeat and Pixel 7 Pro comes with no bloatware while delivering the fluid Pixel Android experience. Camera performance is excellent and so is the macro mode which is a first for Google Pixel lineup.
Battery performance is not the best as it only lasts 24 hours on a single charge. Charging speeds too are relatively slow compared to the rivals.