Platooh is an innovative solution for those who own OOH media and would like to sell the media to any client in the country. It is an outdoor media selling platform that brings the vendors and clients together and offers both an environment to buy and sell media and even plan campaigns.
---
Out of home advertising or OOH advertising is one of the most effective forms of advertising. It is the easiest and sure fire way to capture the attention of the most number of people. An OOH campaign that is launched properly can increase the brand awareness for a company and also ensure that all organisations regardless of the size get good exposure as long as they select the right media for advertising their brand. Of late there has been a tremendous change and innovation in the field of marketing and advertising. A major reason for this has been the developments in the field of technology and the advent of the internet. Marketers have started exploring the cyber world and integrated new strategies. Even though this had led to a brief lull in the world of Out-of-home advertising, the traditional way of grabbing people's attention is being revisited by marketers.  The role of outdoor advertising campaigns in building a brand image cannot be overemphasized.
[box type="shadow" align="aligncenter" class="" width=""]According to a recent report by Statista:
Out of home advertising revenue in India has risen in the past decade.
Outdoor advertising marketplace that was 14 billion INR in advertising revenue in 2007 rose to 23.1 billion INR in 2015.
By 2018, the advertising revenue could rise to 30 billion INR.
This is indeed excellent news and only signifies increasing market prospects for OOH media vendors.[/box]
Platooh's Vision
Following this renewed interest in OOH advertising comes the latest entrant, Platooh, India's first outdoor media selling platform that has integrated Enterprise Resource Planning software.
Prakash Balaji, Founder & CEO, Prakash brings 7+ years of rich product and customer experience in building key scalable & successful products in outdoor media industry. He leads the team who made Platooh with proven features and successful and scalable products. Prakash mentors and joins hands with a couple of other startups, which are running successfully. He has been leading a team of 60+ employees of technical qualifications for the organic promotion of these startups.
Lajeesh Kaliarambil, Co-Founder & Managing Director, Lajeesh brings 10+ years of e-commerce business and partner management experience in a couple of successful companies. He is exemplary in execution and ensuring customer needs are addressed with quality deliverable while maintaining the morale of the team.
Sajeevan Kaliarambil, Financial Advisor, Sajeevan took part in the successful execution of the idea with timely angel investment. As an angel investor, he made a sizable initial investment to procure the basic amenities, human resources and to maintain the working capital requirements as well. Sajeevan has more than 15 years of experience in related business in Dubai, UAE. He is currently part of the startup, which is steadily growing.
Platooh is the result of extensive market research and pilot studies carried out to identify and understand the pain points and key challenges of the outdoor advertisement ecosystem stakeholders (media buyers, vendors, agencies and local bodies). This has led to the development of a unique disruptive product that delivers significant and measurable value to each of the stakeholders.
It is driven by a highly experienced team with a proven track record in delivering measurable value to all stakeholders in the OOH industry through successful business model and product innovation. Platooh Team – A highly passionate team with in-depth domain expertise and track record in prior start-ups and with wide knowledge in scaling up the product to multiple dimensions in the adverting industry.
Platooh's vision is to develop a web-based technology platform to connect the various stakeholders of the fragmented outdoor media market ecosystem, while adding value to individual stakeholders.
Platooh Offers
One of the biggest advantages that a OOH vendor gets when he is associated with Platooh is the visibility that his media gets. It also allows them to go through a proposal and judge the feasibility of the proposal. Every single media which includes billboards, transit advertisements, malls, gas station, mobile billboards and digital media will be made available for his perusal. These media will be sold at the price that the vendor has fixed and also as per the terms that have been fixed by him. Instead of having to deal with the multiple formats that hinder the decision making possibilities of a client or a vendor the OOH Ad Planner™ presents the entire OOH campaign in a cohesive and organised form. This saves money, time and enables the executives to take informed decisions. With client accounts from across India, Platooh allows new entrants in a market to choose the media that they feel would accentuate their brand appeal in an established market or introduce it in a new one.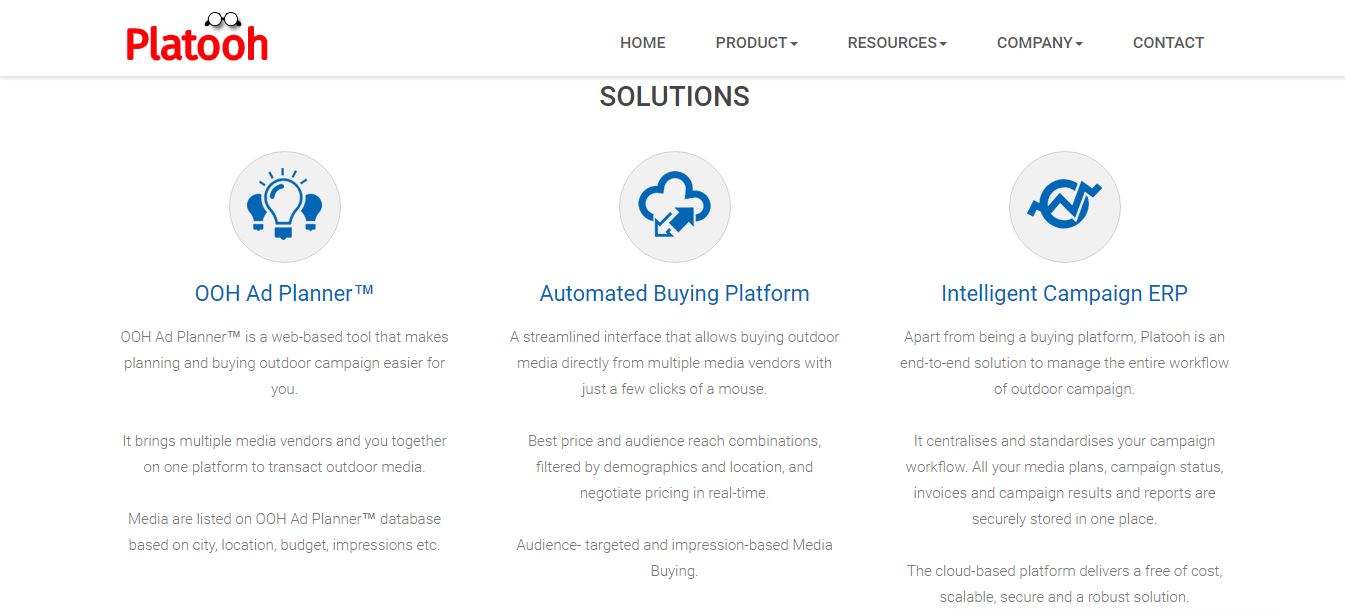 In addition to the automated selling platform, Platooh also offers OOH vendors a campaign proposal tool. This is a free to use tool that allows the client to visualise the media with their material. This is made possible through geo-data and Google mapping.  With the campaign planner it is also possible for a vendor to plan the allocation of every media. Platooh also offers a media exhibition tool that is entirely exclusive and developed by the team at Platooh. It is a part of the OOH Ad Planner where clients can see the media and send proposals to vendors. Vendors can then respond to the enquiries and get the media sold for the terms and conditions that they specify. Those with multiple media will find Platooh especially effective in managing their OOH media.
Platooh Promise
The credibility that the media on offer through Platooh has is due to the diligence of the background team that works tirelessly to ensure that the media is legitimate. Unless the papers of the media are cleared by the team, the media will not make it to the site. Vendors can rest assured that they are operating in a legitimate environment where all the players are legal owners of the media that is on offer. In the age of multiple kinds of cheating through the cyber medium, a safe and clean operating atmosphere is indeed a welcome change.
Platooh promises to be a formidable player in the OOH market. With their ERP that they offer to their vendors, the media selling platform makes it easy for both vendors and clients to come together and create a OOH campaign. It is ventures like these that allow traditional methods of advertising like the billboards from fading away into oblivion and from being taken over by new age advertising mediums like internet and television.