The latest $2.04 billion Powerball jackpot winner is progressing since he purchased a massive property in Hollywood for $25.5 million, but for the newly minted millionaire, the cost is nothing.
According to Dirt, November's jackpot winner Edwin Castro recently bought a 13,578-square-foot house in the hills of Los Angeles just one month after receiving his $997.6M before taxes one-time payout.
The individual will now live close to well-known celebrities like Jimmy Kimmel and Ariana Grande, and the home comes with all the bells and whistles.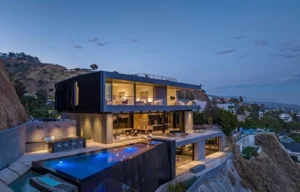 The hillside home's three storeys are occupied by an infinity pool, a full outdoor kitchen, a gym, a wine cellar, a theatre, and a sauna. It also has a deck on the roof for those who want to see the ideal California sunset.
Edwin might be looking to pick up several extra wheels too – because the home has two separate garages that can accommodate a maximum of seven cars, in addition to a motorized court out front to fit far more rides.
As we stated earlier, Edwin was facing legal proceedings from an individual claiming that he was responsible for the loss of his winning lottery ticket, a lottery official informed us, though, the organization has total confidence Edwin is the real winner.
About Powerball:
In the United States, 45 states, the District of Columbia, Puerto Rico, and the U.S. Virgin Islands all provide the Powerball lottery game. The Multi-State Lottery Association oversees its coordination (MUSL).
From its debut lottery on April 19, 1992, until August 21, 2021, Powerball contests were conducted twice a week (Wednesday and Saturday); a third weekly draw (held Mondays) was introduced on August 23, 2021. At Florida Lottery headquarters in Tallahassee, drawings are held every Monday, Wednesday, and Saturday at 10:59 p.m. Eastern Time.
Starting October 7, 2015, winning numbers are selected from a 5/69 (white balls) + 1/26 (Powerballs) matrix, offering each player a 1 in 292,201,338 probability of winning the jackpot.
Each play with the Power Play option costs $2 or $3 (Powerball plays formerly cost $1; such games were $2 when Power Play started). Although some lotteries end ticket sales earlier, the official closing time for ticket sales is 10:00 p.m. Eastern Time.
The Florida Lottery Tallahassee office is where the drawings take place. The lowest stated jackpot for Powerball is $20 million (annuity); winners can decide on a lump sum payment in place of the annuity, which is paid in 30 graduated payments over 29 years (cash option). Because the annuity choice raises each yearly payment by 5%, one lump sum payment will be lower than the sum of the 30 yearly instalments.