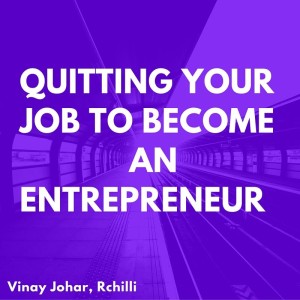 Undoubtedly, now is the best time in human history to be an Entrepreneur. Don't go by me, rely on the stats. The numbers of startups are expected to rise from 3100 in 2014 to 11,500 in 2020 for India. A whopping number indeed.
So, if you have a prolonged wish or yearning for Entrepreneurship, don't delay, just execute. But here's the word of caution, Sacrifice. You might have to go away with so many things that might hurt you in the beginning but pays later.
To be an entrepreneur it is very easy, if you're hungry for value, starving for pride, wants to do something big for millions of people, own stuff that normal people don't do, travel places, be known to people except your clan, always caring about future, restless at times, knack for solving real life challenges and business problems, ability to sleep for fewer hours and deeply passionate about your idea. That's it.
March on and be ready to experiment some of the finest pleasures of life, pursue a dream, best an idea and build your business around it. This is what a life of Entrepreneurship is all about. But first possess these five characteristics before taking the big step:
Fixed Pay– The most critical factor and important of all. If you've subscribed to loans, then think again. Initially, Entrepreneur struggles in making money but later if driven with a value proposition for an audience can make your earnings limitless. And that's what drives half of our country's young Turks. A firm decision but yes an absolute one without a middle path.
Timings– Choosing Entrepreneurship is still easy but picking your own time for work is far much difficult. It comes with a lot of pain and stress, working at odd hours, round the corner. Late nights and early mornings can be your favorites to hold meetings. You may have to push a little hard by working up to 15 hours or more. Set your mind frame accordingly.
Leap of Faith– In words of Richard Branson, Entrepreneurs have to keep faith on their plans but with a parachute. You may have to multi-task everything and see future before anyone else do. That's the reason most of the successful entrepreneurs are visionary. Your ability to take decisions quickly will decide the pace of your business.
Bravery– Fortune favors the brave and we say bravery always comes with risks, calculated well before the situation-in-hand. This is what entrepreneurship is all about. Get the right education, equip yourself with the right tool and people to make your dreams come true smoothly. Research and Research well before you start and follow your instincts sensibly. But remember one must take the risks to build a better future tomorrow.
Everlasting Idea– Your stay in Entrepreneurship pursuits is determined by the viability of your idea. How brilliant is your idea, what problem does it solve and for how long. What are the alternatives, your customers have and why would they choose you over them. Market research can solve maximum of your business challenges and make your fortune strong if done right. See the lessons from past and retrospect to tweak your plans.
Sorry, I am exceeding the limit from five to six, which is the heart of doing business; Enjoy What You Do No Matter What. This would make you stay afloat at hard times when you'll lose interest in your pursuit and start cursing your decision to be here. It is only around this time you'll learn to build your strengths and build the leader inside you.
Entrepreneurship and leadership walk hand in hand. Poor leaders can never make a good idea run or their entrepreneurship wagon. So think again and be prepared when you decide. There's no replacement to control and freedom of your own business than doing a job.
"Always deliver more than expected." —Larry Page, co-founder of Google.
About The Author:
This article is contributed by Vinay Johar. Vinay is the CEO of RChilli. RChilli works in space of CV Automation Plus Analytics. We Parse,Connect,Search-Match & Update CV's in just One Click via CV Automation.