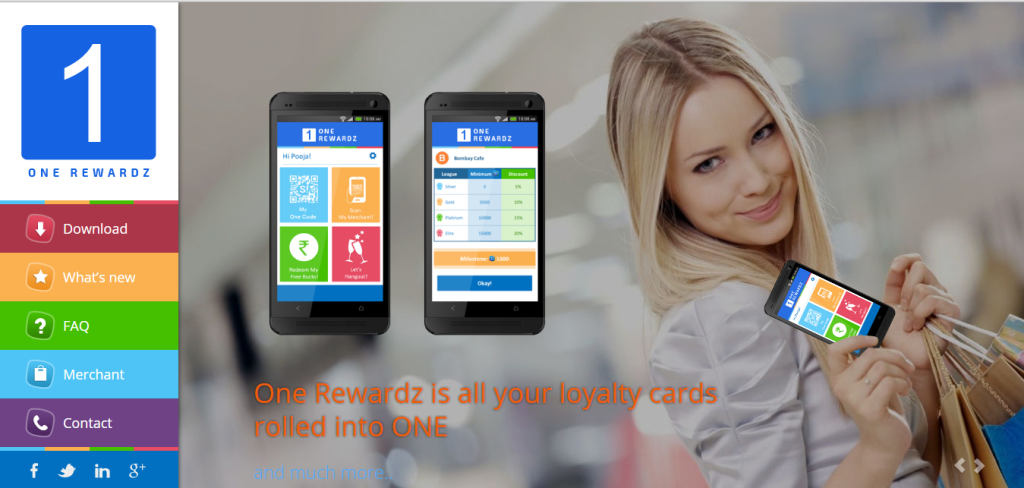 Lately, ONE Rewardz – a customer engagement and loyalty management platform for retailers and brands, has been drawing traction from brands. To get insights into technology, growth strategy, challenges and future plans of the company, Techstory interviewed Mr. Sunpreet Singh Bindra, Founder of ONE Rewardz.
Background! 
Sunpreet is an ex- investment banker with a background in finance and management consulting. Ashwin is an engineer with passion for analytics driven technology businesses. Sunpreet and Ashwin always had an entrepreneurial spirit in them. Ever since they have known each other, both wanted to start something on their own. They were continuously discussing about various feasible ideas and interacting with industry people until it occurred to them why not to jump into it and embark on the journey to become an entrepreneur. Sunpreet and Ashwin had observed that 'how sharing feedback with brands and receiving response from them was a rare occurrence'. They realized there was a significant gap in consistent and quality communication between brands and consumers. One of the reasons was absence of an integrated, easy to use and multi-featured platform. This prompted them to develop a platform where brands can communicate with their customers 24×7 in real-time on a personalized basis- ONE Rewardz!
ONE Rewardz Facts:
Industry: Customer Engagement and Loyalty Program
Industry Size: Over Rs 2,000 crore annually
Founders: Ashwin Meshram and Sunpreet Singh Bindra
Year: 2014
Cities: Mumbai and Delhi
Customer: B2C Brands
Number of Customer: 50+ Brands
Read The Full Story Here![/box]
"It enables brands to respond quickly to consumers' feedback and act accordingly" Sunpreet explains in his interview with Techstory.
An Integrated Growth Strategy
According to a TRRAIN (Trust for Retailers and Retail Associates of India) report published in 2015, the overall loyalty spend in the country is a little over Rs 2,000 crore annually at present and is growing at the rate of 10 per cent. Moreover, most of the loyalty management solutions run at the brand's backend. There is seldom any direct communication between the consumer and brand. ONE Rewardz, a rewards Network, has created a platform that serves as a bridge between brands and consumers, bringing various engagement functions under one umbrella. ONE Rewardz can be considered as a medium to establish a mutual interaction platform between the customer and the brand.
At the consumer front, they are involved into understanding the behavior of the customer, their buying behavior and identify potential customers. Today's consumers are much more empowered than earlier. They have a wealth of resources at their fingertips- they can access an infinite number of customer reviews, blog posts, and competitor services right then and there. Discovering and understanding your customer's requirement and tailoring your services to strategically fit into the specific needs of the individual customer are key secrets to success. On the brand side, ONE Rewardz is acting for analytics. Brands have a large pool of data and ONE Rewardz analyses them to derive results. It also carries out real-time analytics solution to analyze customer feedback and interactions on the platform, generating insights that can significantly contribute in making timely business decisions. 
The objective of customer engagement program is to register brands name into a consumer's mind. Sunpreet adds that there is a lot of potential in the domain waiting to be tapped. "People are reacting and getting on board to loyalty programs. It's a matter of great gratification to see that you have built something and people are responding to it. It is a moment of great pride when we see our product getting accepted and transactions happening at the platform" he smiles. He continues to say that there is always a better way to do something. Customer feedback and engagement is no exception to this. Traditional feedback system is a very time-consuming task and causes delay. Finding a better alternative to the typical feedback system is the next unacknowledged potential field.
'Uniqueness'-driven Growth!
ONE Rewardz is a unique platform in its domain. The uniqueness lies in its ability to work on both ends-customer and brand. The expert minds of ONE Rewardz have realized that majority of the consumers does not respond to the typical offers or engagement referrals sent to them. So, they interact with brand to come up with more lucrative solutions to adapt to different situations and cater to all the needs of a consumer -general as well as specific. ONE Rewardz was primarily launched only as a mobile app. But, after conducting a pilot, the firm realised that a part of their audience in the tier-2 and tier-3 markets of India still don't own a smartphone. Thus, it launched another method where consumers without a smartphone could access the services simply by registering with their phone numbers and receive notifications through SMS. However, with the increasing penetration of internet and availability of affordable smartphones, it is witnessing consistent increase in adoption of mobile app. ONE Rewardz integrates app based as well as mobile number based approach for customer engagement in order to ensure maximum reach.
Challenges at Bay!
Customer engagement and loyalty programs are promising appeal to retain the customer. However, initially there are challenges to it as well. Sunpreet says that earlier even though every brand had recognized the importance of customer engagement, it was only big brands that were actually practicing them. The situation can be compared to a credit card- where in start only few had it but as soon as others grasped the importance of them, suddenly everyone wanted them. Sunpreet resumes "We had to educate brands about it. Loyalty and consumer engagement programs are catching up and brands are more willing to implement them."
[box type="shadow" align="" class="" width=""]Brands are realizing the importance of constant and consistent connectivity with consumers. Feedback driven communication is of prime importance for customer retention and hence brands have been receptive towards adopting the platform.[/box]
Into The Future!
Currently, ONE Rewardz's team consists of 25 people. Majority of the workforce is dedicated to technology and others are into sales and marketing front. ONE Rewardz enjoys 50+ FMCG, 4-5 retailers, and one e-commerce platform as their customer. They have their presence in Mumbai, Delhi and will be marking their presence in Bangalore soon.
ONE Rewardz aims to have 100+ brands on board by December end.  Soon, the company will be expanding to offer End to End solutions as well as Day-to- Day based solutions for retailers. At first, the company was highly focused on technology and has built cutting edge technology at par with customer's need. Now, they are focused on getting more and more brands on platform by specially by targeting SMEs.
Excited with success of ONE Rewardz, Sunpreet concludes by saying that "We have learnt our way to destination. You should have determination to figure your way out to what you seek. Nobody can teach you that and you should be willing to adapt to the situation as it comes along the journey." 
To know more about ONE Rewardz, read: ONE REWARDZ: 'Engagement partner' & '1 Stop Destination' for Consumers With Multiple Brand Interactions !
Related Reads:
Forget Apps ! Message Bots Are The Future of Customer Engagement !
Videogram Improves Customer Engagement By 30% Through Engaging Representation Of Video Content !
Customer Loyalty Study 2015 – An Emart Solutions Report !
ENGAGE.cx – Building a 360 degree view of Customer Relationship !
Comments
comments