Rivian Automotive the emerging electric vehicle (EV) manufacturer, made significant strides in the second quarter (Q2) of the year.
The company announced that it successfully produced 13,992 vehicles at its manufacturing facility in Normal, Illinois, surpassing market expectations.
Moreover, Rivian delivered 12,640 vehicles during the same period, impressively exceeding the consensus forecast of 11.3K. These positive developments indicate Rivian's commitment to meeting its annual production target of 50,000 vehicles.
Furthermore, the company recently made headlines by announcing its intention to use Tesla's charging standard, which will enable its customers to access the extensive Tesla Supercharger network.
Rivian Automotive's Q2 production and delivery numbers have exceeded expectations, instilling confidence in the company's ability to meet its ambitious production guidance.
With 13,992 vehicles produced, Rivian demonstrated its manufacturing capabilities and the growing demand for its electric vehicles.
The delivery of 12,640 vehicles further solidifies Rivian's position as a key player in the EV market, surpassing market consensus and highlighting its operational efficiency.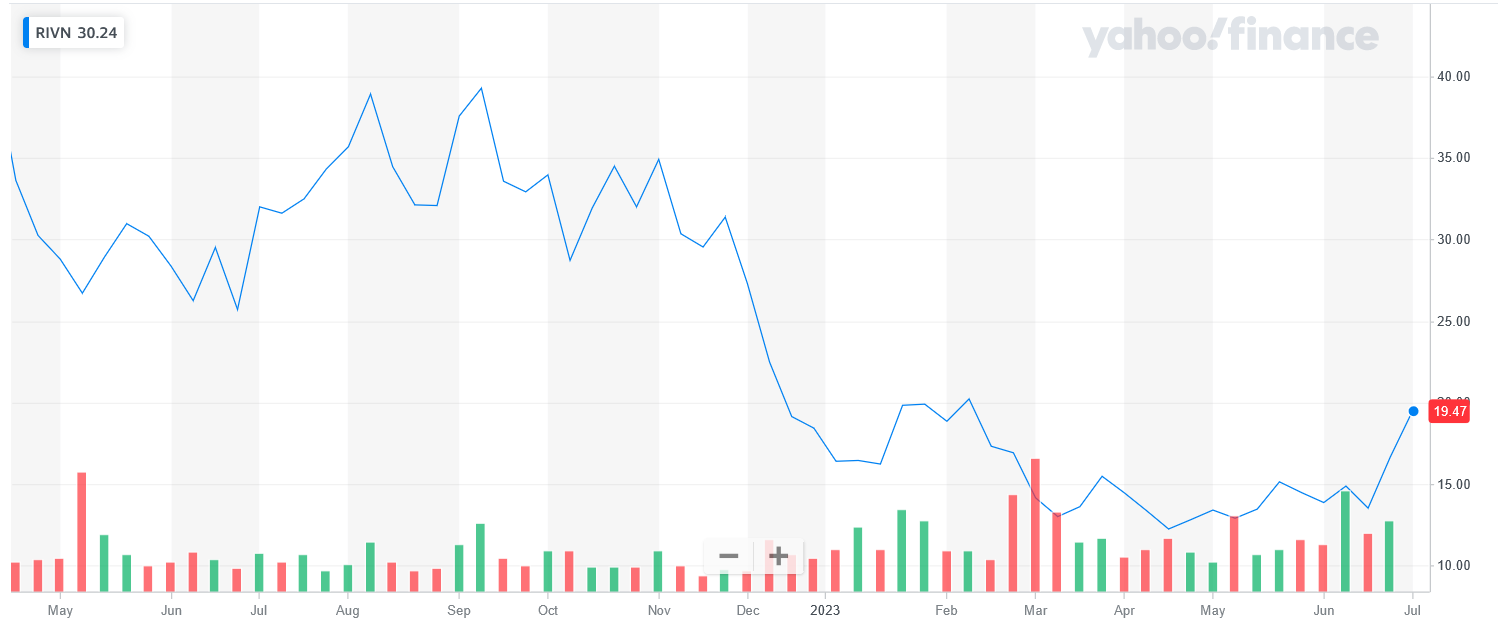 Rivian's Commitment to the 50K Annual Production Target: Rivian's successful Q2 performance provides encouraging signs that the company is on track to achieve its target of producing 50,000 vehicles annually.
This ambitious goal reflects Rivian's commitment to meeting the rising demand for electric vehicles while establishing itself as a major player in the industry.
By consistently meeting or exceeding production and delivery expectations, Rivian is building a reputation as a reliable EV manufacturer capable of scaling its operations to meet growing customer demand.
Integration of Tesla's Charging Standard: In a strategic move, Rivian recently announced its decision to adopt Tesla's charging standard, which will enable its customers to utilize the extensive Tesla Supercharger network.
Rivian's customers are expected to gain access to over 12,000 Tesla Superchargers in the United States and Canada by spring 2024, thanks to adapters provided by Rivian.
This collaboration with Tesla expands Rivian's charging infrastructure and enhances the convenience and accessibility of charging options for its customers.
Rivian's Strong Q2 Performance
The decision to utilize Tesla's charging standard showcases Rivian's willingness to leverage existing charging infrastructure rather than reinventing the wheel.
By embracing the Tesla Supercharger network, Rivian can offer its customers a wider range of charging options, promoting EV adoption and addressing range anxiety concerns.
This partnership between Rivian and Tesla also highlights the cooperative efforts within the EV industry to establish a cohesive charging ecosystem, benefitting customers and fostering the overall growth of the electric vehicle market.
In addition to adopting Tesla's charging standard, Rivian is committed to developing its own North American Charging Standard. By 2025, Rivian plans to integrate this new charging standard into its R1 vehicles and the upcoming R2 platform.
This commitment aligns Rivian with other automakers joining the Tesla charging standard, contributing to the establishment of a unified charging infrastructure across North America.
The introduction of the North American Charging Standard will further streamline the charging experience for Rivian's customers and promote interoperability among different EV brands.
Market Response and Outlook: Following the announcement of Rivian's impressive Q2 results and the decision to adopt Tesla's charging standard, Rivian Automotive's stock witnessed a substantial 8.15% surge in premarket trading.
This positive market reaction indicates investors' confidence in Rivian's growth prospects and the company's ability to execute its strategic plans successfully.
Rivian's August 8th report will provide investors and stakeholders with a comprehensive overview of the company's financial performance during the quarter, shedding light on its revenue, profitability, and operational efficiency.
Given Rivian's strong production and delivery numbers, market participants will be eagerly awaiting this report to gain deeper insights into the company's financial health and its ability to sustain its growth trajectory.
Additionally, the report may offer further details on Rivian's plans for future expansion, product development, and its strategy to leverage Tesla's charging standard.
Investors will closely analyze these factors to assess the long-term potential of Rivian Automotive as an investment opportunity in the evolving electric vehicle market.