Robinhood Markets, Inc. has reported its financial results for the fourth quarter and the entire year of 2022. During the fourth quarter, total net revenues increased 5% to $380 million, while transaction-based revenues declined 11% to $186 million.  The options revenue remained unchanged at $124 million, while cryptocurrency revenue fell 24% to $39 million, and equities revenue dropped 32% to $21 million.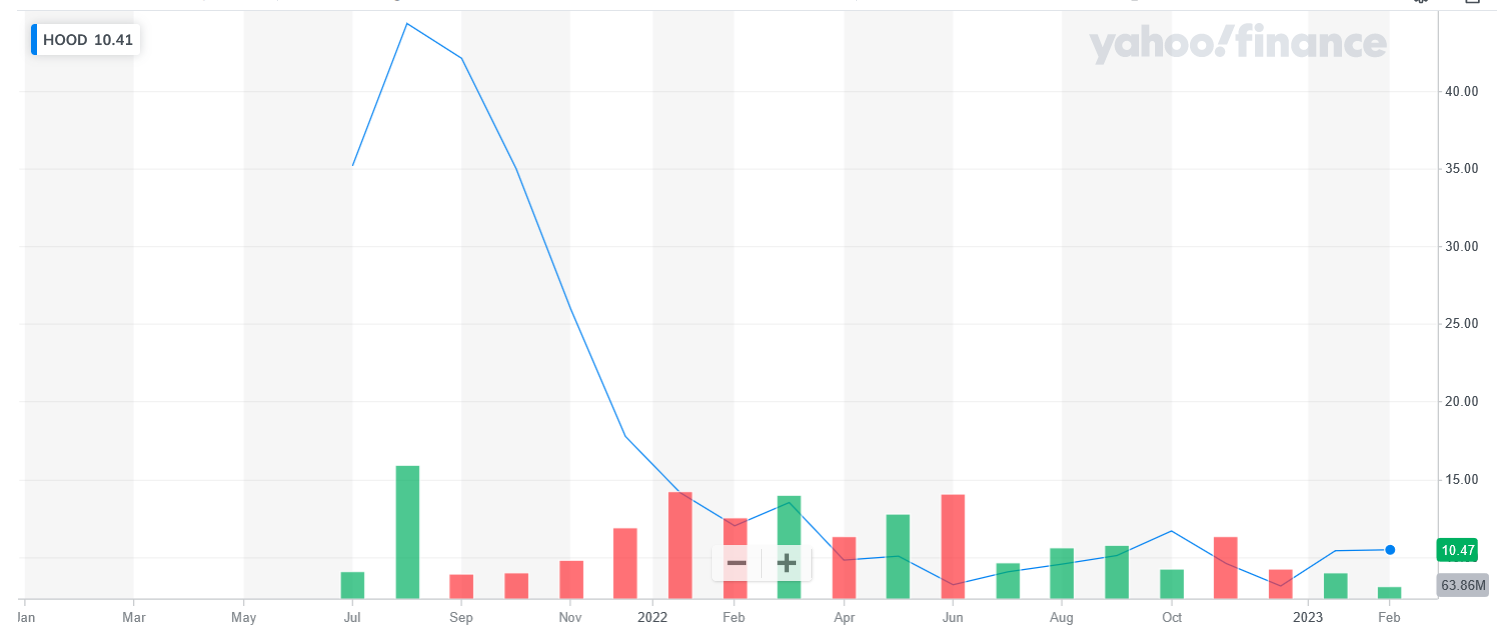 The net interest revenue increased by 30% to $167 million, driven by rising short-term interest rates and growth in interest-earning assets. The company reported a net loss of $166 million, or earnings per share of -$0.19, compared to a net loss of $175 million, or earnings per share of -$0.20, in the third quarter. The operating expenses decreased by 0.2% to $534 million.
For the full year, total net revenues were $1.36 billion, with a net loss of $1.03 billion, or earnings per share of -$1.17. The operating expenses for the year were $2.37 billion, with a share-based compensation expense of $654 million. Vlad Tenev, CEO and co-founder of Robinhood, expressed pride in the company's execution over the past year and noted that they are now seeing positive results from some of the products they have launched, which gives them confidence in their potential growth.
Jason Warnick, the Chief Financial Officer, stated that the company stayed focused on serving customers and driving long-term shareholder value in the fourth quarter. Additionally, the company's board of directors authorised the purchase of shares that Emergent Fidelity Technologies bought in May 2022, indicating confidence in the business.
Future plans for Robinhood
Robinhood is continuing to progress with its product offerings and improvements. In December, the company introduced the Robinhood Retirement account, the only IRA that provides a 1% match for every eligible dollar contributed.
Additionally, the Robinhood Wallet app has started to roll out to more than 1 million users who were previously on the waitlist. This self-custody wallet allows for trading and swapping of cryptocurrencies. The success of the Robinhood Snacks service led to the formation of Sherwood Media, a new subsidiary focused on news and information related to money, markets, economics, technology, and business.
Robinhood's co-founders, Vlad Tenev and Baiju Bhatt, recently announced the cancellation of their pre-IPO market-based restricted stock unit awards, totalling 35.5 million unvested shares. This move is expected to lower the company's GAAP operating costs by up to $50 million per quarter starting in Q2. It has already reduced the fully diluted share count by 3.5 per cent. The cancellation will result in a one-time accounting charge of approximately $485 million in Q1 2023.
The Robinhood Board of Directors has authorised the company to pursue the purchase of most or all of the 55 million remaining shares that Emergent Fidelity Technologies Ltd. purchased in May 2022, subject to final approval. This purchase demonstrates the board and management's confidence in the business and their strong financial position with over $6 billion in cash.