For people who've lost their ability to walk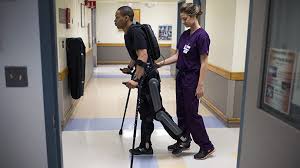 13 August, 2018 
For people who've lost their ability to walk, there was a time when only a wheelchair meant mobility. But there's something new under the sun, a device that – step by step – could soon help the disabled to walk again, IF they can afford it. Our Cover Story is reported by Lee Cowan:
His medical checkup only took a few minutes, and Derek Demun was anxious to get on with it. The one-time high school surf champion and big-time snowboarder fell off a roof nearly a decade ago and broke his back, leaving him paralyzed from the chest down.
But he's about to do something that only a few years ago would have been all but impossible: walk, using a robotic exoskeleton. Demun activates it by shifting his weight; sensors and small motors move his legs, mimicking a natural gait, while his upper body catches up with the help of crutches.
"It's really heartbreaking to see some of these people out there without the ability to better their lives," Demun said. "Everybody should be able to live their lives the best they should."
"And this device gives people that option?" Cowan asked.
"It definitely does. Definitely does."
The device, made by a Massachusetts company called ReWalk, was the first exoskeleton to gain FDA approval, in 2014. Since then, a handful of other brands have gotten the government's go-ahead. But that doesn't mean getting one is easy.
"There's been a lot of things with spinal cord injury that have been hype, but I don't want to believe that with this one," said Dr. Ann Vasile, who has been working with paralyzed patients like Demun in Long Beach, Calif., for some 25 years.
"There's been moments that have been very hard on him to not have that life that he had before," Dr. Vasile said, "and his mom said to me, 'Derek can't stop smiling [when he's up and walking in the device]."
"The onus is on us in the healthcare field to prove why this will benefit the patient medically and ultimately save money," Dr. Vasile said.
"Some of these people can't talk," she said. "Some of these people can't use their hands. And to just have my legs taken away and my bladder function taken away, it's not a big deal. It is a big deal, right? But I have my cognitive skills, I have all of that. And I'm grateful."
Because she still had use of her hands and arms, she was a clear candidate for a ReWalk device. But when Barnes put in the request to her insurance, she got a denial.
"And I said, 'Oh, okay. That's only one no,'" she laughed. "You can't tell me no."
So, she applied again. "And we get another no. No matter how hard we kept going, how hard I fought the fight, it was, 'no, no, no.'
She even appealed to Texas Governor Greg Abbott, who himself was paralyzed in an accident. But his office sent back a letter saying it really couldn't help.
Tyler Densford was paralyzed in 2016 after he fell out of a helicopter during a training exercise while on active duty with the Tennessee Air National Guard. "I didn't see any way of leaving a bed, and I thought, 'Why not just die? Why even be here?'" Densford said.
The Department of Veterans Affairs offered to cover exoskeletons for eligible veterans, and Tyler tried one at a VA facility in Atlanta.
(Image:-cbsnews.com)
Comments
comments