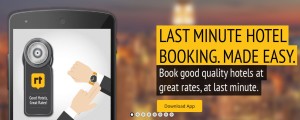 Mumbai, Sep 6 (PTI) : Last-minute hotel booking aggregator RoomsTonite has extended the booking window for the third day, up from one and two days, thus enabling those who plan their travels in advance yet land up a better bargain.
The Bengaluru-based largest on-demand hotel booking app has so far been offering last-minute hotel bookings for same day and next day only.
"This booking window expansion is a boon for customers, because now they get to book a hotel three days in advance, but at the same steal the deal," says the apps' chief product officer Karthick Prabu.
He said the company recently introduced some features on its Android app that enables customers to see hotels by luxury, premium, and comfort; hotel reviews and launch of hotels on map that enables users to see hotels in a destination on GPS-based map.
RoomsTonite, which operates on marketplace model that allows hotels to sell their unsold inventories at last minute, is a mobile-only last-minute hotel booking app that helps customers book good hotel rooms at great rates.
Founded by hospitality and travel industry veteran Suresh John this January, Roomstonite offers hotel bookings at last minute in over 275 cities offering 2,500 properties.
John had told PTI last month that he would be going global this month by entering Dubai.
"We are already the market leader in the last minutes hotel booking space with over 2,500 hotels across 275 cities already registered with our app. We are planning to go global by entering Dubai by September-October," John had said.
The second leg of overseas expansion would be into the rest of the West Asian markets and later on into other territories in the Western hemisphere.
RoomsTonite has almost every five-star hotels like Taj Vivanta, Hilton, Lalit, some of the ITC properties and a host of other properties under its wings today, plans to have 10,000 hotels across 500 cities by March, John said.
The start-up, which thrives on discounts, on an average offers 20 per cent rebate to guest, John said, adding the later one books, the higher discount and charges 10 per cent as their commission.
Comments
comments