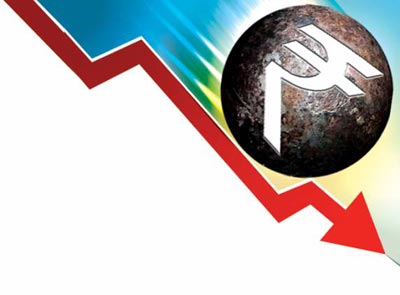 New Delhi, Aug 25 (PTI) : Exporters from labour-intensive sectors such as agriculture, marine, carpets, handicraft and textiles stand to gain the most from the rupee depreciation, even as the hedging cost will rise for most, and China will have an upper hand due to its currency devaluation.
However, sectors like gems and jewellery, electronics and high-end engineering which depend on imports for raw material inputs will not get the benefit of the rupee depreciation, exporters told PTI on Tuesday.
"The major gainers will be traditional export sectors such as agriculture, marine, carpets, handicraft and textile. However, sectors like gems and jewellery, electronics and high-end chemicals which have high import dependence will have limited impact," exporters' body FIEO Director General Ajay Sahai said.
Meanwhile, the rupee today closed 55 paise higher at 66.10 against the US dollar. The domestic currency had tumbled by 82 paise — its biggest single day fall this year — to settle at 66.65 on Monday.
"The rupee depreciation will be beneficial for textile exporters as export intensity in the sector is high whereas import intensity is low.
"However, the problem is, our main competitor is China. India's textile exporters will lose to China as it has a competitive edge," said D K Nair, Secretary General, Confederation of Indian Textile Industry.
"Naturally, the handicraft exporters will benefit. However, as imports will be costlier, the raw material cost will go up, even though export demand will rise. The benefit of cost to exporters will therefore be 50 per cent," said Raj Kumar Malhotra, former Chairman of Export Promotion Council for Handicrafts.
He added that the hedging cost will also be pushed up for exporters.
"The depreciation is not going to have a negative impact as such on the gems and jewellery exporters. Even though the cost of raw material will rise and our inputs are mostly from imports, at the same time, it will be offset by higher export realisation demand," said Vipul Shah, Chairman of Gems and Jewellery Export Promotion Council.
"I do not think we will see much positive impact as our exports are not competitive, and Chinese currency has also been devalued," EEPC India Chairman Anupam Shah said.
Besides, after its biggest ever fall yesterday, the Sensex, in see-saw trading today, rebounded from one-year lows by jumping over 290 points to regain 26,000 mark and Nifty gained over 71 points on value-based buying in bluechips amid government expressing its intent to re-convene Monsoon Session to pass key legislations.
"Both the government and the RBI are keeping a close watch on the situation and we expect that this development would spur us into accelerating the reforms process and making Indian economy even more robust and resilient from within," Ficci Secretary General A Didar Singh said.