If you're considering upgrading to the newest OLED TV this year, you can get your hands on the LG A2 OLED, which is the newest OLED TV on the market. For those who may not be aware! The LG A2 OLED TV family of premium smart Televisions is one of the best-selling premium smart TVs.
Yet, you can currently purchase this new OLED TV at a premium discount of $700, bringing the cost of this TV down to a previously unheard-of level. If you have been trying to get your hands on this TV, we have all the information you require right here:
Buy new LG A2 OLED TV for $599.99 via BestBuy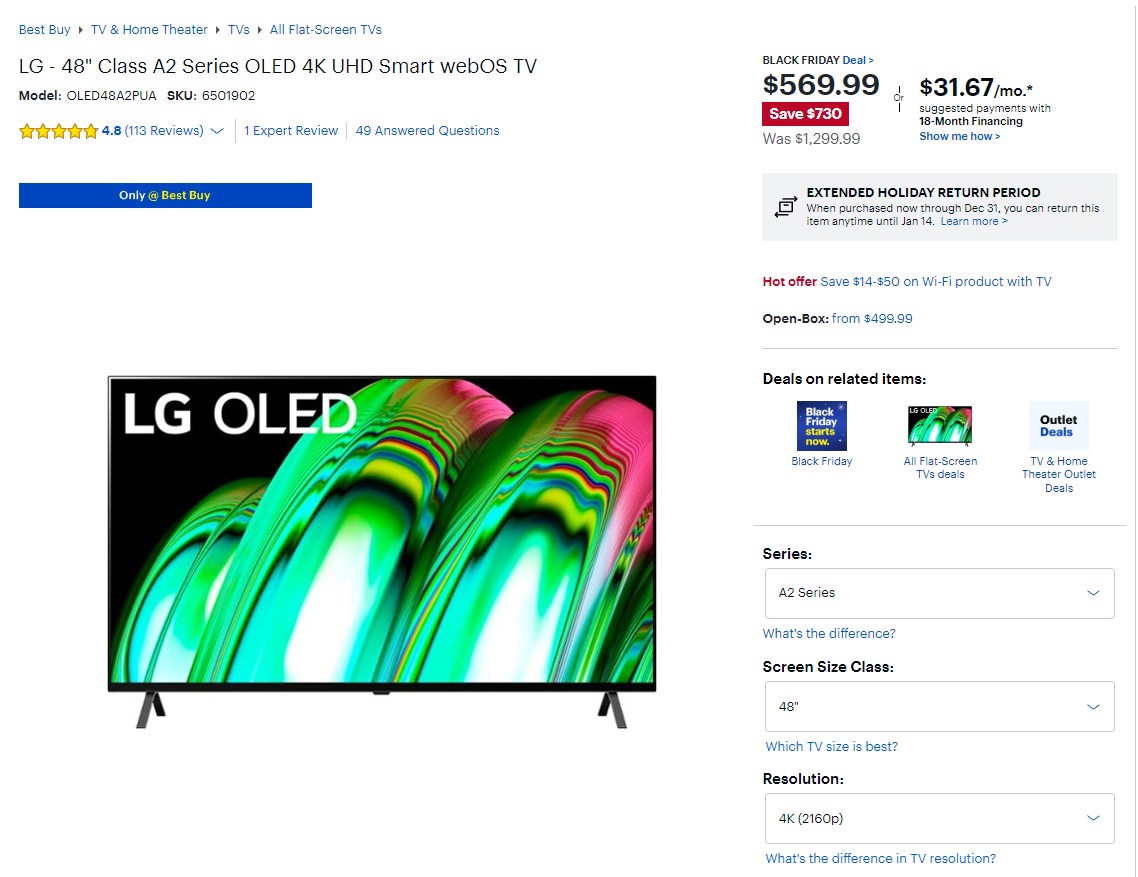 After a $700 price cut, the new LG A2 OLED TV is now available for purchase for just $599.99. If you're considering purchasing one, take advantage of this opportunity. If you're wondering where you can purchase this new television, you may do so through the BestBuy website.
Speaking more specifically about this new OLED TV, the price will also let you purchase a larger 48-inch panel TV that supports an HDMI 2.1 port and a 60Hz refresh rate. Along with the support for a maximum resolution of up to 4K, which makes this TV a wonderful fit for the price, you also receive a faster refresh rate.
LG A2 OLED TV – What does it feature?
If you are thinking about the new LG A2 OLED TV feature then here we have got you covered with all the details you need to know. As we said, the OLED TV comes with the new OLED Panel which will support a peak resolution of up to 2840×2160 which is a 4K resolution panel. With this, you also get support for AI 4K upscale too.
Talking about the connectivity side, here the smart tv comes with the latest Wi-Fi support combined with 3 sets of HDMI ports and also 2 sets of USB ports too. Then, you also get support for USB devices, eARC, and Ethernet ports too.
Talking about the audio output, here you will be getting a bigger 20-watt sound output which will be a 2.0ch speaker, and also this TV will be coming with the support for Dolby Atmos Sound and AI Sound Pro combined with the latest Virtual 5.1.2.
To provide better sound and video output, here LG has added support for the latest Alpha7 Gen 5 AI processor which will be providing the best AI processing and also 4K upscaling where the processor will be upscaling the lower resolution picture to the peak 4K resolution too. Talking about the operating system side, here the smart tv will be coming with the latest WebOS support.