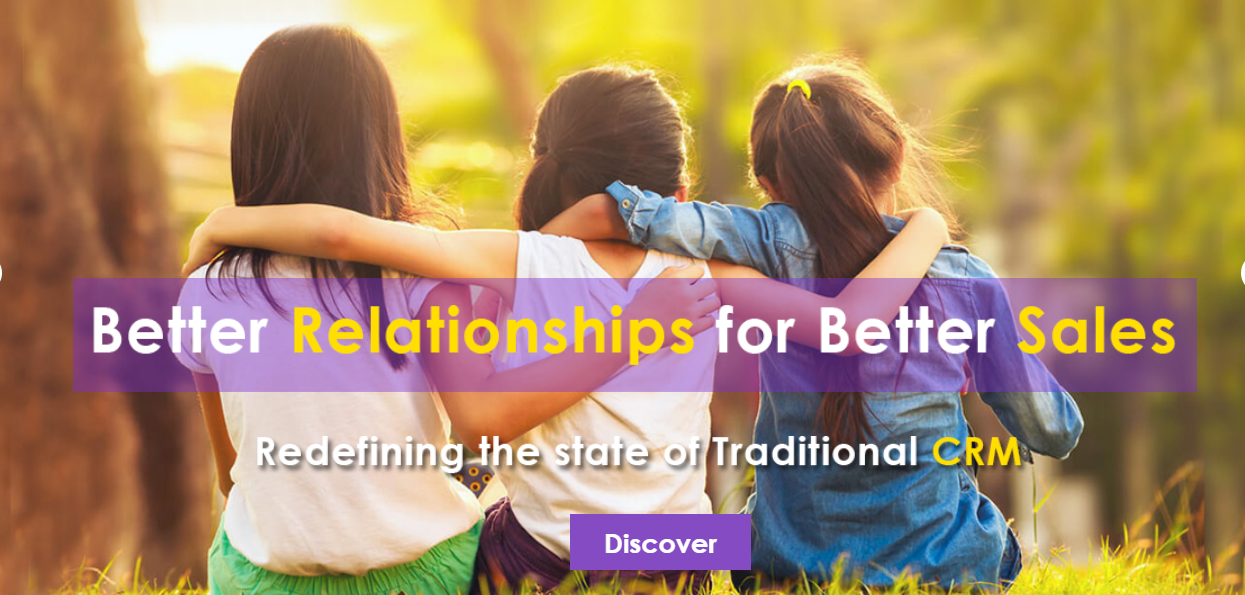 We realise it's a fast pacing and competitive world, where for every product there's a huge listing of providers. The only option to gain our momentum in retaining the market share is ensuring customer satisfaction. Customers are of different minds, and they are scattered in different areas. It is really tough for a single natured sales man (sales is the only nature) to identify every customer's needs and retain them for better productivity. Customer Relationship Management (CRM) has been there right since the time salesmen used to maintain bundles of notes on the customers in order to quantify potential customers. The beginning of the 90's saw the notes being replaced by softwares for ensuring better management of relationship with the customers. The sales and marketing industry players have identified the need for a platform that could give them an edge over the others when it comes to effective sales.
A recent survey conducted by NASSCOM claims that the SMB market is expected to grow at YOY rate of 15% CAGR. With such growth, IT spends of such companies are expected to grow further with CRM platforms as their top priority.
Also, As per Gartner, the CRM space will be growing rapidly. The revenue forecast of 2014 was found to be $23.9 billion. SaaS- or cloud-based CRM deployments currently represent more than 40 percent of all CRM deployments, and look set to reach 50 percent during 2015.
SalezShark – Providing Customized Services and Personal Selling
For the longest time, sales professionals have felt a lack of effective tools to help them enhance their sales. The traditional CRM landscape merely automates sales life cycle and does little to facilitate customer stickiness based on personalization and proactive engagement. The sales and marketing industry players have identified the need for a platform that could give them an edge over the others when it comes to effective sales. SalezShark is a provider of a 'next-gen' Sales & Marketing automation platform powered by a unique customer Relationship Cloud. It creates 360 degree views of customers to drive better engagement and higher conversion. SalezShark, seeks to equip organizations and sales professionals with a tool which is not only easy-to-use but also helps them achieve higher sales targets.
"Their dedication to achieving this goal has resulted in building a distinctive feature-set which harnesses the true power of professional relationships."
SalezShark is apt for businesses who aim to streamline their processes, and want to spend maximum time in selling, rather than aggregating things spread in a haywire manner. Built over the Relationship engine, SalezShark also provides contextual data and relevant recommendations to offer a complete sales and marketing solution.
The Sire of SalezShark
Ajay Chauhan, the co-founder of SalezShark holds a strong, 15 years of experience in leading global sales and marketing teams over various engagements. Ajay's association gives SalezShark a clear competitive edge. He has been a pioneer in steering strategic initiatives towards growth, developing new business, sustaining deeper customer relationships and building global brands. He is an expert in all the facets of driving and scaling business to new heights. His passion for innovation and flair for technology has led many ideas transformed from blueprint to reality and has resulted to successful engagements, many of which are remarkable.
With over a decade spent in the IT products industry, Ajay has conceptualized some of the most innovative products that are now fully established and play a major role in  organizations of every size and nature. Dataguru.in (founded in 2010) is one of the many such successful products that have set a new trend and have redefined the quality parameters in the executive search space. Its ever-growing customer base in the Indian and global market is a clear reflection of Ajay's accomplishments.
His vast experience in sales/marketing domain and through understanding of sales processes strengthens his specialization in the CRM domain as an expert. During his course in the industry, he has spearheaded many successful CRM implementations. He co-founded SalezShark in 2014 with a vision to completely disrupt the CRM landscape and re-define its state to build the differentiator in the market place.
The founding principle of SalezShark is to transform the traditional CRM that just offers the automation of sales processes operationally, leaving sales professionals to lay much efforts entering data and feeding information. India is a huge market and really picking up to adopt innovative technology platforms that are easy to use, saves time and provide a unique user experience.
With so many CRMs available in the market today that caters traditional objectives of managing sales operations and reporting, there is a need to equip organizations and sales professionals with a tool, which is not only easy to use but provides them an edge to do better sales. His dedication to achieve this aim has resulted building distinctive feature-set which harnesses the true power of relationships to do more sales. Some of the other distinctive elements are under-way and will surely bring a disruption in the CRM market.
The Sales Challenges
As a product, it was important for them to really pin point the challenges that they wanted sales professionals to overcome. To do this, they interacted with many from the industry and eventually developed a product that can holistically improve a sales professional's performance by a huge margin. While developing something new, one tends to incorporate every idea in the world, but it is wise to narrow down to a few and carefully select what you think your product should have. As challenges, these have also been very helpful for them, in terms of building an efficient product that can deliver extraordinary results when put to use.
The Mobile Platform for sales person in mobile
SalezShark's dedication to achieving this goal has resulted in building a distinctive feature-set which harnesses the true power of professional relationships. Their Relationship Cloud comes equipped with a smart recommendation engine and contextual intelligence which is also replicated in the product's mobile application. It enable sales professionals to make the most of it while they are out on the field, by sending them contextual alerts based on company and location intelligence, so that they can can amplify existing opportunities and build  healthy sales funnel while they are on the field. SalezShark ensures that selling is made exciting and not mundane, by continuously boosting the sales executives' performance at every stage.
SalezShark is equipped generously, to cater to companies of varied sizes and our Strategy would be to create a compelling factor for sales professionals by giving them a reason to love their Customer Relationship Management (CRM) platform. Some of the features that makes SalezShark a must-to-have app for every sales representative can be pointed out as the following
Simple and easy to use interface to quickly feed in data

Auto lead capture from various sources to minimize manual data entry efforts

Proactive Recommendations of prospective companies in and around user's location

Contextual Intelligence on prospects/leads basis their interests

Notification Alerts on meetings, activities and scheduled tasks

Location Mapping for companies and prospects on Google Map
Apart from the above list, there are many other features that simplifies the role of sales and help achieve more that can be gained from writing to support@salezshark.com
The Sales Journey
Established in VA, United States, SalezShark has received a tremendous response already.  Initially, they were funded by investor angels, who gave them the right boost to launch in the market. Within 8 months of entering the market, they received a welcoming response and since then they are self-funded.
While they were building a world-class product to suit to all size of businesses with a niche focus on the SME space, they happened to speak to some of larger enterprises who are still struggling to fully utilize CRM as a driving force for sales and marketing. They have done their benchmarking with some of the biggest industry players, in terms of features and efficiency of the product. But, at the same time, they offer premium services at affordable prices, quite contrary to other players in the market.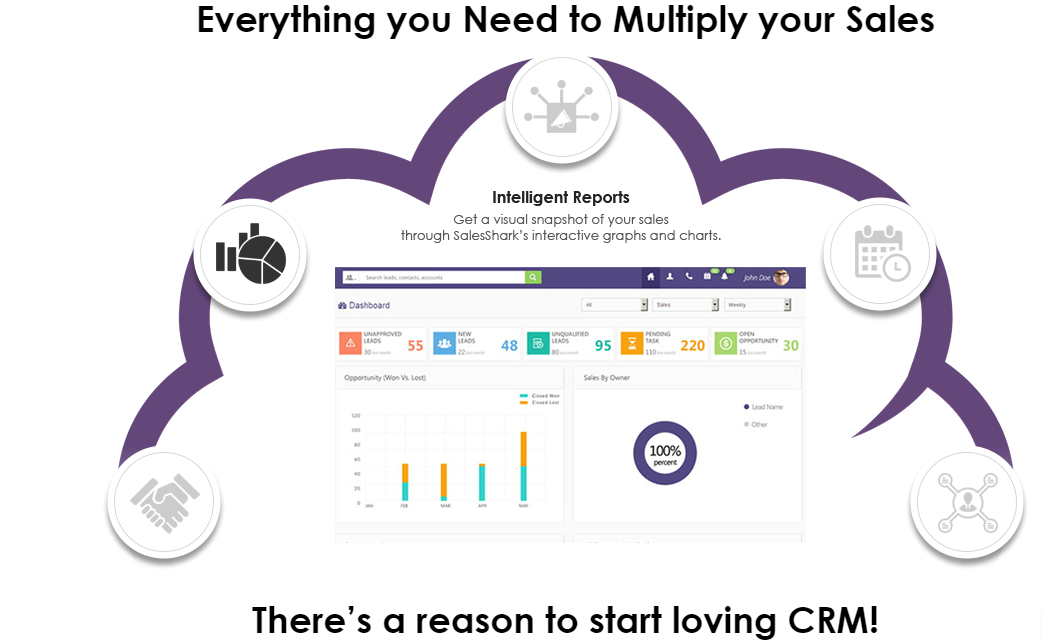 SalezShark is available at a very minimal subscription charge which starts from $20 per user per month and goes up to $45- $60 per user per month, for a premium package. Apart from this, they also offer a transferrable subscription, with on- premise deployment, which is on cloud and completely secured.
"The market size is ample and not limited to target"
After their success in the U.S, their focus in the next few months will be on rolling out the product across India and other growing markets for businesses of all sizes. They are talking to some large enterprises in India who are excited to see their product and are evaluating them against some of their largest competitors.
They will continue to evolve their product with unique and differential features. They will soon announce the official launch of their mobile app on android and ios platforms and plan to go to the market with full momentum leveraging every possible way to market themselves.