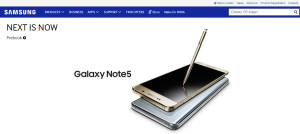 New Delhi, Sep 7 (PTI) : Bouyed by a "healthy double digit growth" in premium smartphone sales, handset maker Samsung today launched its 'Note 5' in the country priced at Rs 53,990.
The Korean company, which had launched the Galaxy Note5 in the US last month, will make the 32GB variant available for Rs 53,900 and Rs 59,900 (64GB) from September 20 in India.
"We are witnessing healthy double-digit growth across categories, including premium smartphones (devices priced above Rs 30,000)," Samsung India Vice President Marketing (IT and Mobile) Asim Warsi told PTI.
He added that major sales for the Note series comes from "loyalists" that have previously owned a device from the range.
"In 2015, we have seen all our segments — feature phones, smartphones and tablets — growing at a healthy pace," he said.
India is one of the fastest-growing smartphone markets globally and is expected to replace the US as the second largest market by 2017, as people switch to smartphones from feature phones and gradually upgrade to 4G-enabled phones.
In the April-June 2015 quarter, smartphone shipment in India grew 44 per cent to 26.5 million units from the year-ago period, as per research firm IDC.
Samsung was the market leader with 23 per cent share, followed by Micromax (17 per cent) and Intex (11 per cent).
The first Note device was launched in 2011. The latest edition of the Galaxy Note range features a 5.7-inch quad HD Super AMOLED display, 4GB RAM, 16MP rear and 5MP front camera, 3,000mAh battery and is based on the Android Lollipop operating system.
"The Note series has been an iconic one in the world. In India, it almost has a cult following. In the beautifully crafted Galaxy Note5, we have pushed the S-Pen based productivity to the next level," Warsi said.