Korean giant, Samsung has been planning to bring its new Galaxy S23 series including the Galaxy S23 Ultra on 1st February to compete with its competition, and here we are talking about the new Apple iPhone 14 series' top-end variant, iPhone 14 Pro Max. So who will be better here? Let's do a Samsung Galaxy S23 Ultra Vs Apple iPhone 14 Pro Max battle here.
Samsung Galaxy S23 Ultra VS Apple iPhone 14 Pro Max – Display Comparison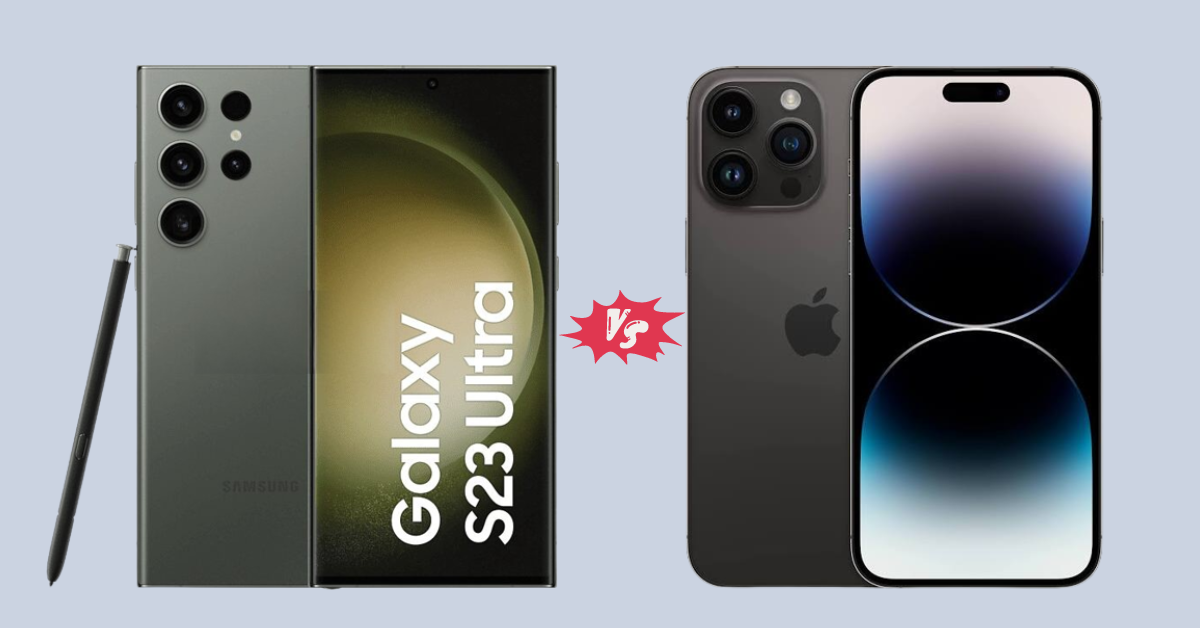 Before we move to the comparison side, as of now the pricing as well as the specification for the upcoming Android beast, Samsung Galaxy S23 series is not yet out but still we have some confirmed rumors and leaks and after curating all the confirmed leaks we have brought this extensive versus article for you. So, let's move with it.
What are we comparing here? Here we will be comparing the display features alongside the display design like the notches of the duo phones here.
NOTE: We are only comparing the display, and if you want to see the comparison between the processor, camera, and more! Stay tuned with Techstory as we will be adding more comparisons later and updating it here.
Display Specification Comparison 
When it comes to the display department, Samsung has been always the leader here! But, here we should consider the fact that Samsung's display department is also the supplier of Apple iPhone's display. So, here we can also say that the duo will have the same competition when it comes to quality.
But, which phone offers a better display? If we talk about the Samsung Galaxy S23 Ultra, here it's been said that  Samsung will be adding its best and most high-end set of displays.
Confirmed leaks claim it's going to be a new 6.8-inch panel, so of course it's going to be the biggest panel ever. Also, this panel will be a Dynamic AMOLED 2X Panel equipped with the latest LTPO technology and a dynamic refresh rate between 1Hz to 120Hz.
On the resolution side, you will be getting QHD+ 2K resolution support. The display will be certified with an HDR10+ license with a peak brightness of up to 2000 nits.
Also, the new Galaxy S23 Ultra will be coming with the support for the new Galaxy S Stylus pen which ofcourse Apple iPhone Pro Max misses out.
Talking Apple iPhone 14 Pro Max's display, here the smartphone comes with a bigger 6.7-inch OLED panel and Apple calls it a Super Retina XDR Display which again comes with the same 2K resolution and ProMotion Technology with an adaptive refresh rate of up to 120Hz. You get an HDR 10-certified panel with a peak brightness of up to 2000 nits.
Display Design Comparison
2022 was the year when we got to see Apple bringing a new design to the display front! And this is where we got to see the new Apple iPhone 14 Pro Max comes with the new "Dynamic Island"
And boy-o-boy that's a terrible name for a notch isn't it? If we ignore the naming and look at its usability,  Apple has just moved ahead to make it more usable to the users.
Like, there are many sets of alerts, notifications and even Live activities that this smartphone can show now. You can have a look at it down below (Thanks MKBHD).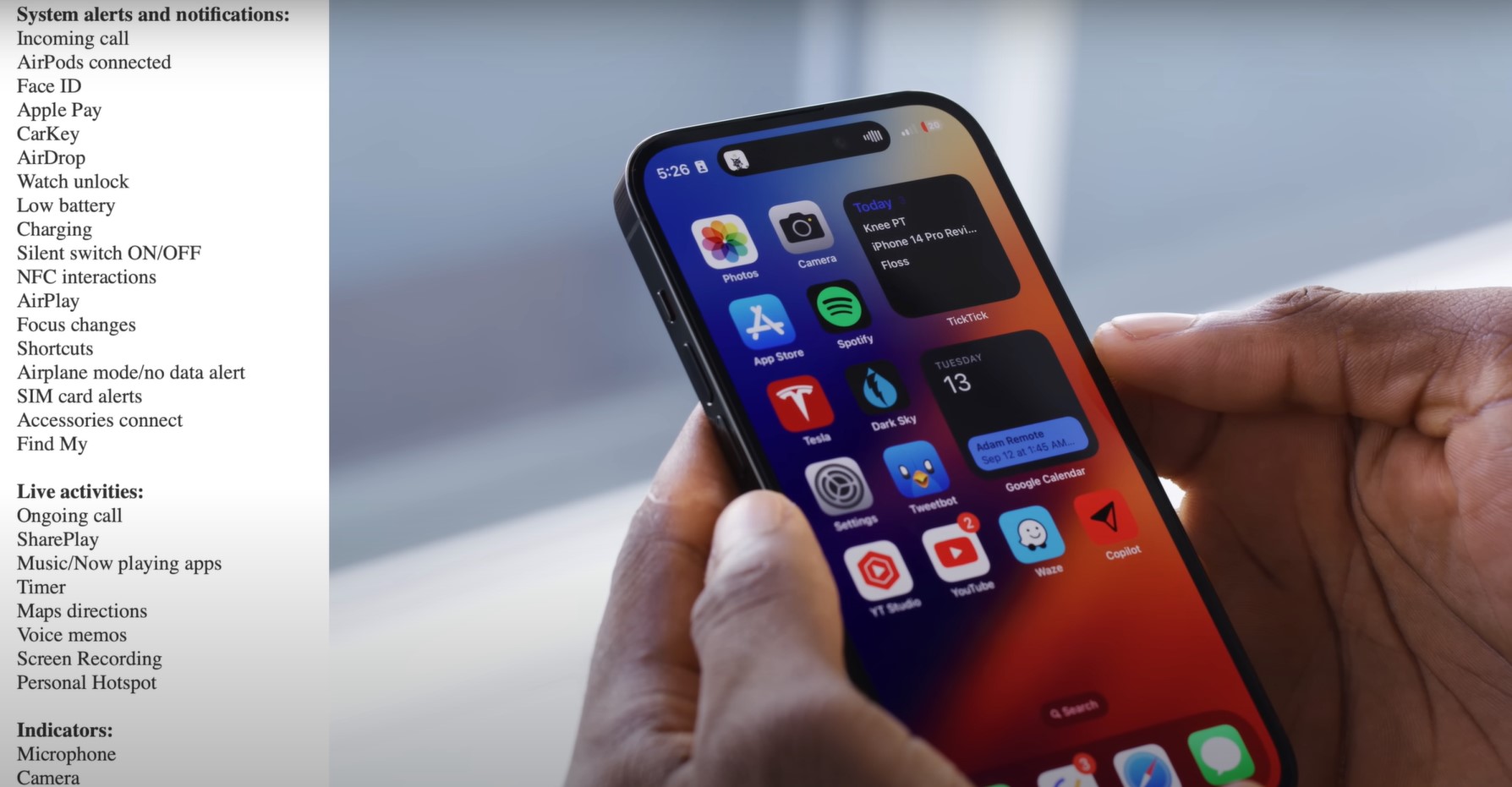 And if we move to the other end of the table, it looks like Samsung will be going with the same old display where you will see a tiny notch in the center. Probably, the size of the notch can be reduced further.
When it comes to display design, Apple iPhone 14 Pro Max gets the winner's cup here.
Who wins here? 
If we have a close look at the duo smartphone's display, here it's quite clear that the Samsung Galaxy S23 Ultra gets a bigger display and infact you can also see that the panel in Galaxy S23 Ultra has been certified with HDR10+ license but the Apple iPhone 14 Pro Max panel has been certified with only HDR 10.
Does it make a difference? Considering the fact that you will be paying a premium price for both, why not get the best one? But, still, if you ask us, there won't be much of a difference just because of the certification.
Then, we have the Samsung Galaxy S23 Ultra which will be again coming with the support for Galaxy S Pen. So, if you like taking notes in your smartphone then,  Galaxy S23 Ultra is something you can go for.
But if we go to the design side, here the iPhone 14 Pro Max get's its winner cup. As the new Dynamic Island is something new you should know.
FAQs
Will S23 Ultra be better than iPhone 14 Pro Max?
One of Samsung's highest-end smartphones, the Samsung Galaxy S23 Ultra will be unveiled as the next rival to the Apple iPhone 14 Pro Max. In terms of display and GPU, the Galaxy S23 Ultra will outperform the Apple iPhone 14 Pro Max, according to our review.
Is Samsung or iPhone better?
It definitely depends on which operating system you need! If you want a better camera combined with an easy-to-use operating system and a long-lasting battery then Apple iPhone is the right choice for you.
But, if you are looking to get a smartphone with the Android operating system then you will be getting an edge over the iOS system when it comes to tweaking the system as per your requirement. You might already be seen how Samsung uses its OneUI skin over the Android operating system to add more customization.
If you are still confused about what you should go with, then why not have a look at the video posted by Mrwhosetheboss with MKBHD, maybe you will get your answer:
Comments
comments