Yes, let's go deeper into the intriguing Galaxy Tab S9 series from Samsung and the outstanding features that make these devices a necessity for any Android aficionado.
The Marvelous Samsung Galaxy Tab S9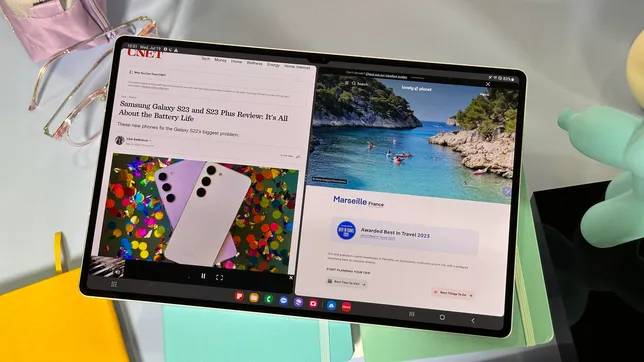 The Galaxy Tab S9 series from Samsung has generated a lot of hype in the tech community, and for good reason. Three different options are available, each of which caters to a particular set of requirements and tastes:
Galaxy Tab S9 (11 inches): The entry-level device comes with a small yet colorful 11-inch display. It balances mobility with functionality, making it perfect for everyday usage at work, school, or play.
12.4-inch Galaxy Tab S9 Plus: The Tab S9 Plus ups the ante in terms of size with a 12.4-inch screen. For those looking for a bigger screen for multitasking, gaming, or video consumption, it's ideal.
Galaxy Tab S9 Ultra (14.6 inches): Boasting a massive 14.6-inch display, the Ultra form of the tablet is quite enormous. It's a powerhouse made for experts, creatives, and anybody else who needs a huge screen for work and inspiration.
The Inseparable S Pen
These tablets' designs reflect great consideration on the part of Samsung. The aluminum frames and sharp edges give the design a contemporary, sleek appearance.
The gadgets are portable due to their compact design and small weight. Beige and graphite were chosen as the color alternatives to signify class and competence.
Aesthetics: Form Meets Functionality
The S Pen is one of the Galaxy Tab S9 series' unique characteristics. This adaptable stylus is a standard feature of every Samsung device.
The S Pen is an extension of your creativity and productivity, not merely a digital writing instrument. Its clickable button gives it added functionality and makes it a convenient tool for taking notes, drawing, and using the tablet.
Power-Packed Performance
The tablets' internal hardware consists of Qualcomm Snapdragon 8 Gen 2 processors. Whether you're streaming videos, playing games, or using productivity apps, this guarantees lag-free performance. The tablets are designed to do difficult jobs with ease.
A Game-Changing Offer
Let's now discuss the fantastic offer that is currently being offered. Its price is practically reduced to that of the base 128GB model thanks to Amazon's offer of a free storage upgrade for the Galaxy Tab S9. This deal saves $120 on the 256GB device. For individuals who need more storage but don't want to spend a fortune, this offer is a steal.
The Final Word
Samsung's Galaxy Tab S9 series stands out among Android tablets and promises a superior user experience. These tablets offer a delightful fusion of aesthetics and utility, from the elegant appearance to the powerful performance.
There is something for everyone with three variations that suit to various needs, whether you seek portability, a substantial display, or a wide-open canvas for creation. These tablets are more than just computers; with the S Pen as an indispensable companion, they become tools for maximizing your potential.
The offer is made much more alluring by the alluring offer on Amazon, a free storage increase. Anyone wishing to improve their tablet experience without spending a lot of money can benefit from saving $120 on a storage upgrade.
The Samsung Galaxy Tab S9 series establishes a new benchmark in a world where technology is always developing. Modern technology, careful design, and a touch of affordability come together in this product.
This could be the ideal tablet for you if you're looking for one that doesn't cut corners. Grab this chance, take advantage of the offer, and use the Galaxy Tab S9 series to enter a world of seamless multitasking, creativity, and entertainment. Your online adventure is waiting. Checkout to know more.