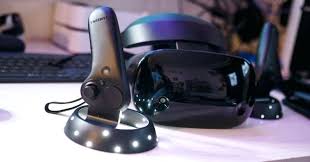 The new report from the FCC filing shows that the largest Smartphone Manufacturer company, Samsung may be prepping to release a new updated version of the HMD Odyssey, its Windows mixed reality headset which is launched at the end of last year.
The new handset will be called by the name as "HMD Odyssey+," and it does not appear to come up with many changes, except for some of the cosmetic differences to make the headset more comfortable to wear.
The FCC report also shows that the headset's display will be same with the dual 3.5-inch screen but the eye box will be going to be wider to prevent fogging.
The Odyssey was priced at $500 at the time of launch but the price has since been lowered to $400.
Picture Credits: Thenextweb.com