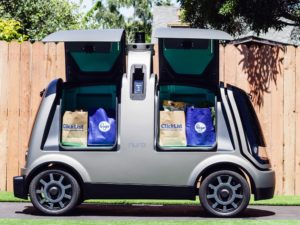 Less than a month after the retail giant Walmart announced a partnership with Google's autonomous vehicle company Waymo for grocery deliveries, Kroger supermarkets has now announced that they will be starting self-driving grocery delivery with the support of Nuro at a single store in the Pheonix suburb of Scottsdale, Arizona.
"Kroger wants to bring more customers the convenience of affordable grocery delivery", said Yael Cosset, Chief Digital Officer of Kroger. She said that the test would also help to get a pulse on demand for the service among shoppers.
In the first phase, the company will use Toyota Prius Hybrids equipped with Nuro autonomous technology with a human occupant to monitor the system and take over the control if needed. In the next stage, company's driverless deliver van R1 will start testing in the fall.
Confirming the news and the plan, Nuro spokesperson said, "While we complete final certification and testing of the R1, the Prius will be delivering groceries and helping us improve the overall service."
As of now, the service will only be available from Fry's Food store in Scottsdale which is owned by Kroger and will cost $5.95 per order.
Source: Reuters