According to Nanoco and a shareholder in its cases, Samsung Electronics Co. has decided to give $150 million to British nanotechnology startup Nanoco Technologies to resolve patent issues regarding the tech used in Samsung's LED TVs.
As stated in a press statement from Nanoco and Chicago-based litigation funding company GLS Capital, the deal, which involves a license agreement as well as the "transfer of certain patents," ends legal disputes in China, Germany, and the United States.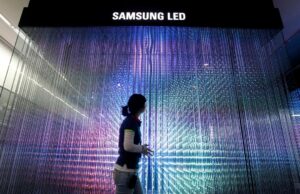 On the eve of a hearing last month, Samsung and Nanoco informed a Texas federal court that they had reached an agreement however no specifics were provided.
An inquiry for feedback was not immediately responded to by Samsung personnel.
Quantum dots from Nanoco boost LED display backlighting without the need for harmful toxic metals like cadmium. After obtaining specimens during discussions about a joint partnership, it filed a complaint against Samsung in 2020, claiming that the Korean technology giant plagiarised its innovation.
According to the Texas complaint, Samsung started implementing Nano co's tech in its premium QLED TVs that arrived in 2017.
In recent times, third parties have progressively funded cases, while information regarding specific investments is rarely made publicly available. Critics, like the U.S. Chamber of Commerce, have advised that the practice encourages pointless lawsuits and obscures who is responsible for cases. Supporters believe that it can improve justice and equalize the playing field.
In a release, Nanoco CEO Brian Tenner stated that GLS Capital's investment "allowed us to pursue our claims against a much larger adversary on equal footing."
Adam Gill, a co-founder of GLS, claimed that Nanoco would get more than a 60 percent of the settlement's revenues but he did not provide further specifics regarding their funding arrangement. He declared that the corporation was "proud" to have helped Nanoco in the lawsuit.
According to Gill, Asustek Computer Inc. of Taiwan is independently handling its attempts to enforce its catalog of 3G, 4G, and 5G wireless patents through GLS affiliate Celerity IP.
Samsung Electronics Co. v. Nanoco Technologies Ltd., U.S. District Court for the Eastern District of Texas, No. 2:20-cv-00038, is the name of the case.