In an interview, Bill Gates, the richest man, and cofounder of Microsoft said that he would rather stop thinking of going to Mars but use his money to help people living on Earth and pay for vaccines.
The interview was taken by the BBC where the Microsoft owner was asked about Elon Musk and his philanthropy.
"Would you encourage him (Elon Musk) to join your club of mega-philanthropists?" the interviewer asked. He referred to two personalities who created 'The Giving Pledge' – Mr. Gates and Warren Buffet.
The Giving Pledge promised hundreds of the richest men that they will donate the majority of their revenue to charity alone.
"I think someday he'll (Mr. Musk) be a great philanthropist," Mr. Gates responded, noting that "things like Tesla are having a positive impact even without being a form of philanthropy".
He also went on to say that "other than going to Mars a few times, which might cost a little bit," he doesn't believe that the SpaceX CEO will spend most of his fortune on himself.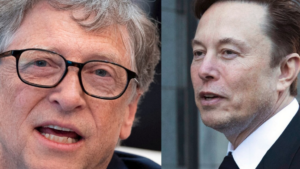 "So yeah, someday I think he will join the ranks of philanthropists," he told the outlet.
Further, when asked particularly if he thought going to Mars would be "a good use of money," the Microsoft co-founder said, "not in my view".
"It's actually quite expensive to go to Mars. You can pay for measles vaccines and save lives for $1,000 per life save," Mr. Gates said, adding, "And so (that) just kind of grounds you, as in – don't go to Mars."
As BBC reported, the two personalities are busy with two different things. While one is focusing on fighting climate change, diminishing malnutrition, and fighting diseases such as polio and malaria, the other one is reaching his ultimate goal of sending a crew to Mars and almost colonizing the red planet.
The two billionaires have no history of having a good bond. Earlier, Elon Musk stated that he rejected the co-founder's idea of teaming up for a philanthropic project if he started short-selling Tesla.
"I heard from multiple people at TED that Gates still had half a billion short against Tesla, which is why I asked him, so it's not exactly top secret," Mr. Musk wrote on Twitter.
When asked about the remarks and whether he was short Tesla, Mr. Gates told CNBC, "I don't talk about my investments but I think he should be very proud of what he's done."
While in 2020, Mr. Gates disclosed that he bought an electric Porsche Taycan for himself instead of Tesla, to which a Twitter user asked,
"I wonder why Bill Gates decided to go with the Taycan instead of Tesla." To this, Mr. Musk responded, "My conversations with Gates have been underwhelming tbh (To Be Honest)".