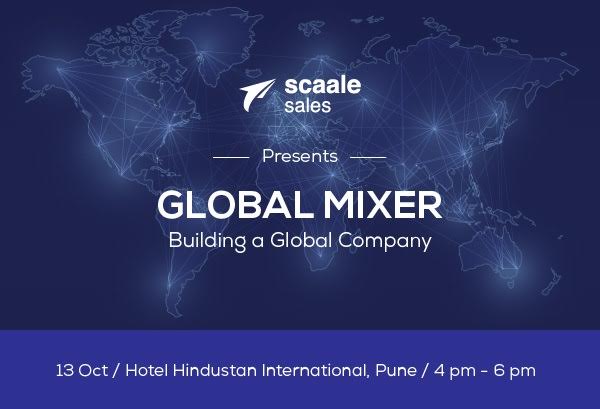 Scaale Sales are launching their global series of monthly events called GLOBAL MIXER, with the first event in India. These events are business networking events for growth companies and are going to be held across major entrepreneurial hubs in India, China, USA, UK and Spain, to help companies go international. Global Mixer is powered by Scaale Sales, an international firm specialized in helping companies to go international. Scaale Sales has offices and teams in 12 cities across 5 key countries.
Global Mixer Pune: The first Global Mixer is organized in Pune on October 13th.
High quality panels to introduce topics on knowledge driving, global markets, sales strategies, channel partners, licensing strategies, success and failure cases, laws and regulations, to name some.
Objective: to build a strong community of companies, partners and experts to help entrepreneurs to make things happen by bringing opportunities, knowledge and the right connections to the table.
Venue: The HHI (Hotel Hindusthan International), Pune
This edition of Global Mixer is themed 'BUILDING A GLOBAL COMPANY' with a Target Audience of 30 to 50 Companies. The Panelists include CXOs of Companies who have successfully launched products/ services in global markets. Some of them include:
Marta Emerson, VP at Scaale Group and Managing Director at Scaale Sales
Prashant Pansare, Managing Director at Intelliment Technologies and Chairman of Indo-American Chambers of Commerce
Avinash Sethi, Co-Founder and Director at InfoBeans Systems and Angel Investor
Attendees Profile:
CXOs of Technology Products/ Services in growth stage. Key Sectors include IT, Internet, Mobile, Marketplaces, Software, Gaming, FinTech, TravelTech, IOT, among others.
For Further details, please contact:
Mr. Abhay Tandon at abhay.tandon@scaale.com or at +91-8698982225
Behind Global Mixers:
Scaale is a Venture Resource Group, headquartered in San Francisco, comprises of 8 companies, 200+ clients around the world, with presence in 17 cities globally, a team of 300+ international professionals, and deep connections to the numerous angel eco-systems of the world. The group works with a mission of providing a global platform for companies to grow through global sales, capital and talent solutions.
The world is looking at India as a place where some of the most promising companies will come from in times to come. With a global approach, Scaale Sales understands the importance of the high growth Indian ecosystem and is working towards helping it evolve further and being an early part of burgeoning ecosystem of India.
Scaale Sales India is working towards building the entrepreneurial ecosystem through events, workshops and providing opportunities to entrepreneurs in India to connect with strategic partners, investors through their network and opening global doors for making them international in their businesses.
"India is an unbelievable market right now. Every single vertical is seeing immense growth in India at this point. A lot of Indian companies are trying to create global enterprises. We are very much interested in helping companies in India grow. We provide one of the best platforms for these companies to take their operations global," says Marta Emerson, Managing Director for Scaale Sales and the Vice President of the group. Besides providing companies with opportunity to grow within and outside India, Scaale group is also working with various organizations to create an ecosystem that will help in setting up and scaling of companies in the country. The company is currently working with the Gujarat government in one such initiative.
"A few years ago we saw that the problem was that Indian companies were very reluctant to go global. We had to convince them about how entering other markets can do wonders for their business. Today we see that this problem is solved. More and more Indian companies, especially the ones who are funded, today are willing to set up operations abroad and to scale into a global enterprise" says Marta about the change in Indian mindset in the last few years. "There is a strong interest in the software, e-commerce and mobile companies in India trying to go global. At the same time we are also talking to traditional industries such as manufacturing to set up global operations," she adds.
It is to utilize this opportunity and being a part of the emerging global network, Scaale Sales encourages you to participate in this event and be a GLOBAL MIXER!