Silvergate Capital, a bank that caters to the cryptocurrency industry, saw its stock tank more than 40% on January 6th after disclosing massive fourth-quarter withdrawals.
According to a Securities and Exchange Commission (SEC) filing, Silvergate saw $1.3 billion in cryptocurrency outflows in the fourth quarter of 2022. This represents a significant increase from the $179 million in outflows seen in the third quarter of 2022.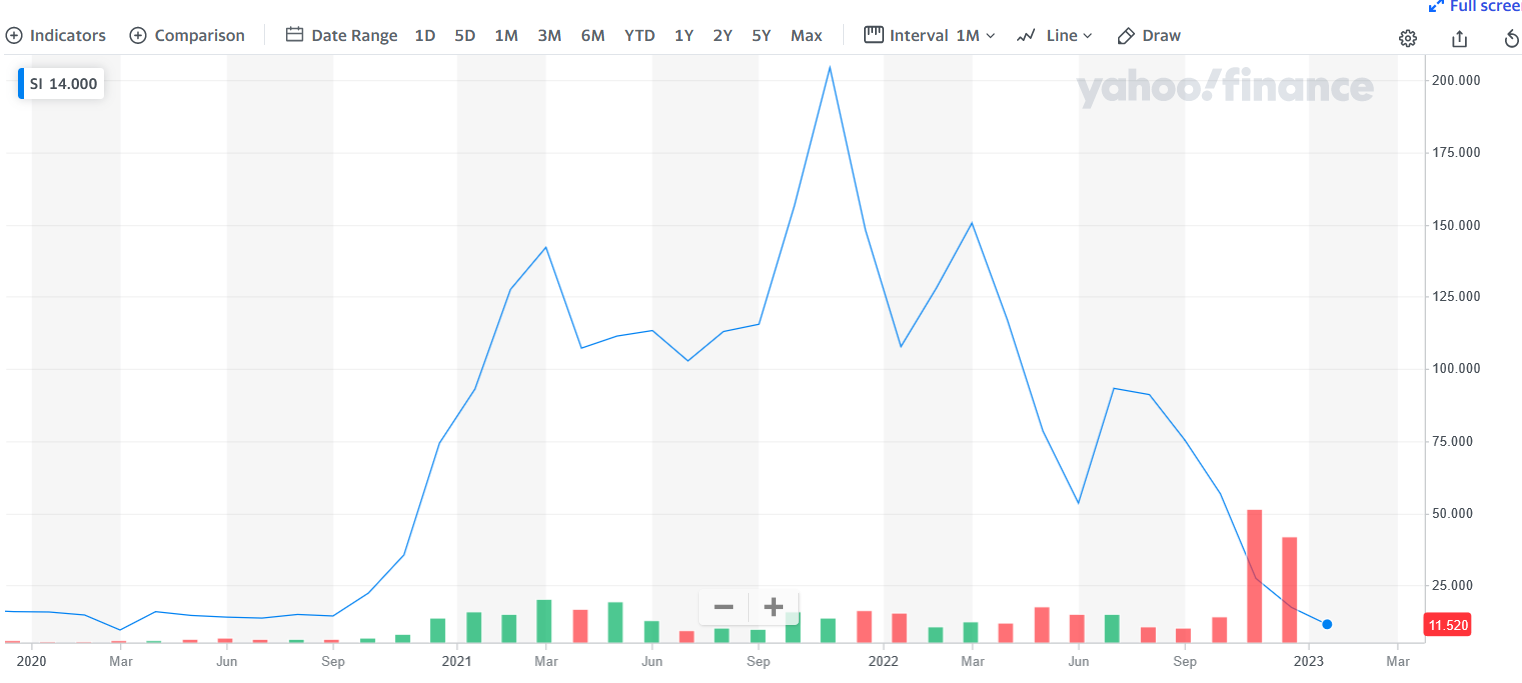 The bank attributed the outflows to "a single large institutional client" that withdrew a significant portion of its deposits. Silvergate did not disclose the identity of the client or the reason for the withdrawal.
Despite the large outflows, Silvergate reported strong financial results for the fourth quarter, with a net income of $19.4 million, up from $3.4 million in the same period the previous year. The bank also reported an increase in total deposits, with $2.2 billion in new deposits in the fourth quarter, bringing its total deposits to $3.7 billion.
Another shoe has dropped as shares of #crypto bank #SilvergateCapital plunge over 46%, to a 52-week low below $12 per share. That's a 95% collapse from its 2021 high. The company will slash its workforce to mitigate losses. More shoes will drop as crypto proves to be a centipede.

— Peter Schiff (@PeterSchiff) January 5, 2023
The news of the outflows and the subsequent drop in Silvergate's stock price has raised concerns about the stability of the cryptocurrency market. The bank's large institutional client could potentially be a hedge fund or other financial institution that is retreating from the cryptocurrency market amid increasing regulatory scrutiny and volatility.
Silvergate's reliance on the cryptocurrency industry has also raised questions about the bank's business model. While the bank has seen strong growth in recent years, it remains vulnerable to the unpredictable nature of the cryptocurrency market.
What is the future of 
Silvergate Capital ?
 In the wake of the announcement, Silvergate CEO Alan Lane sought to reassure investors by noting that the bank has a "strong balance sheet". Despite these assurances, Silvergate's stock price has not yet recovered from the steep drop it experienced following the disclosure of the massive fourth-quarter withdrawals.

One possible impact of the outflows could be a tightening of credit for the cryptocurrency industry. Silvergate has been a key player in providing credit to the sector, and the loss of a large institutional client could potentially lead the bank to become more cautious in extending credit to other clients.
The news of the outflows also highlights the volatility of the cryptocurrency market, which has been a concern for both investors and regulators. While the market has seen tremendous growth in recent years, it has also been prone to dramatic price swings and security breaches.
It is important for investors to carefully consider the risks associated with investing in the cryptocurrency market, including the potential for significant losses due to market volatility and the lack of regulatory oversight.