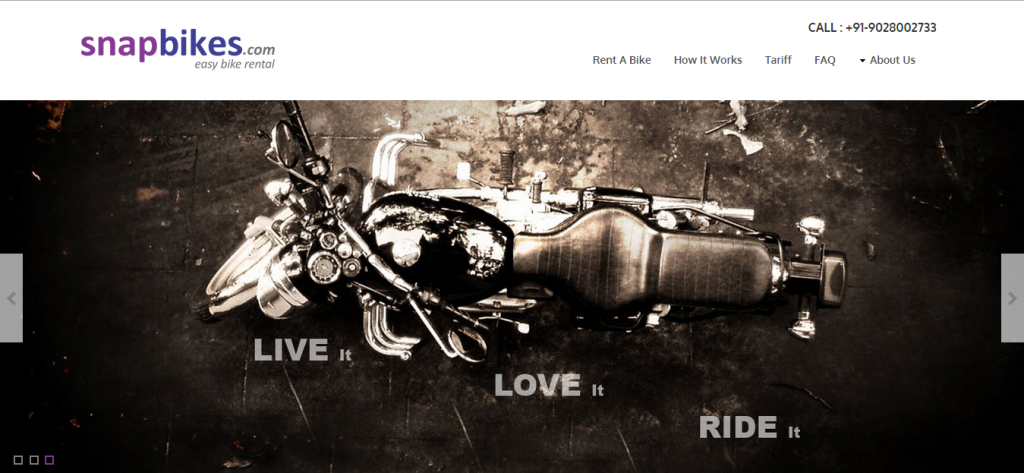 Bike Rental industry is at nascent stage in India. Such services are quite popular at tourist spots like Goa but have not gained momentum across rest of the country. There has not been much investment in the industry so far and it is highly unorganized. However, lately the industry is witnessing shift in focus from investors towards filling this gap. Motorcycle rental industry is receiving attention and new-players are betting huge sums of money to prevail influence in the Industry.

Snapbikes.com is one such new player in the Motorcycle Rental Services. A one stop Bike Rental Station, it offers quick, easy and convenient bike rental services. The whole idea is to offer cost-effective, affordable bikes on hire.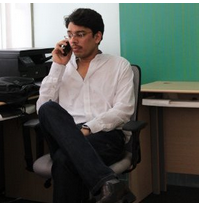 Snapbikes.com is brainchild of Aditya Puglia– Director, Success Street. Aditya is also director at Elite International Holiday Club. The idea is molded on the grounds of inconvenience incidental to travel within the country – auto / taxi is very expensive solution, uncertainty with public transport and absence of point to point travel services. The solution is to use a 2 wheeler – effective – convenient – speedy – accessible.
Snapbikes, a venture by Elite Celebrations, offers mopeds, commuter motorcycles and premium motorcycles on daily, weekly and monthly rental.  You can avail bikes including Scooters (non geared) to Royal Enfields to premium and high end motorcycles like Harley Davidson, Triumph, Suzuki etc.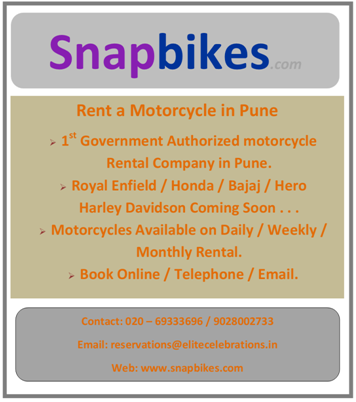 The company started its operations in 2015 from the city of Pune and is the only Government Authorized motorcycle rental company in Pune to offer bikes on hire.
Talking about Snapbikes with Techstory, Aditya says that "We have just started. Consumers are extremely excited about the services we are offering. There is a lot of curiosity and we are excited about it too". The company targets locals, expats, tourists, and short as well as long stay visitors who get excited when they are able to rent a 500 cc 'Royal Enfield Desert Storm' for a day and return it back without the hassles of investing in the bike; maintaining it etc.
To substantiate with figures, an estimate by Snapbikes reveals that the travel cost of the user reduces by over 90 % when they rent bikes. Moreover, a 'Discover' will cost the user around 70 paise per km with all the freedom to travel anywhere within the city. It also saves time against using an auto / taxi / buses. Thus, a handy travel vehicle- very convenient to travel and available at a low cost, brings customers back satisfied with the service.
Traffic problems in cities are giving rise to a demand for two wheeler services. A 2 wheeler taxi service – HeyTaxi– was started recently in Mumbai and is said to be picking up very well !
The company foresees enough potential for growth- equally in business cities and leisure locations. It also anticipates good demand for high end motorcycles. The company believes that in business cities- huge local population could be attracted with premium bikes whereas it could be a very useful service for the tourist who wishes to explore the city by cutting across the streets.
Talking about future plans, Aditya reveals that Snapbikes.com contemplates of following a rocket trajectory growth both in terms in of geographic expansion and offering the wide range of vehicles options. It plans to launch operations in the leisure and business cities very soon alongside with addition of more bikes of the current segment including premium motorcycles to bring in value addition to the services. Other than this, Company is looking forward to enhance its user experience by incorporating new services such as addition of 10 – 15 pick-up points, home delivery of the bike, pick up of bikes after use etc.
Also, the company is exploring possibilities of expanding into merchandise, service centers, riders club etc!
About Services: 
Each vehicle comes with a GPS tracker and customers can rent a helmet as well.
The vehicle can be booked against a fixed security deposit which is payable by credit/debit card.
The reservations can be made over by any of the following methods:
Phone: 020 69333696
Web: snapbikes.com
For more information visit website here!
Comments
comments